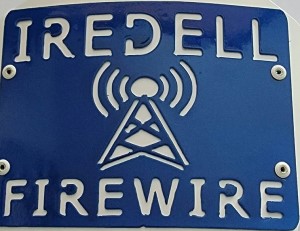 BY DAN GITRO
Iredell County emergency services, along with the two municipality departments, have been busy! Iredell County sheriff's deputies had a bang-up week, Mooresville police had a guy at gunpoint and Statesville police took down a man wanted. And, of course, it was the anniversary of K9 Officer Jordan Sheldon's death. Let's talk about all of this.
Mooresville fire
Last weekend started out with a structure fire in Mooresville. South Iredell 1239 arrived on location and declared a working fire. Mooresville Engine 1 arrived on scene seconds after the working fire declaration and went right to work. Engine 1's crew stretched a line to the rear of the structure and made a good knock on the fire. South Iredell responded with the air van to fill air cylinders for firefighters. South Iredell Firefighter Collin Weatherman was also in the area and did a great job hitting the hydrant for Engine 1's crew so they could concentrate on the fire. The fire was called under control quickly by Battalion Chief Chris Thompson.
Lake Norman drowning
Later that same day Troutman Fire was dispatched to the area of the swimming hole in Lake Norman State Park for a man who fell off a boat. Multiple resources were brought in, but sadly the man was found the next day over 70 feet below the surface. It was the second drowning on the lake this year. Unfortunately, another drowning happened on the lake Monday in Catawba County.
Squirrel knocks out Duke Power substation
Sunday afternoon was busy for South Iredell. In the mid-afternoon members were dispatched for an explosion at the Duke Power substation off Coddle Creek Highway. As it turned out, a squirrel on a suicide mission fried himself, causing a major power outage for Mooresville. Power wasn't restored until the wee hours of the morning on Monday.
While members were returning to the station, they were notified of a working structure fire in Rowan County. Engine 1, Engine 2 and Car 1 responded to the scene. Engine 1's crew did an aggressive interior attack and shortly later was released from the scene.
ICSO hosts Homeland Security and other counties for drug interdiction effort
Tuesday marked the start of a three-day campaign by the Iredell County Sheriff's Office Interstate Drug Interdiction Team, multiple other agencies and Homeland Security were invited to assist. I will share more on this in a future article, but I was present on Tuesday for this and let's just say quite a bit of drugs were taken off the highway this week in Iredell County. When I can release more about this operation, I will do so. l enjoyed witnessing this operation and riding with Lt. Gary Simpson, who oversees the interstate interdiction team, along with the canine unit in Iredell County.
Commissioners, fire chiefs discuss ECOM study
On Tuesday afternoon, Iredell County commissioners and fire chiefs held their much-anticipated meeting to discuss the study performed by Windbourne Consulting and ECOM. The presentation was quite dry, but towards the end fire chiefs along with Iredell Firewire raised many concerns and at one point the meeting got a little heated. I will share more on this meeting in a future article.
Third anniversary of Officer Sheldon's death
Wednesday, May 4, was the anniversary of Officer Jordan Sheldon being shot and killed in the line of duty. It was truly a sad day for all first responders in Mooresville. We cannot forget Jordan. He was a class-act officer who went above and beyond. From every tragedy comes new relationships, and I am very grateful for the new relationships and friendships that I have found. Jordan's brother Carson and I have become friends. I also formed an unlikely friendship with Jamie Gatton, who used to run the Gatton Report and currently runs Mooresville Scoop. These two friendships have opened my eyes to a lot. Carson's ability to present himself and express his family's grief in times of tragedy touched me deeply. Carson is a class act like his brother, and I respect and value our friendship.
Severe storms hit southern Iredell County
Wednesday afternoon brought severe storms into Southern Iredell County. Multiple reports of a tornado were called into ECOM, and severe damage was reported throughout the Town of Mooresville. Multiple houses were damaged when trees fell onto them. South Iredell, Mooresville and Shepherds ran multiple calls during this time. We all learned that South Iredell has a weather siren that is activated during severe weather. We have now learned that Ebenezer and Mount Mourne also have a siren to warn their residents of impending weather. This is great information for all residents to know. Thankfully, no tornado touched down. Per local meteorologists, it was a microburst.
Statesville fire report
At the same time the severe weather was hitting Mooresville, Statesville firefighters were called to a working structure fire in the area of Harris Street and Charles Street. Battalion 1 arrived on scene with smoke showing and declared a working fire. Thankfully, no injuries were reported.
No charges in shooting at DaBaby's house
We also learned that no charges will be filed in the shooting at Dababy's house. The well-known rapper proved once again self-defense and your personal security are the cornerstone of living in the South. We should be very secure knowing that we can protect ourselves unlike other states around this country. If this would have happened in my home state of New York, undoubtedly the rapper would have been arrested and charged.
ATV accident on Fox Mountain
On Thursday, Central Fire Department, along with Iredell Rescue and Iredell EMS, were dispatched to an ATV rollover on Fox Mountain. This turned out to be an extensive incident. Two individuals were injured, and one was flown by helicopter to a local trauma center. This incident lasted over three hours from time of dispatch to the time all companies were called back in service. I think some people forget just how tough the terrain can be in that part of the county. Excellent job to all first responders who worked that incident. I'm sure you were sore afterward.
I-77 accidents keep responders busy
Throughout the week there were multiple accidents and a few on Interstate 77 were quite severe. Two accidents this week on I-77 involved multiple tractor trailers in the Statesville area. Again, thankfully no severe injuries occurred.
Statesville, Mooresville officers handle dangerous situations like pros
On Thursday afternoon we started receiving multiple messages about Mooresville police having somebody out at gunpoint near Exit 33 off I-77. After reaching out to my sources, I can confirm this was what they call a "high risk stop." When and if MPD shares more about this incident, I will share it with you guys.
Also, on Thursday we received information from Statesville police regarding a suspect taken into custody for a shooting. Tony John Young, 32, was taken into custody at the Red Roof Inn. He was wanted by the Statesville Police Department for a shooting that occurred on April 16.
This was a very busy week in Iredell County and we thank all first responders who responded to these incidents.
Dan Gitro is the founder of Iredell Firewire.