Special to Iredell Free News
Hospice & Palliative Care of Iredell County (HPCIC) announced Friday that Michael Smith has been appointed president and CEO.
Smith has extensive experience as a healthcare executive with financial and operational expertise. He most recently has served as the chief financial officer for Hospice of the Piedmont in Charlottesville, Va., where he was instrumental in launching the palliative care program.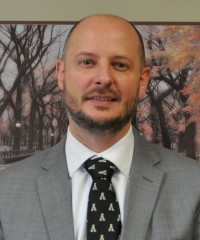 "I'm very excited and honored to join this amazing team that is so dedicated to their community," Smith said. "The past year(s) have been challenging for everyone but despite those challenges HPCIC continues to adhere to their mission of honoring life by providing extraordinary care with compassion, comfort, and dignity to our patients, families, and communities.
"We will continue to use this as the foundation for every decision we make as an organization. I look forward to serving all the community's patients and families in need," he added.
Although Smith is relocating from Virginia, he is a North Carolina native who received his undergraduate degree from Appalachian State University. He later received earned his MBA from Charleston Southern University, and is a certified healthcare financial professional and Lean Six Sigma Green Belt certified.
Smith's appointment is in conjunction with the retirement of Terri Phillips, who has served as HPCIC's president and CEO since 2007.
Over the last 14 years, Phillips has led the nonprofit through tremendous growth and success; earning consecutive years of the Hospice Honors Elite Award, accreditation of the Pathways Palliative Care Program, expansion of the Gordon Hospice House as well as the addition of the newly opened S. Mitchell Mack Hospice House in Mooresville.
"As this incredible chapter of my life ends, I am grateful to our staff; volunteers and community for the opportunity to serve as the CEO for Hospice & Palliative Care of Iredell County since 2007," Phillips said. "It has been my greatest honor to work with such an exceptionally dedicated group of healthcare professionals and see the impact of what it means to make a difference in the lives of so many people every single day. I am proud of what we have accomplished together and know HPCIC will continue to be an extraordinary provider of hospice and palliative care in the years to come," Phillips said.
LEARN MORE
For additional information about Hospice & Palliative Care of Iredell County, call (704) 873-4719 or visit www.hoic.org.