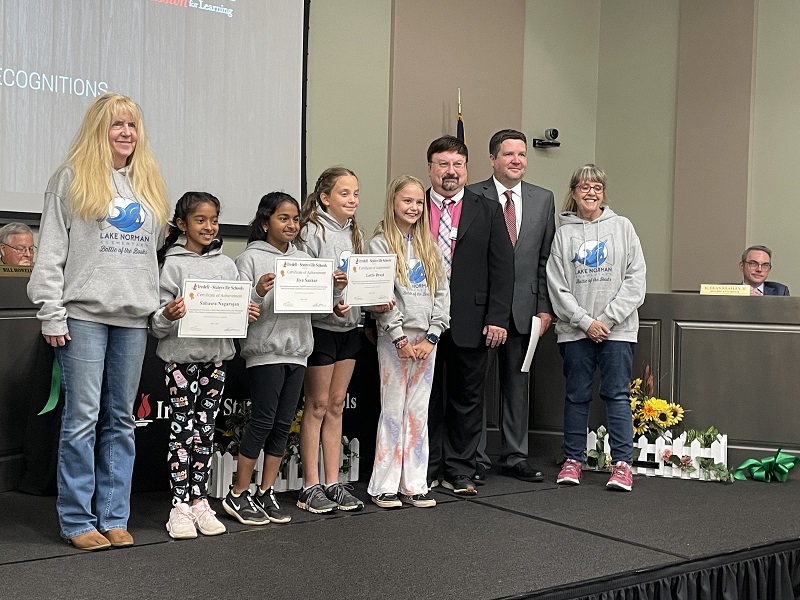 BY KARISSA MILLER
The Iredell-Statesville Schools Board of Education recently recognized Battle of the Books team winners and their coaches with a certificate.
"This year's students should be commended for all of their hard work and dedication of their time to reading and attending practice sessions. As is the process, students were asked to read a set list of books and remember the most minor details of those books," said Karen VanVliet, the district's lead media specialist.
Organizers were able to run the competition under normal conditions that allowed for parents to be present and cheer on their teams.
During competition, students are asked questions which begin, "In which book…." with their reply being the title and author of the book.
"It sounds easy, but the book lists are strategically chosen so that there are at least two books that can have similar characters or situations. The details of the questions make it specific to one title," VanVliet explained. "Understanding this and answering the question within the allotted 20 seconds correctly is a testament to the teams' extensive knowledge of the books.
The 3rd place teams received a $250 award for their media center, 2nd place teams received $500, and the 1st place teams received $1,000 for their media center.
The middle school list consisted of 23 books, and many students read some of them twice. The elementary list consisted of 15 books and made readers really think about and remember even the smallest of details.
While there can be a maximum of 12 members to a team, this year's first-place team in the elementary team had just four members, VanVliet said.
Top Finishers
• Middle School Third place: North Iredell Middle School
• Middle Schools Second place: Oakwood IB Middle
• Middle School First place: The Brawley School
• Elementary third place: Lake Norman Elementary School
• Elementary second place: Central Elementary School
• Elementary first place: Sharon Elementary School
Photos