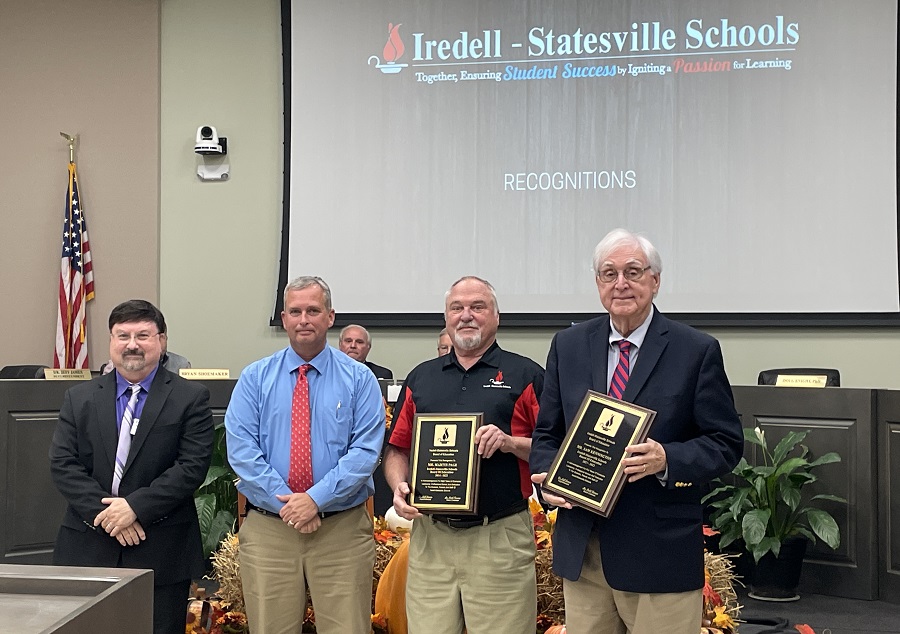 BY KARISSA MILLER
Iredell-Statesville Schools Board of Education Chairman Todd Carver presented outgoing board members Martin Page and Sam Kennington in recognition of their decades of service to the district on Monday evening.
According to Carver, Page and Kennington have made a "serious investment in education and in the lives of the children in our community."
Page was originally hired by I-SS in August of 1982. Before that, he worked for seven years as an educator in Nash County. He worked more than 30 years as an I-SS auto mechanics teacher. He served as chairman for five and a half years of the eight years he served on the board.
"We don't always agree, but I know he's always tried to do what's best for the children in Iredell-Statesville Schools," Carver said.
Kennington was hired on July 1, 1973, by I-SS. He was "distributive education teacher" before vocational teacher became the common terminology. He spent more than 26 years working with students.
Kennington was the principal at Statesville High School before serving as the vocational director for the school system. He served on the board of education for five years.
"He's who I want to be when I grow up," Carver said.
Kennington and Page did not seek another term on the board. Board members Bryan Shoemaker, who was appointed to fill the term of late board member Ken Poindexter, and Carver also did not seek another term.
Four new board members will be sworn in next month.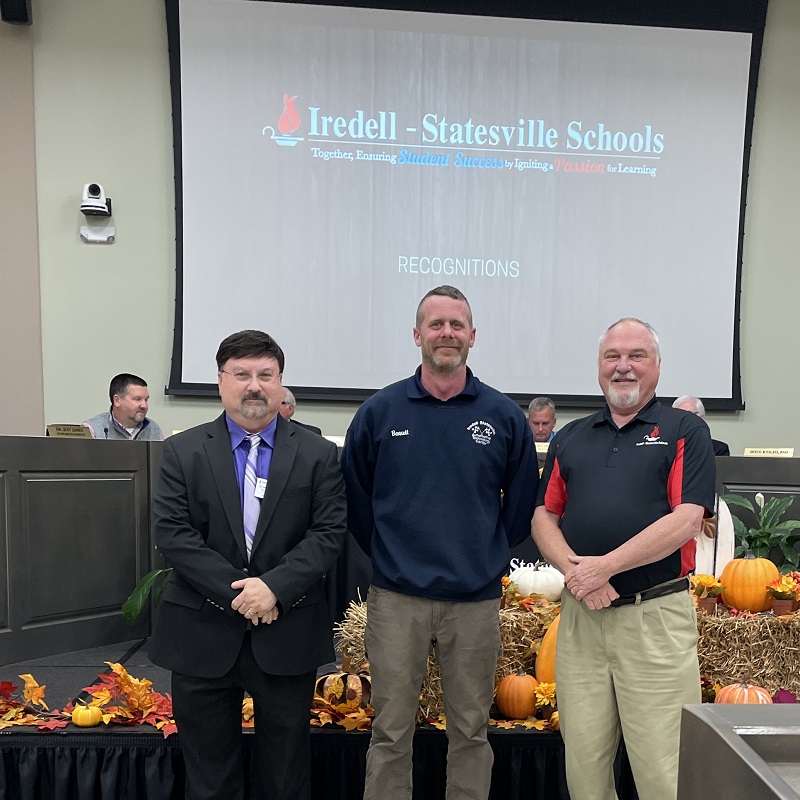 Master Auto Technician of the Year recognized
Career Academy and Technical School teacher Justin Bennett was recognized for being named the MotorAge/ASE Master Automobile Technician of the Year.
"Justin has done a great job with the program. He has had to fill in under not-so-great circumstances …and continues to make automotive one of the most prestigious programs here at CATS," said Superintendent Jeff James.
Bennett will be recognized by MotorAge and presented an award at the annual ASE Technician Awards Banquet to be held on November 17 in San Diego, Calif.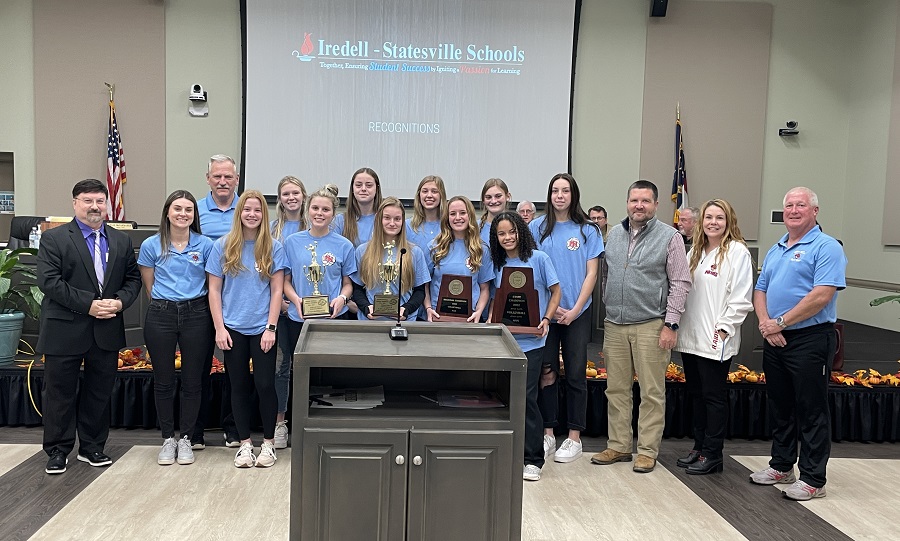 State champions honored
During student recognitions, the North Iredell High School's Lady Raiders Volleyball team was recognized by the board as the 2022 3A Volleyball state champions.
North Iredell Lady Raiders were undefeated this season and beat J.H. Rose in the title game to win the state championship.
The team had a record of 73-3 in the last three seasons. They are coached by Dave Markland. Also present was Athletic Director John Sherrill and Principal Diana Jones.
Senior Tilley Collins was player of the year. Conference defensive leader was Ailena Mykins.
The champions include Ailena Mykins (Senior), Mila Stewart (Freshman); Megyn Gaither (Sophomore), Kayden Madden (Sophomore), Eliza Jenkins (Junior), Hadyn Crawford (Junior), Madeline Sigmon (Senior), Emma Norris (Senior), Tilley Collins (Senior), Dilynn Norris (Freshman), Skylar Bolin (Senior), Emily Campbell (Senior), George-Anne Johnson (Sophomore), Kaydan Flowers (Sophomore) and Barrett Williams (Freshman).