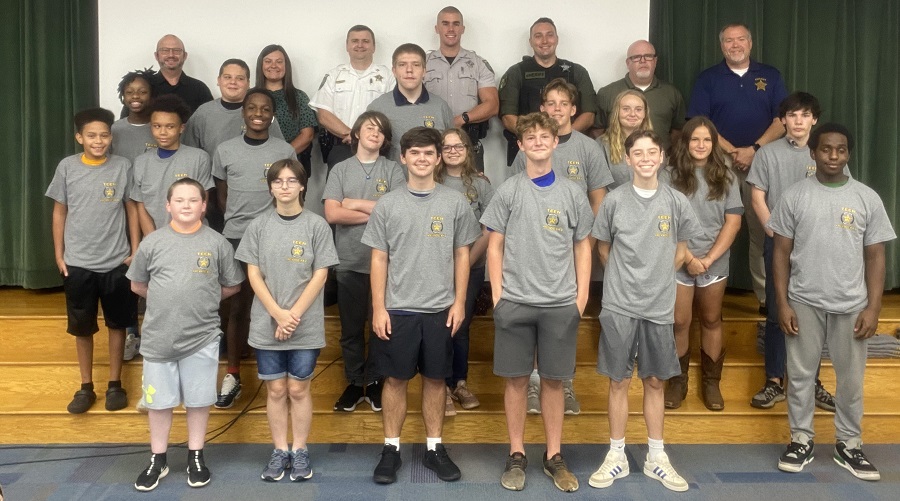 BY BRANDY TEMPLETON
The Iredell County Sheriff's Office invests a significant amount of time and energy each year to give local teens a behind-the-scenes look at the important work that law enforcement officers do in our community every day.
On Thursday evening, Sheriff Darren Campbell recognized the teens who soaked up all of that information during the seventh ICSO Teen Academy. The teens and their families were the guests of honor at a special graduation ceremony and dinner.
During twice weekly sessions throughout July, the students were exposed to active-shooter training, a K9 demonstration, the lake patrol and drones, and more, and they got to check out a N.C. Highway Patrol helicopter.
The goal of the Teen Academy, Campbell said, is to help build trust between the participants and law enforcement, and make sure the students know they can reach out to their school resource officers any time they need help.
"If we get them involved early on in middle school, they can go on to high school and college and hopefully they will make better life choices to become good citizens," Campbell said.
Maj. Bill Hamby explained that the program is a way for the ICSO to invest in students. The Teen Academy has gotten "bigger and better" each year, he said.
"There's a lot of well-spent money on your kids here," Hamby told the parents. "It takes a lot of moving parts, and a lot of our officers work overtime without extra money to do this."
That investment is already paying dividends, according to some of this year's participants.
Statesville High School senior Daniel Brown said it was a worthwhile experience. After completing the Teen Academy, he trusts Sheriff Campbell and is inspired to serve in law enforcement.
"We are great best friends," he said. "My career goal is to be a K9 officer."
While North Iredell Middle School student Bryson Jennings isn't planning to pursue a career in law enforcement, he said participating in the academy was still beneficial.
"I do have a fear of heights and deep water, but coming here is helping me get the best of my fears," he said.
Troutman Middle School student Lucas Brawley said he really enjoyed K9 night and added that he'll "maybe" consider a career in law enforcement.
Among the lessons he learned: "Keep your eyes on the road" and be a vigilant driver.
Photo Gallery