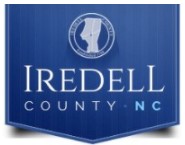 BY KARISSA MILLER
The Iredell County Board of Commissioners unanimously approved a request earlier this week to rezone approximately 6.03 acres along Ostwalt Amity Road from residential agricultural to general business.
During the public hearing on the matter, Dina Miller, who lives on Ostwalt Amity Road, spoke out in opposition to the rezoning request.
Miller said she's lived in the house directly across the road from the site for 22 years. She told commissioners that she purchased that home because she wanted to live in the country and retire there.
She said she has concerns about the traffic on Ostwalt Amity Road, which she said cannot handle the increase in traffic this request might bring.
Miller also asked if the buyer was going to buy her out so that she and her neighbor have an opportunity to move somewhere else.
When Chairman James Mallory asked if the question was rhetorical, she indicated that it wasn't.
Commissioner Gene Houpe told her that she could get together with the buyer at a later time and have that conversation.
The applicant Howard Bryan, Piedmont Landco, LLC, has owned the property in question since 2008. There is a home on the property, but will be converted to commercial standards for office/retail use or removed, county officials stated.
With the increased growth in that area, Bryan said the rezoning would increase the value of his property. He said it could be sold in the future for someone to develop commercially.
OTHER BUSINESS
In other matters, the board approved:
♦ A request from the Sheriff's Office to apply for and accept the 2022 Edward Byrne Memorial Justice Assistance Grant in the amount of $12,535. The money will be used to purchase Sig Sauer Romeo 5 Compact Red Dot Sights (optics) for patrol rifles.
♦ A request from the Town of Love Valley for Iredell County to advance cash for FEMA Disaster Assistance project awards in the amount of $1 million.
♦ A request from Iredell-Statesville Schools for final approval to purchase the Barium Springs property adjacent to South Iredell High School. The total price is $186,010, or $10,000 per acre.
♦ A request from the Statesville Regional Airport manager for approval to spend $4,797 as a local match for a N.C. Department of Transportation grant to be used for a Clearway Study.
♦ A request from the Health Department for approval of American Rescue Plan Act (ARPA) COVID-19 Public Health Workforce Grant in the amount of $24,561.68.
♦ A request from the Health Department for approval to accept $9,553 to provide Care Management for at Risk Children (CMARC) ages birth to 5 in Wilkes County who are uninsured and qualify for the program.
♦ A request from the library for approval to accept a grant from the State Library of North Carolina in the amount of $10,000. The grant funds will be used to create Resiliency Kits for seniors and adults with Intellectual and Developmental Disabilities (IDD).
♦ A request from Department of Social Services for approval to expend and receive $163,816 in Low-Income Household Water Assistance Program (LIHWAP) funds for use in making vendor payments on behalf of eligible Iredell County residents needing assistance paying for water and wastewater services.
♦ A request from Finance Department for approval to amend the ARPA Grant Project Ordinance to use the ARPA Standard Allowance on Salaries, assign $10,000,000 in fund balance, and appropriate $803,070 on ARPA Enabled projects.
♦ A request from Emergency Communications for approval to accept a bid from Mobile Communications America (MCA) for 362 new G5 Dual Band Voice Pagers for $242,721.
♦ A request from administration for approval to accept the bid for Fairgrounds Master Planning and Design Services. The county released a Request for Qualifications (RFQ) for Fairgrounds Master Planning and Design Services in March, 2022. The RFQ requested the chosen design firm to provide a space needs study, conceptual design, including exterior elevations, site plan and floor plans for new and renovated facilities, parking area design and cost estimates.