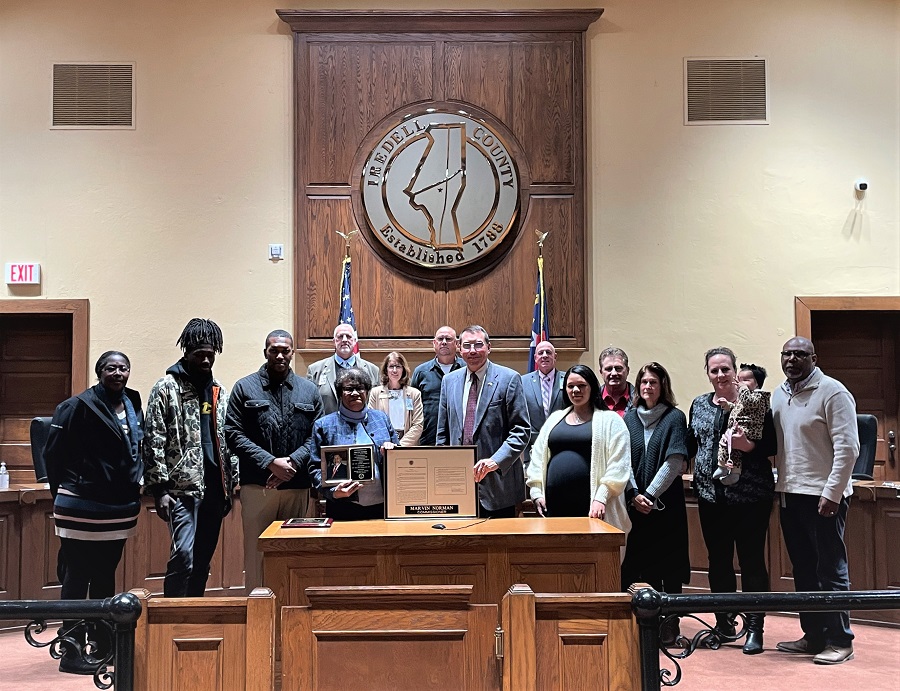 BY KARISSA MILLER
Iredell County commissioners on Tuesday honored retiring Chairman James Mallory and late-Commissioner Marvin Norman for their nearly three decades of combined years of service on the board.
Commissioners presented a plaque to Norman's widow, Juanita. Norman, who passed away September 14, served on the board continuously after being elected in 2002. He served two years as chairman and five years as vice chairman.
"It was my deepest wish that Marvin and I could be moving off of the stage together," Mallory told Juanita Norman.
"We had been battling buddies from Day 1 when I came on the board eight years ago, I asked him to be vice chairman and needed someone with a long view of how we got where we were," he added.
Mallory described Norman as someone who didn't speak much, but when he did people would listen.
"Although his actual heart gave out, his heart for this county continues to beat," Mallory said.
After adopting a resolution honoring Commissioner Norman's service, they had it framed and include the late commissioner's name plate.
Norman's colleagues on the board reflected upon his character and time in office.
"He always wanted to look out for the staff with raises and be fair with the revenues available," said Commissioner Gene Houpe.
Vice Chair Melissa Neader said that Norman had a heart for serving others. She is proud to call him a friend.
"He wanted to find solutions, but he always wanted the people involved to know he cared," she said.
Commissioner Brad Stroud said that he had an immediate connection with Norman and natural bond as veterans. Stroud, who was appointed to finish out Norman's term after being elected on November 8, said that he will always cherish the memory of his wife and Juanita holding the Bible during his swearing-in ceremony.
"Marvin will always hold a special place in my heart, and I will do my best to try and emulate Marvin Norman," Stroud said.
Commissioner Scottie Brown added, "We thank you for letting us have him. He was special."
Juanita Norman thanked the board and said he loved this county, he loved God, he loved his family and considered everyone his family.
"Marvin didn't have a middle name, but his was middle name was 'Community' because he really thought about the community all of the time," she said.
Joining Juanita for the recognition ceremony were Alan Norman, Kim Norman, Breanna Norman, Bri'elle Norman, Ronnie and Ann Wooten, Donavon Norman, Isiah Knox, Crystal Lippard, Jasmine Knox and Marcy Noman Gibbs.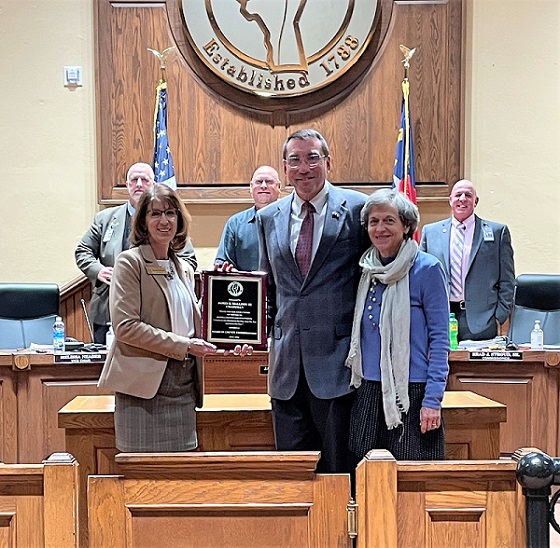 Next, the board recognized outgoing chairman James Mallory, who did not seek re-election. In 2014 and 2018, Mallory was elected to the Board of County Commissioners. He was elected chairman for both of his four-year terms.
"You have inspired citizens. You have given creative ideas. You have shared thoughts with staff," Neader said. "It's been an honor to sit next to you and learn so many things I didn't know about this seat."
"You have served us and served us well. Your willingness to dedicate time and hours to this county — it's a better place for your time and your commitment," she added.
Commissioner Brown thanked him for his advice, and said that he will miss the "Mallory Minute," or a brief speech that might turn into a longer one.
Stroud said he was thankful for Mallory's leadership, insight and many other good qualities. He gave him one final salute in honor of his service.
Commissioner Houpe thanked Mallory for his leadership and all that he's accomplished as a board member.
"You have left a lasting impression on us all. Thank you for your eight years of service to Iredell County and its citizens. A leader is one that knows the way and shows the way, very fitting," said Neader.
Mallory was joined by his wife Mary. His family attended a ceremony earlier in the day.
"There's not an 'I' in this process. There's not an 'I' in team. It takes a board of commissioners working with all the other stakeholders in this county to affect an overall change in economic development or quality of life," Mallory said.