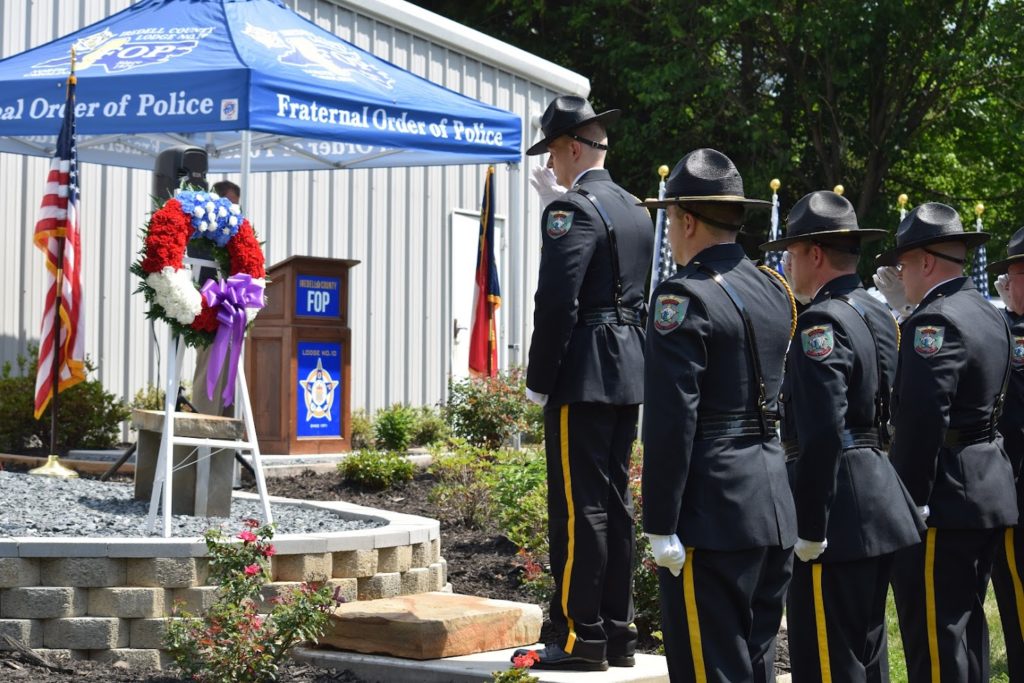 BY DEBBIE PAGE
debbiepage.iredellfreenews@gmail.com
During this National Police Week observance, the Iredell County Fraternal Order of Police Lodge 10 held its fifth annual Police Memorial Ceremony on Thursday morning to remember the ultimate sacrifice that ten county officers gave in their quest to protect and serve the community.
FOP President Rodney James and Vice President Garold Johnson welcomed attendees, including State Sen. Vickie Sawyer, State Rep. Jeff McNeely, County Commissioner Gene Houpe, Mooresville Mayor Miles Atkins, representatives of the Town of Troutman, and law enforcement officers from the Iredell County Sheriff's Office and the Statesville, Mooresville and Troutman police departments.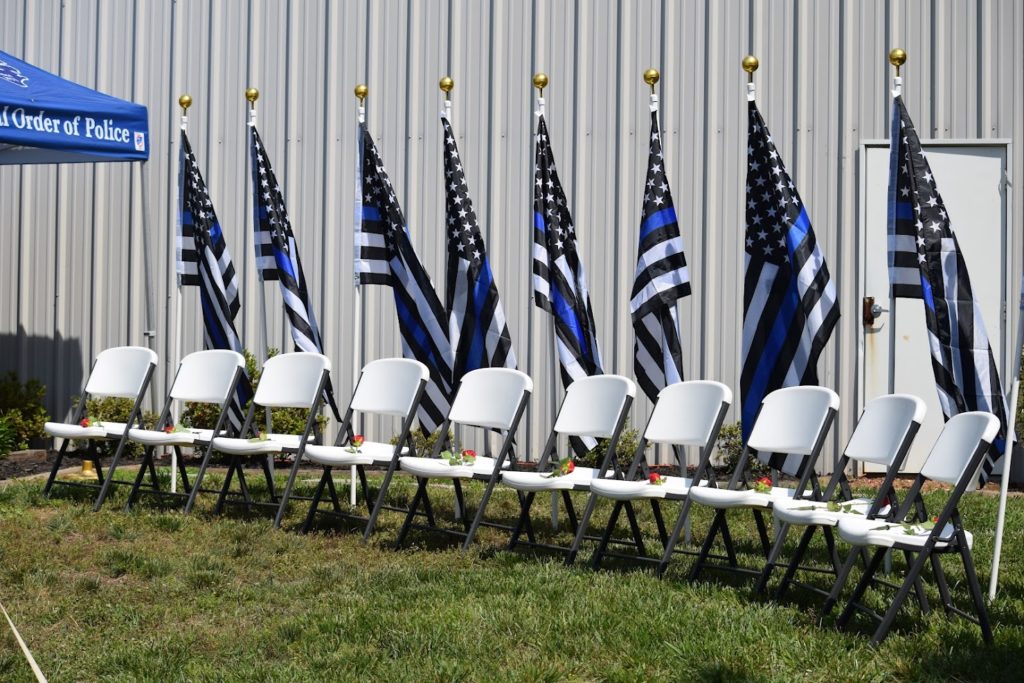 As the ceremony began, FOP members placed a rose on ten white chairs, each flanked by a blue, black and white police flag, representing the fallen officers being remembered.
Following presentation of the state and American flags by the Iredell County Sheriff's Office Color Guard, FOP chaplain Ed Kane welcomed the opportunity to remember the dedication of "the ten fallen heroes" who have "given the ultimate sacrifice in the performance of their duties."
In his remarks, Kane said that "our brothers were suddenly and violently taken from us." He asked that God's peace and comfort surround their families and their fellow law enforcement officers left in the wake of their loss.
"May their lives and service be a model for all who wear the badge. May all who remain in the service of our communities be ever watchful and be guided by your loving mercy for all citizens," he said.
Kane also asked for God's protection and for "guidance in our decisions while we interact with the public and that we will always be fair."
"Blessed are the peacemakers, for they will be called the children of God," he added.
In her keynote address, Sawyer thanked the FOP for the "honor of being here and especially for the acceptance into this lodge."
"This lodge accepted me with open arms, and continues to accept me, and that's why I bring this lodge in my heart when I serve in Raleigh," she said. "Another thing I bring with my heart is the love of the police force and understanding that during this time that you, and those who have gone before you, have been the backbone of America, North Carolina, and especially Iredell County."
"As I look around and see also those who are elected sitting here in honor of our police, I hope that shows you our dedication to your service," she said. "You see in a time where both the far right and far left are aiming their political anger in the wrong direction, the police are here to keep order."
"You take so many arrows for us. You do the most amazing job, and it is my best and greatest honor to have been asked here today to speak."
The ICSO Color Guard next laid a wreath at the Iredell County Law Enforcement Memorial monument, which is engraved with the names of the county's fallen officers as the bagpipes played "Amazing Grace."
James then called the "Roll Call of Honor," noting each officer's name and date of death as FOP Second Vice President John Fletcher struck a single bell note in each one's honor.
The Iredell County fallen heroes remembered were:
♦ Deputy John H. Miller (ICSO – June 30, 1917)
♦ Deputy Robert L. Cloaninger (ICSO – August 3, 1919)
♦ Officer James R. White (SPD – March 18, 1934)
♦ Sheriff Godfrey C. Kimball (ICSO – August 17, 1934)
♦ Trooper Cecil H. Hoffman (NCSHP – March 15, 1968)
♦ Lieutenant Larry V. Barger (MPD – July 13, 1974)
♦ Officer William J. Pettit Sr. (TPD – December 2, 1990)
♦ Officer David M. Anthony (NCDOC – October 27, 1998)
♦ Probation/Patrol Officer II Jeffrey L. Settle (NCDOC – August 4, 2011)
♦ Officer Jordan Sheldon (MPD – May 4, 2019)
Video
After the roll call, Mooresville High School NJROTC Cadet Tristin Snealy played taps.
In his benediction, Kane reminded attendees that officers go to fearful places and see and do fearful things because the community depends on them, even though they are sometimes scorned for their efforts to keep people safe.
Officers, who are the community's confidents and protectors, are just ordinary men and women who are daily called to heartbreaking situations such as untimely deaths and child abuse, added Kane.
Bagpipes were provided by the Mooresville Police Department. Rebecca Buchan sang the National Anthem.
Photo Gallery