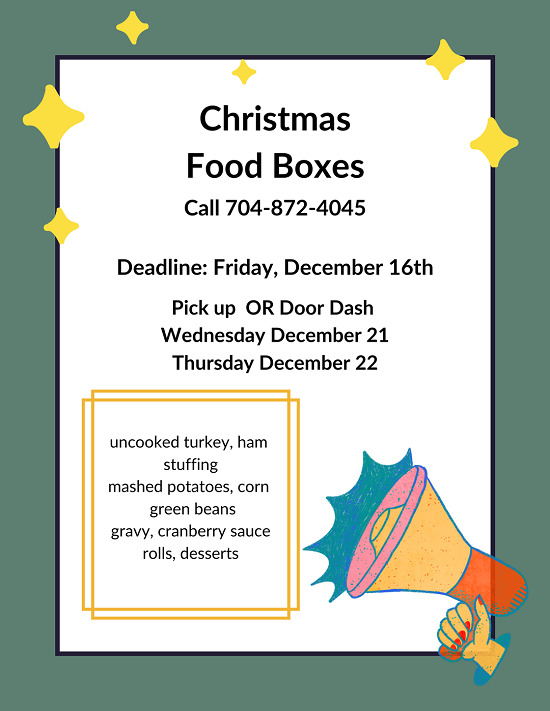 BY DEBBIE PAGE
The Iredell Homeless Coalition, a group of nonprofits, law enforcement and helping agencies, is collecting donations to meet the needs of those who are housing insecure during this cold, wet holiday season. Members are also hosting events for those in the community who are in need.
As 2022 winds to a close, coalition members reflected on positive stories from the past year. Karen Kidd of Foundation of Hope Ministries (FOHM) spoke about two previously homeless folks with whom they established trust and relationships who are now in rehab, stable and making good progress.
FOHM parter Rob Harris also shared a story about a mom and her three children, one of whom is autistic, who were living in a tent. They helped get the family into a shelter and later to a motel. They then assisted the mother to get into substance use treatment.
She has been sober for several months and is now working a full-time job, and FOHM helped the family move into a house in early December.
FOHM helped another homeless mother and father with a four-day-old child get into temporary shelter with the help of Iredell County EMS. They are both now employed and earning money, and the organization is now looking for more stable housing for the family.
FOHM helps people with food, clothing, tents, and other needs every day, but "where we really shine is taking those walks with these individuals for months and sometimes years at a time to get them to a stable life."
Harris and Kidd help the homeless and housing insecure people they encounter escape domestic violence, battle to achieve sobriety, or get through periods of bad luck or unforeseen circumstances.
"It takes a significant amount of time; it takes a lot of sympathy and empathy. It takes a lot of patience, but if there's hope in someone's eyes, that's the blessing of Christmas right there to get them through their difficult seasons," said Harris.
Foundation of Hope has rescued 21 people off the streets or from near homelessness and gotten them back to family members or safe places during the past 16 months.
"It's such a beautiful mess to watch lives change by just being available for these folks and working with all our partner resources to pull together and make it happen," added Kidd.
Community Response Support Team member Terri Blankenship shared about a young transient man that EMS got into a sober living home after detox. He is now one year sober and working as a peer support specialist in a treatment center, helping others like himself.
"He is impacting many lives and is now reunited with his kids," said Blankenship.
Upcoming Events
Christmas Food Boxes Deadline is Friday
The last day to sign up for Christmas Food Boxes from Fifth Street Ministries is Friday, December 16. Call 704-872-4045 to register for either pick up (1421 Fifth Street, Statesville) or Door Dash Delivery on either Wednesday, December 21 or Thursday, December 22.
Boxes include an uncooked turkey, ham, stuffing, mashed potatoes, green beans, gravy, cranberry sauce, rolls, and desserts.
Free Southside Community Event
The Village Intervention Partnership, G4G Ministries, Yokefellow, Salvation Army, Foundation of Hope Ministries, Kintegra Health, Partners Health, and many other ministries and community groups will be giving out free meals, food boxes, clothing, and coats on Saturday, December 17, at 11 a.m. at the Yokefellow facility at 1386 Shelton Avenue.
G4G will be cooking up its chicken dinners for attendees.
Clothes and Shoes Giveaway
The Christian Outreach of the Piedmont (1424 Rickert Street) is having a first-come, first-serve new and gently used clothes and shoes giveaway on Saturday, December 17, from 10 a.m. to 12:30 p.m. No registration is required.
They will also be serving hotdogs and hamburgers for lunch at the event.
Contact Ayana Pass or Nakayla Griffin at 704-759-6330 for more information.
NC Med Assist
The Iredell NC Med Assist event to help the uninsured or underinsured with free medications will be on January 13 from 9 a.m. to 2 p.m. at First Baptist Church, located at 150 South Church Street in Mooresvillle.
NC Med Assist is the only statewide non-profit pharmacy in North Carolina. Its programs provide prescription and over-the-counter medications to neighbors in need at no cost because no one should ever have to choose between purchasing food or buying their medicine.
Complete the registration at https://form.123formbuilder.com/6303317/form to be eligible to pick up medications at the event.
Learn more about NC Med Assist at https://medassist.org/.
Needs
The Foundation of Hope, a boots on the ground group helping those in various homeless encampments in Iredell County, needs donations of heavy duty men's work boots in sizes 10, 11, and 12. The folks the organization serves also need thermal underwear (L,XL), heavy blankets, quilts, and comforters, tents, and cold weather rated sleeping bags.
Contact Rob Harris at robharris2@gmail.com if you can donate these items.