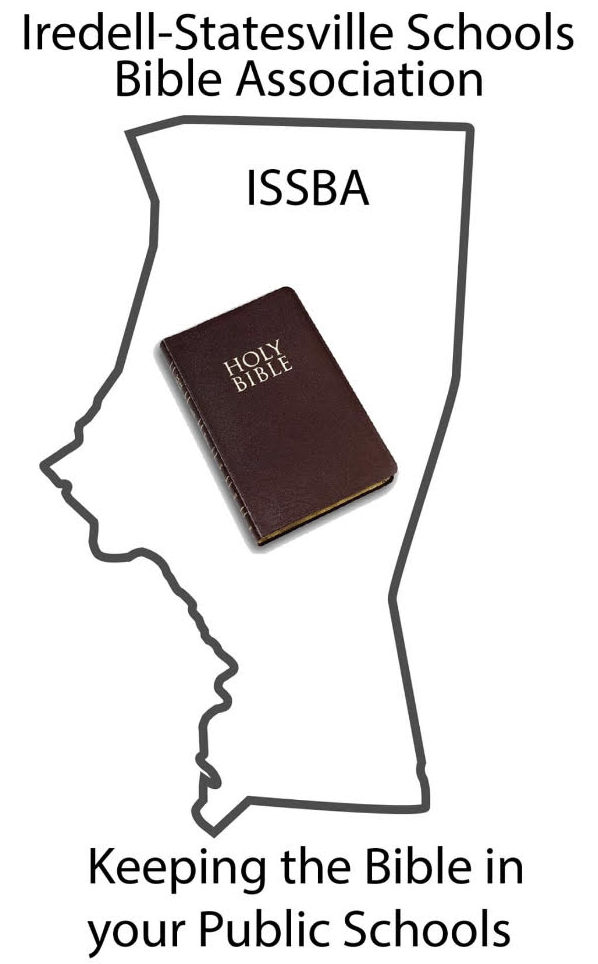 Volume 1, Issue 1
Spring 2022
The Iredell-Statesville Schools Bible Association (ISSBA) was founded in 1994 by a small group of local citizens dedicated to teaching Bible classes in the local high schools throughout Iredell County. We are a non-denominational group. The State of North Carolina does not offer Bible in the public school curriculum, nor will the state fund teaching positions for the purpose of teaching Bible. Our mission for the past 28 years has been to raise private funds to pay the salary of our teachers, provide a Bible to each student that takes the class, and provide materials for teachers to use in class. Thanks to the generous support from citizens like you, we have consistently met our annual goals. We are happy to report that 100% of your gift goes directly to our mission. We have no paid staff, and all board members are volunteers. Our classes are recognized by the NC Scholars Program, which means that all students who successfully complete a course receive an honors credit, which improves their grade point average.
"I am profitably engaged in reading the Bible. Take all this book upon reason that you can, and the balance by faith, and you will live and die a better man."
— Abraham Lincoln, 1862
Board of Directors
♦ Brady Johnson, Chair
♦ Jim Staples, Vice Chair
♦ Russell Wooten, Treasurer
♦ Beth Lail, Secretary
♦ Kelly Cooper, I-SS Advisor
♦ Dr. Ralph Bentley, Emeritus Founding Chair
Student Enrollment 2020-2021
| | | | |
| --- | --- | --- | --- |
| SCHOOL | FALL | SPRING | TOTAL |
| NIHS | 83 | 95 | 178 |
| SIHS | 22 | 0 | 22 |
| WIHS | 26 | 0 | 26 |
| SHS | 13 | 19 | 32 |
| LNHS | 124 | 112 | 236 |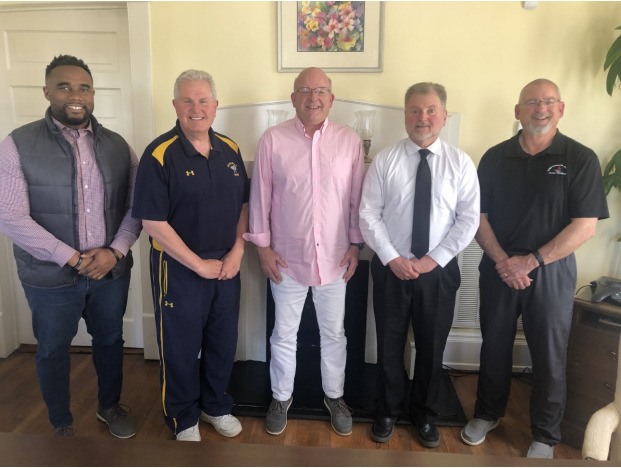 Teachers (pictured from left) are Jamil Mauney, Statesville High School; Jim McCoy, South Iredell High School; Chris Auld, Lake Norman High School; Brian Goodwin, West Iredell High School; and Darrin Whitener, North Iredell High School.

JIM McCOY is a native of Iredell County and a 1979 graduate of South Iredell High School. He graduated from UNC-CH in 1983 with a BA in Education and received a Master of Arts in Teaching from UNC-CH in 1984. After teaching and coaching at Vance Senior High in Henderson, NC, for two years, he "retired" from teaching to attend Columbia International University in Columbia, SC, where he received a Master of Arts in Christian Education in 1989. He and his family moved to Statesville in August 1989 when he began teaching and coaching at South Iredell. He has taught a variety of courses at South Iredell, including: ELP (English Language Proficiency), Civics, US History, World History, Honors World History, World Humanities, Western Civilization (which offered college credit through Wingate College), AP European History, AP World History, Bible History I, II, III, & IV, Criminal Justice, Psychology and Driver Education. He says that his real passion is teaching Bible History & World History. "We had 22 students at South this fall in Bible I & Bible III. It was a really good year with students who participated well and seemed to grow a lot through their studies. Quite a few have signed up for next year, which is always a good sign of how they appreciate being able to take a Bible course in school. Next year's enrollment will be about double this year's, which is very exciting!"

JAMIL MAUNEY "Greetings! My name is Jamil Mauney, and I am the current Bible History teacher at Statesville High School. It was quite an honor to teach this course, as I was a participant of the Old and New Testament courses during my time as a student at Statesville High. I lead a once a month worship experience called "The Invasion." Most of all, I enjoy spending time with my family, loved ones, and my students.
I have thoroughly enjoyed my time with my students and would like to share some of my experiences. The best part of the year was being able to share the history of the Bible for an entire academic school year. In a time period of extreme change, it was a blessing to be able to share the light of God's word to a generation that is looking for answers.
The school district went through a series of changes as we encountered the pandemic of 2020. Upon returning in August 2021, there were many challenges that both students and teachers had to conquer. However, both semesters of Bible History were amazing. I had 13 students in the first semester.
Second semester Bible class consisted of 19 students.
We had so many memorable moments, it is hard to name a few. The students were open, inquisitive, and engaging. The questions the students brought to the class were thought-provoking and allowed for us to explore the Bible in a highly relatable way. The story of the giants in Genesis was a favorite both semesters. Noah's flood was memorable as well because there were questions on the origin of all races.
If I had to pick one of the most awakening moments it would have to be the realization of God as the creator of humanity. The majority of my students both semesters were only aware of Darwin's theory of evolution and The Big Bang Theory. Apparently, none of them had questioned the idea that we evolved from monkeys. Those "aha moments" are the best.
During the first semester we made huge posters for Thanksgiving and Christmas and sent it to the elder center near our school. We also had a basketball player lose his father during the year. The class sent a poster to his family as well. I used these opportunities to teach how a random act of kindness goes a long way!"

CHRIS AULD "My name is Chris Auld, and I am the Bible History teacher at Lake Norman High School. I graduated from Southeastern University 36 years ago with a bachelor's degree and a wonderful wife. We served for 16 years in full-time ministry as youth pastors and then another seven years as an associate pastor.
Teenagers have always been special in my heart, and I genuinely love working with them. I knew it was the next step of my calling when the door opened for me to teach Bible History in the public school system. This is my seventh year at Lake Norman, and I love teaching all of the Bible History courses.
The students are the very best part of my job. They are engaged and eager to learn about the content. I have also had the opportunity to build meaningful relationships with them. They have trusted me to walk through some of their own personal struggles, and I believe that is the biggest honor of my life.
This year I had the opportunity to teach all four tracks of Bible History. There were 124 students on our roster in the first semester and 112 students the second semester.
The national pandemic, Covid, has had such an extreme impact on the social and emotional development for these guys. Because of this, I decided to shift the environment of our class to allow the students to safely make connections with one another as the year progressed. During our time together, we have been able to discuss and make connections between the content and their own personal struggles in areas such as Covid, depression, personal loss, relationships, forgiveness, and their future plans.
We have seen some amazing things happen, and parents have affirmed the work we have done at LNHS in their students' behalf in this class."

BRIAN GOODWIN is the Bible History teacher at West Iredell High School. He is a lifelong resident of Iredell County and a 1986 graduate of West Iredell. This fall will be his sixth year at West as the Bible History teacher. He has found that most students are very interested in learning about the Bible, from its history of development to how it applies to our lives today. His classroom had students from diverse backgrounds.
Many students do not attend church, and this is their only exposure to the Bible. Brian has really enjoyed the student-led discussions about the different subjects covered in class. Students who do not attend church, as well as those who do, sometimes have questions about the meanings of Scripture.
These questions led to great class discussions and better understandings of God's truths. The opportunity for growing the Bible program at West, and all other Iredell-Statesville Schools, is great. As a Bible History teacher, Brian feels this is a great ministry in which all area churches can be involved.
What Parents Say
"Mr. Auld goes beyond just teaching academics in the classroom; he makes a significant impact on his students' lives. He leads by example in the classroom by extending kindness and respect to his students and expects the same in return. In Bible History class students are encouraged to do their best work and be their best person inside and outside of the classroom. My oldest child took Bible History I-IV during her four years at Lake Norman High School, and my other three children hope and plan to do the same. Our children appreciate being able to take Bible History at their public high school, and our family has had a wonderful experience through the years because of the quality of teaching, the lessons taught, the relationships built, and the communication shared with the parents to keep everyone on the same page. Thank you for making this opportunity possible!"
— Christy, LNHS Parent
"I was amazed that my child enjoyed Bible History as much as he did. He came home every single day with a story or something he learned from the class. Mr. Mauney is an amazing teacher, and I'm glad my son had the opportunity to learn with him."
— Taney, SHS Parent
What Students Say
"Thank you for your financial support! My name is Ricky, and this is my first year taking this class. I enjoy Mr. Auld's teaching style and overall personality. So I thank you for your donations."
— Ricky, LNHS Bible Student
"First, I would like to thank the churches, groups, and individuals that make these classes possible. Having Bible History really opened my heart up and motivated me to get closer to our heavenly father God and our Lord and savior Jesus. Being able to take this class was really a blessing and has changed my life for the best!"
— Brianna, NIHS Bible Student
"Bible Classes give you an in-depth image of the Bible and the power of God. It is especially important when it is taught in school because of the atmosphere the students are in and the new attitude one gets after reading the Bible. If all students were in Bible class the school itself would be changed for the better."
— Shannon, Former Bible Student
"Hi, my name is Cade, and I would like to thank you for helping keep Mr. Auld's class going. I have taken Bible I, II, and III with Mr. Auld, and I plan on doing Bible IV too. Thank you for your support and donations; because of you I get to keep learning about the Bible, and it's really nice to keep learning about the Bible. If it wasn't for you, I wouldn't be able to do this. So thank you for your help."
— Cade, LNHS Bible Student
"Thank you for your contribution to the Bible Association. Your donation allows me and other religiously active and unchurched students to learn and challenge ourselves with the in-depth studies of the Bible. This class can open students' eyes to the true power that God possesses. We are grateful for both your
contributions and your prayers. We pray that God will bless you."
— Bible Student
"Thank you to the churches for giving my school the opportunity to take this class. I have one of the best teachers teaching me more about the Bible. This class teaches me so much and brings me closer to God."
— Emily, NIHS Bible Student
"During my time in Mr. Whitener's class, I have had the opportunity to learn about the Bible and do that in my own school, which most kids do not have the chance to do. I have gotten to strengthen my faith and put that into my school work."
— Nadia, NIHS Bible Student
"I am very thankful for being for being able to take this class. I have learned a lot about God and Jesus and what they have done for us. I really enjoy the class, too, because of my teacher Mr. Whitener. He has been really helpful and generous on teaching the Bible; plus, his jokes are funny."
— Moses, NIHS Bible Student

DARRIN WHITENER "I am the full-time Bible History teacher at North Iredell High School, and I am finishing my 35th year of teaching Bible History full-time in high schools in North Carolina. I taught for eight years in the New Hanover County School System, and now I have been in the Iredell-Statesville School System 27 years. God has truly blessed me with the privilege of allowing me to teach His word to high school students as a career. Since the time that I was a teenager, I felt that this is was the path that God was leading me down to a career in teaching Bible History in the public high schools in North Carolina. When I was finishing up college at Gardner Webb College, I was not given much hope or encouragement of being able to teach full-time as a Bible History teacher, but God had other plans for my life. God led me to a full-time job as a Bible History teacher right out of college, and I have been teaching Bible History and working with teenagers ever since.
God has blessed me in many areas of my life! On August 1, 2022, I will be celebrating 35 years of marriage to my wonderful wife and best friend, Donna. We have two adult sons and one daughter-in-law, and we are very proud of all three of them. We also have our dog, Lucky. My wife and I enjoy spending time together, spending time with family, and spending time in Wilmington, NC, and at Fort Fisher State Recreation Area. God has also blessed me during my marriage with additional ways to help support my family, serve Christ, and help youth. I have worked part-time jobs such as a Youth Director and a Children and Youth Minister, and I am currently working as a Driver Education instructor after school. (If you want to improve your prayer life, try working any of those.) It is hard to believe that it has been 35 years since Donna and I began our lives together and I started working with teens and teaching Bible History. God has truly blessed me and my family.
I would like say THANK YOU for your support over the past 28 years that this Bible History Program has been in the Iredell-Statesville School System and for allowing me to be a part of this program for the past 27 years.
Thank you for prayers and your financial support through the years. You cannot imagine the impact that these classes have on the lives of these young people. I recently had a parent tell me that they were thrilled to see their child reading the Bible more and bringing conversations about the Bible, God, and Jesus into their home. God's Word is alive and powerful, it never returns to Him void or empty, it always accomplishes something every time that it is read, and God's Word is everlasting!
This school year at NIHS, I had two Bible History I classes (Genesis-Ruth), two Bible History II classes (Matthew-John), one Bible History III class (1 Samuel-Malachi), and one Bible History IV class (Acts-Revelation). Most classes had between 25-30 students. Each day began with students recording the verse of the day in their journals. From time to time, students also wrote in their journals, reflecting on lessons that we have covered, special topics that we have discussed, or on special times of the year. Each day students had time to read, study, and answer questions about readings from the Bible. We also set aside time for lectures, discussions, and going over the work that they did in class. Students also did creative writings, made posters, and completed projects.
You are providing this opportunity for students to read and study the Bible for almost 90 minutes a day, five days a week for 18 weeks — a whole semester! Again, thank you! You made this possible through your donations."
Thank you!
Thank you for your support of the Iredell-Statesville Schools Bible Association, we would be unable to pay our teachers, provide them with materials for their classrooms, and provide Bibles for our students without your faithful gifts. Our prayer partners lift up our teachers and students daily. GOD BLESS YOU!
Iredell-Statesville Schools Bible Association
126 East Water Street
PO Box 583
Statesville, NC 28687
Contact Us
♦ Email: issbaonline@gmail.com
♦ Facebook: https://www.facebook.com.issbaonline
♦ Phone: 980-759-3021