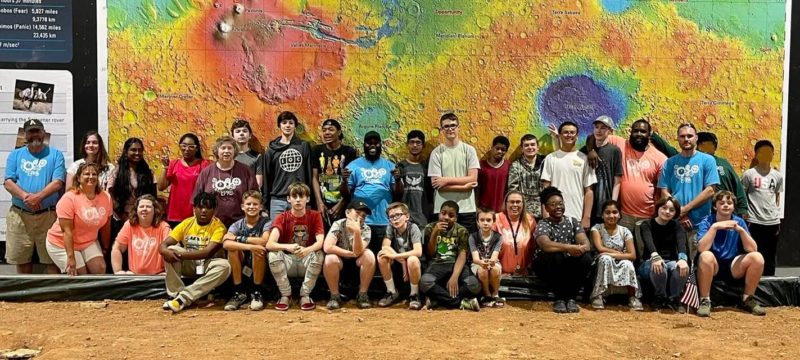 Special to Iredell Free News
While their friends have been enjoying a break from school, a small group of Iredell-Statesville Schools students has been focusing on the three Rs for the past three weeks.
The Rockets, Rovers, and Robots Camp at the Career Academy & Technical School campus in Troutman features hands-on lessons in coding, problem-solving, hoverboard building and more.
Each day, students rotate through four different NASA-inspired stations. In the Apollo station, teachers Olivia Atchley, Kensley Dalton, and Wendy Santorum teach students to program and code various robots and rovers like the popular EV3 LEGO Mindstorms, various Sphero brand robots, indoor drones, and more.
The toddler-size NAO robots are wildly popular among the students because they have the brain of a genius and the behavior of a toddler. Students have programmed the wayward bots to do Tai Chi, play a pretend saxophone, and even dance.
With the help of the Career and Technical Education department, students also get the opportunity to use Virtual Reality goggles with special job simulator software. Students virtually learn how to change the oil in a car, do some basic welding, and even put out fires using a fire extinguisher.
While operating the Discovery and Challenger stations, instructors Megan Collins and Matt Miller issue extensive tasks that not only offer students a chance to be creative but also encourage them to solve real-world problems individually and as a group.
Peer group interaction promotes soft skills like effective communication, respecting others' opinions, team support, and additional skills necessary for workforce success. Tasks in these stations include building model airplanes, creating a wearable space helmet, and even building a rideable hovercraft powered by a leaf blower.
Artemis is the final station and is a camp favorite. Instructors April Smith, Chaz Boller and CJ Flay guide students through the building and launching of solid-fuel rockets. Seeing the looks on the students' faces and hearing the squeals of delight feels exhilarating for the teachers.
Camp coordinator Debra Lester explains that camp preparation began in December with researching fun and engaging activities, formulating supply lists, and recruiting teachers.
Lester attributes the camp's popularity and success to the talented and gifted teachers and the helpful staff at CATS.
Photo Gallery