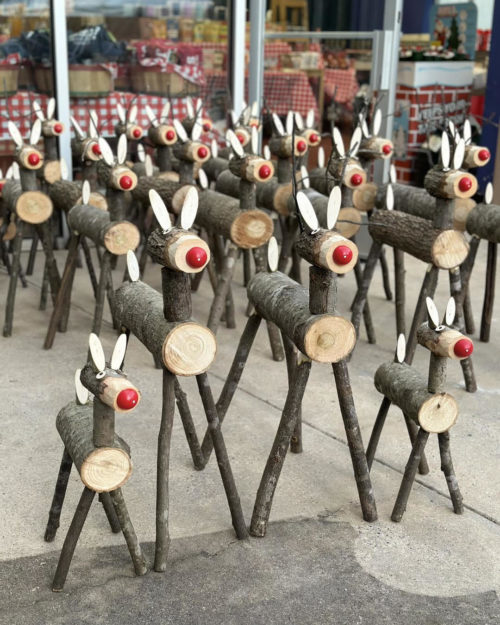 BY DEBBIE PAGE
Josh's Farmer's Market, which was left in limbo after after the Town of Mooresville forced owner Josh Graham to close his operation at the Lowe's YMCA on October 31, has found a temporary home at 140 Raceway Drive, just off Williamson Road at the former Red's Gym facility.
The market opened on Saturday with freshly cut Christmas trees, seafood and oysters from the coast, vendors' baked breads, cakes and pies, meats, dairy products, and winter veggies and fruits, including apples, sweet potatoes, greens, and snap beans for holiday dinners.
The market is also selling market hoodies, Christmas decor, and has area food trucks on site selling food and beverages on the weekends.
Hours are 9 a.m. to 6 p.m. seven days a week, except Thanksgiving Day when the market will close at noon. Orders can be made by text/call to 704-677-6710 or 980-635-8140.
Graham posted on Facebook that "despite this move to finish out our year, I do want to share that I was fortunate enough to meet with the Y's local coordinator, Ms Ashley, and the YMCA COO today and had great discussions about our on going partnership and what it has meant for both parties."
"Josh's Market at the Y has been a tremendous joint effort for this community and both parties agreed we are not saying 'Good Bye.'"
"When Ms Ashley offered their space back in March of 2021, it was a key moment for our market, and its continued existence and any doubts I had were quickly erased by happy customers that piled in to the YMCA grounds."
"The weekend atmosphere was second to none and is worth fighting for when the community is so willing to make you a part of their weekly rituals. A partnership of 2 local institutions that is so right in every way can't possibly be wrong and watching how hard this Community has fought for our right to continue doing what we have done for 20 years is inspiring and has been the fuel for us to continue pushing forward…"
"For that, we sincerely thank you, the customers, and thank you to the Lowe's YMCA for allowing this opportunity from Day 1!"
Graham, who operated the farmer's market on Williamson Road for nearly three decades before being dislocated by road improvements and the sale of the family property, is embroiled in a dispute with the Town of Mooresville, which boiled over at a standing room only Board of Adjustment meeting on November 15.
A decision on Josh's Farmers Market's appeal to exist as a seasonal farmer's market and on the interpretation of the UDO to impose fines on landowner YMCA of Greater Charlotte for the market's operation has been continued to the December meeting of the Mooresville Board of Adjustment.
Mooresville Town Attorney Sharon Crawford contends Josh's Farmer's Market never had a farmer's market permit but was designated as an outdoor seasonal sales entity under the new UDO. In the town's view, Josh's Farmer's Market committed 15 UDO violations after its July 31 permit expired.
Town Planner Danny Wilson testified that he interpreted the new UDO farm market definition to classify Josh's Farmer's Market as a retail business that resold purchased products — and not as a farmer's market, which he said was defined as individual vendors selling their wares at stalls.
This change to retail classification would require Josh to operate in a building instead of the seasonal open market model that closes three months of the year.
Graham's attorney Rick Yeoman, while cross-examining Wilson, disagreed with the town's farmer's market definition, noting that Josh's Farmer's Market consigns many local vendors goods, products, and produce at the market, freeing their time to make or grow more products. Weekend vendors were onsite as well.
Wilson stated that he had not inquired about the market's business model and that he had not deeply studied other farmer's market models other than as defined in the UDO. He said he was not familiar with Josh's particular business model.
Graham's other attorney, Mark Hamblin, detailed the growth of Josh's small, family owned business from his selling watermelons from a wagon beside the road to the consignment market that supports many local farmers, producers, and artists today.
He noted the model is not uncommon, with similar markets operating throughout the state, including in nearby Cornelius and Kannapolis, without issue. Such markets allow consumers to buy local products and fresh goods and allow local producers selling space and more time for production of their agriculture or goods.
If the town forces Josh's into the retail establishment category with a large, unnecessary building, the unique, open-air market environment the community loves would be forever changed, added Hamblin.
Graham wants to continue operation to serve the community and local farmers and producers, but because no reasonable compromise was reached, Graham was forced to shut down.
Graham asks to be categorized as a farmer's market and that violations and fines be removed.
The Board of Adjustment voted to continue the hearing until Tuesday, December 20, at 2 p.m. at the Town of Mooresville Government Center at 413 North Main Street.