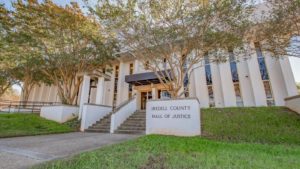 BY MIKE FUHRMAN
After spending a year in jail following her arrest on murder and conspiracy to commit murder charges, Qaweisha Toliver decided to talk to Statesville Police Department investigators about Shana Nichole Harmon's death.
On Thursday, the sixth day of testimony in Jhammar Bowen's murder trial in Iredell County Superior Court, Assistant District Attorney Mikko Red Arrow played portions of a video of Toliver's jailhouse interview for the jury of eight women and four men.
Toliver told the SPD Investigator Christy Cleary that she did not want to continue protecting a man who did not care if she "lived or died."
"My kids is more important than a guy. My family is more important than a guy," she said during the interview. "My life is more important than a guy."
Toliver's statement to police was largely consistent with her trial testimony as she recounted the morning of January 16, 2020, when she said Bowen picked her and Harmon up from Toliver's apartment in Statesville.
Toliver testified that she believed Bowen was going to pay Harmon to have sex that day because Harmon needed to make some money for drugs.
After they drove to Mooresville and back to Statesville "looking for a spot," Harmon, 25, suggested they go to the "Honeycomb Hideout," Toliver told the investigator. The abandoned house on 8th Street was frequently used for drugs and prostitution, according to earlier witness testimony, and Toliver said she had been there more than 100 times.
Toliver, 28, told police she did not know that Bowen was going to shoot Harmon, an assertion she repeated on the witness stand Thursday, "but I would have gone anyway because he had a gun."
After Bowen shot Harmon three times, causing fatal wounds to the brain and heart, Bowen got back in his Nissan Rogue and told Toliver to get in the vehicle, Toliver told the investigator. She did as she was told, and Bowen drove away, she said.
"I was scared. I was crying," Toliver said in the jailhouse interview. "He gave me a kiss. He was laughing because I was crying."
The prosecution contends that Bowen killed Harmon because he believed that she had stolen about an ounce of cocaine from Toliver's apartment on East Broad Street. According to earlier testimony, Bowen cooked crack cocaine in various locations and provided it to Toliver to sell in the streets and in drug houses in Statesville during the months leading up to Harmon's death.
But Toliver told the investigator that she did not believe Shana Harmon had stolen the drugs. Toliver also said that she had paid Bowen for the missing cocaine "so he didn't take a loss."
But, according to Toliver's statement, Bowen told her: "It doesn't matter. It's the principle."
After noticing that Toliver was struggling to focus and stay awake while she was on the witness stand, Judge Lori Hamilton recessed the trial for the day at 3 p.m. Thursday.
It was the second time in two days that Toliver's testimony was suspended due to her apparent cognitive impairment. Toliver, who is battling cancer, takes a regimen of chemotherapy and prescription pain and nausea medicine, which she said makes her feel tired and sick.
While Judge Hamilton expressed her sympathy for Toliver's medical condition, she said the trial could not continue to be delayed because of the prosecution witness's inability to complete her testimony. She asked Toliver's lawyer to provide detailed information about Toliver's prescriptions, including dosage amounts and instructions. She also said she would have Toliver, who is on court-supervised release while awaiting her own trial, to be drug tested to ensure she is not under the influence of other controlled substances.
The defense is scheduled to begin its cross-examination of Toliver when the trial resumes at 9 a.m. Friday.
In a setback for the defense, Judge Hamilton ruled Thursday that the prosecution can introduce evidence about the cocaine, firearms, ammunition and paraphernalia associated with the sale of controlled substances that was seized from Bowen's Winston-Salem home about two weeks after Harmon's death.
More than 2 kilograms of cocaine, $26,000 in cash, digital scales, numerous firearms and ammunition were seized by Winston-Salem police on January 31, 2020.
Defense attorney Ken Darty objected to that evidence being presented to the jury, arguing that it had no bearing on the murder charge and would be "unfairly prejudicial" to his client.
Red Arrow, the prosecutor, countered that the evidence helped prove Bowen's motive for killing Harmon.
The judge said she would limit the testimony the jury hears to evidence tied directly to Bowen, including cocaine, weapons and ammunition found in a room with his Jamaican ID, the lease agreement for the home bearing his name, and paperwork related to repair work on the Nissan Rogue. She also said the prosecutor could introduce evidence of drug-processing paraphernalia found in the kitchen and another weapon found elsewhere in the house that had been referenced in earlier witness testimony.
The gun used to kill Harmon was not recovered. Prior evidence and testimony indicated she was shot with a .44-caliber handgun. None of the weapons found in Bowen's house was a .44-caliber, but according to the Winston-Salem Police Department, .44-caliber ammunition was seized.
During her interview with the SPD investigator, Toliver said Bowen told her that he was going to sell the weapon used in the shooting.