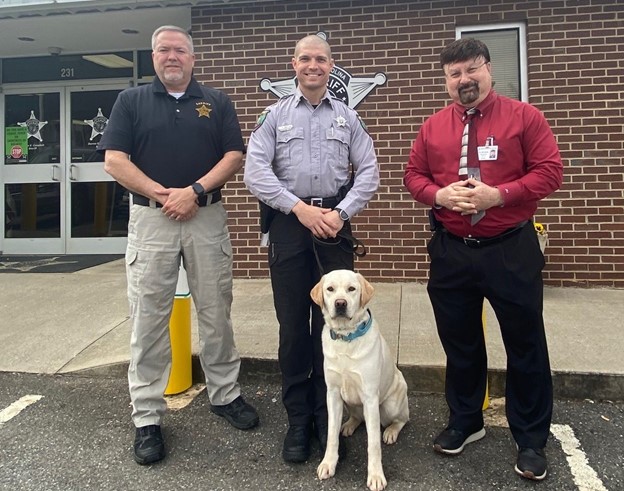 Special to Iredell Free News
Rip, a 15-month-old English Labrador Retriever, has joined the Iredell County Sheriff's Office School Resource Officer Division.
The newest member of the ICSO will work alongside Deputy Chris Atwood, who has worked as an SRO since 2019. Atwood has been a law enforcement officer for more than 14 years with five of those years as a K-9 handler.
This additional canine position was made possible due to the partnership between the Iredell County Sheriff's Office and Iredell-Statesville Schools.
I-SS Superintendent Jeff James and the I-SS Board of Education worked with Sheriff Darren Campbell and the Iredell County Board of Commissioners to make the position a reality. I-SS purchased Rip, and the ICSO is responsible for the deputy's training, vehicle, and taking care of the canine's housing, care and other needs.
The work that Rip and Deputy Atwood do in schools will help build relationships between the students and law enforcement, making the school climate a better and safer place for learning. Canines have proven to provide excellent therapy for children in crisis. It is calming to pet the dog as well as talk or read to them. The canine's ability to detect illegal drugs will make the schools a safer place. If a child is ever missing from the school, the canine can track them to ensure they are located.
The name Rip was chosen in honor of the first search and rescue dog used in World War II. That dog was credited with saving the lives of over 100 people.
Rip is not the first ICSO K-9 to work with the schools. K-9 Tito is well known and loved across the Iredell-Statesville School system.
Rip will continue this successful endeavor by being partnered with a School Resource Officer at an elementary school and making regular visits throughout the school district.