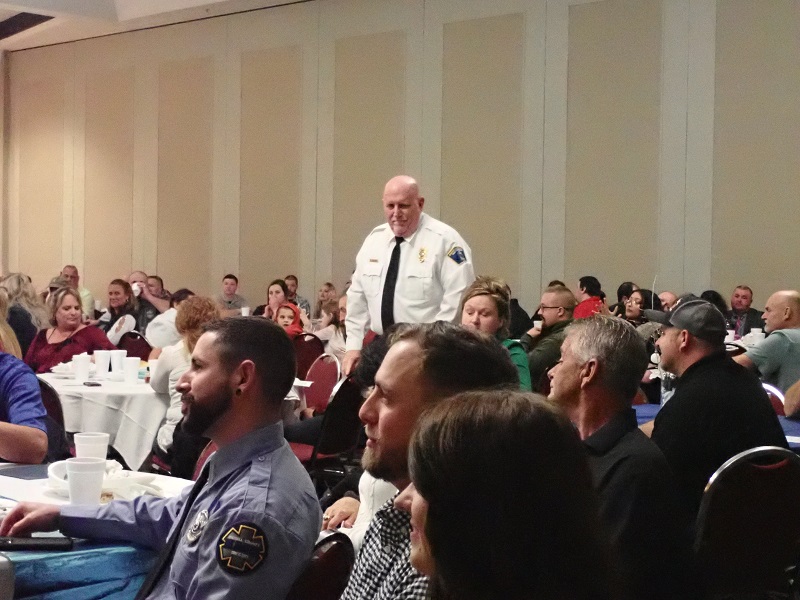 BY KARISSA MILLER
Despite rain and dense fog outside, the Statesville Civic Center was packed and the crowd was energized Wednesday night for the annual Iredell County EMS Awards Banquet.
Iredell County Board of Commissioners Chair Melissa Neader told EMS workers that they are a vital part of our community.
"EMS is woven into who you are, how you live, impacts how you function," she said. "Your story is interwoven into so many other people's lives and their story into your life."
Neader also introduced her friend and co-keynote speaker Tracy Alston, the founder and CEO of two companies located in Mooresville that are focused on improving mental health and mental fitness, New Mentality P.C. and Mental Edge Fitness Solutions Inc.
Alston is a mental fitness consultant, licensed professional counselor and board certified and credential in other specialties of the brain.
She told EMS workers that it's okay to say no during the holidays and emphasized the importance of setting boundaries to manage their stress levels. Alston told the crowd that she is offering a free brain map for all EMS workers, which is valued at $600.
A brain map is a mental assessment that can help identify a person's mental weaknesses and strengths. Alston said she was inspired to do so because of their sacrifice and service to others.
One way for people serving in high stress jobs to activate and relieve stress response is through laughter, she said.
"Fun and laughter are important for the brain. It releases chemicals that are very good for your brain health," Alston said.
Iredell County EMS Director Blair Richey explained that in the field they work closely with police, firefighters, rescue squad personnel and telecommunicators.
"It truly takes every single person in this room for us to be able to reach our goals and do our jobs that test our ability," Richey said. "First and foremost, I want to thank the families that are here. If you didn't support us in doing this crazy job, we wouldn't be here."
The banquet is held each year to honor Emergency Medical Service employees, as well as first responders and telecommunicators for excellence in pre-hospital care, education and other special achievements.
The banquet is organized by the Awards Committee. Members are: Matthew Munsey, chairman; Analeah Killian, secretary; Katie Corriher, Brandy Mitchell, Megan Lira and Caroline Elliotte.
2022 EMS Awards
Acute Pediatric
♦ Aaron Herman, Alex Fox, Alex Houston, Anthony Armstrong, Bethany Morgan, Brandon Robinson, Brent Jones, Brett Compton, Brian Niblock, Caroline Elliotte, Chase Bell, Chris Venable, Cody Penley, Darren Wagoner, Dawn Toohey, Dee McWhorter, Garrett Meacham, Heather Bowers, Hunter Shook, Hunter Swicegood, Jared Wiles, Jason Smith, John Gallagher, Jonathan Bajak, Jonathan Stoehr, Josh Deal, Josh Fussell, Joshua Moody, Kayla Potts, Matthew Toms, Michael Johnson, Miranda Wiles, Noah Armstrong, Ray Pope, Richard Hill, Savannah Powers, Scott Long, Steven Moore, Todd Lenderman, Tori Murdock, Travis Chapman and Will Daniels.
Life Saving
♦ Andy Robinson, Anthony Rimmer, Atley Brown, Bethany Morgan, Brian Emory, Brian Mitchell, Brian Niblock, Byron Allison, Carson Snyder, Colby Harris, Colton Orell, Danielle Baldwin, Danilo Pina, David Cook, Donnie Morris, Franklin Goodin, Garrett Meacham, Heather Bowers, Jacob Meador, Jared Wiles, Jason Mullins, Jeff Styers, Joe Johnson, Joe Pharis, Johnny Hinson, Jonathan Glass, Josh Fussell, Justin Call, Megan Lira, Michael Bentley, Michael Keller, Mike Sloan, Miranda Wiles, Nic Hinson, Nolan Shumaker, Oliver Cruz, Robbie Stamey, Robert Kennedy, Ryan Harrison, Savannah Powers, Tamara Sherrill, Terry Tilley, Tim Barber, Tyler Robinson, Wayne Hill, William Bustle, William Call, William Harris and Wyatt Gibson.
Trauma
♦ Aaron Combs, Aaron Kennedy, Adam Sparks, Amanda Trotta, Bethany Morgan, Brian Emory, Brian Niblock, Bryan Morris, Caroline Elliott, Chris Martin, Cody Penley, Dan Paulson, Danny Negron, David Parker, Dedra Chapman, Dee McWhorter, Frank Durant, Garrett Meacham, Gary Ladd, Jennifer Hovarth, Jonathan Stoeher, Josh Fussell, Josh Smith, Justin Combs, Justin Yox, Katie Corriher, Kyle Bell, Landon Russ, Michael Ashe, Noah Armstrong, Oliver Cruz, Sandy Cartner, Shane Schantzebach, Stephen Lanier, Stephen Taylor, Todd Lenderman, Todd Munsey, Tori Mudock, Tyler Conley, Tyler Robinson and Walter Horne.
Pediatric Trauma
♦ Brett York, Brian Niblock, Bryan Morris, Cameron Horne, Charles Thompson, Cheyenne Thompson, Floyd Harpe, Frank Quick, Hunter Shook, Jason Smith, Jeffrey Edwards, Joe Pharis, Landon Russ, Matthew Baity, Matthew Baynes, Megan Lira, Oliver Cruz, Stephen Moore, Todd Lenderman and William Akins.
Major Event
♦ Alex Houston, Austin Huntington
2022 Mission: Lifeline Gold Plus Award
Central School VFD, Cool Springs VFD, County Line VFD, Ebenezer VFD, Iredell County EMS, Iredell County Rescue Squad, Lake Norman VFD, Monticello VFD, Mooresville Fire & Resuce, Mount Mourne VFD, North Iredell Rescue Squad, Sheffield Callahan VFD, Shepherds VFD, South Iredell VFD, Statesville Fire, Stony Point VFD, Trinity VFD, Troutman Fire & Rescue, Union Grove VFD, Wayside VFD and Wilkes Iredell VFD.
Individual Awards
♦ EMS Employee of the Year: Justin Hill
♦ EMS Officer of the Year: Angela Hobbs
♦ ECOM EMS Telecommunicator of the Year: Wanda Johnson
Years of Service
♦ 35 years: Donna Young
♦ 20 years: Lynn Hooper
♦ 15 years: Misty Saunders
♦ 10 years: Boyd Morrison, Todd Lenderman, Mike Eckmann
♦ 5 years: Abigail Childress, Adam Kilby, Andy Cardwell, Anna Killian, Bradley Consalvo, Cameron Horne, Carmen Fincher, Chris Martin, Lindsey Davis and Samantha Divincenzo
Photo Gallery

Stay Connected
Sign Up for Our Free Daily E-MAIL EDITION: HERE