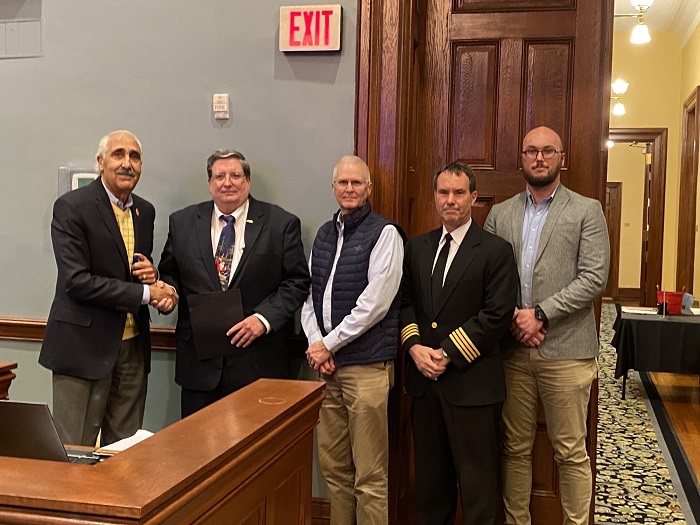 Special to Iredell Free News
Statesville Mayor Costi Kutteh proclaimed the week of December 17-24 as North Carolina Aviation Week during the City Council meeting on December 5.
Kutteh stated that National Aviation Day and National Aviation Week are typically celebrated in August, but in North Carolina it is celebrate in December as the first successful maiden flight was on December 17, 1903, in Kitty Hawk by Wilbur and Orville Wright.
Airport Manager John Ferguson and Airport Commissioner David Bullins were on hand to accept the proclamation along with John Gorman and Joseph Wilbourne.
Resolution: "North Carolina Aviation Week"
WHEREAS, the first successful maiden flight of a manned, engine-powered aircraft was achieved by Wilbur and Orville Wright on December 17, 1903 in Kitty Hawk, North Carolina; and
WHEREAS, since the groundbreaking flight 119 years ago, revolutionary strides have been made in aviation; and
WHEREAS, aviation connects people, commerce, and industry across the country, oceans, and continents; and
WHEREAS, the economic, strategic, and social benefits of aviation are crucial to our national security and prosperity; and
WHEREAS, with more than 200 aerospace-related companies in the North Carolina, aviation is a multibillion-dollar industry that supports hundreds of thousands of jobs and contributes millions of dollars each year in tax revenues to state and local governments; and
WHEREAS, the Statesville Regional Airport was officially opened 32 years after the first flight and supports and assists the citizens of Statesville and Iredell County in many ways, including economic development, recreational flying, providing a gateway to the community and tourist attractions, supporting air freight shipments, supporting the military and its operations, providing access in times of emergency, and supporting medical needs and the medical profession.
NOW, THEREFORE BE IT PROCLAIMED that I, Constantine H. Kutteh, mayor of Statesville, and on behalf of the City Council, do hereby proclaim December 17 – 24, 2022 North Carolina Aviation Week.