BY JABRIA WILLIAMS
Sarah Nix isn't waiting until she finishes college to make a positive impact mark on the planet.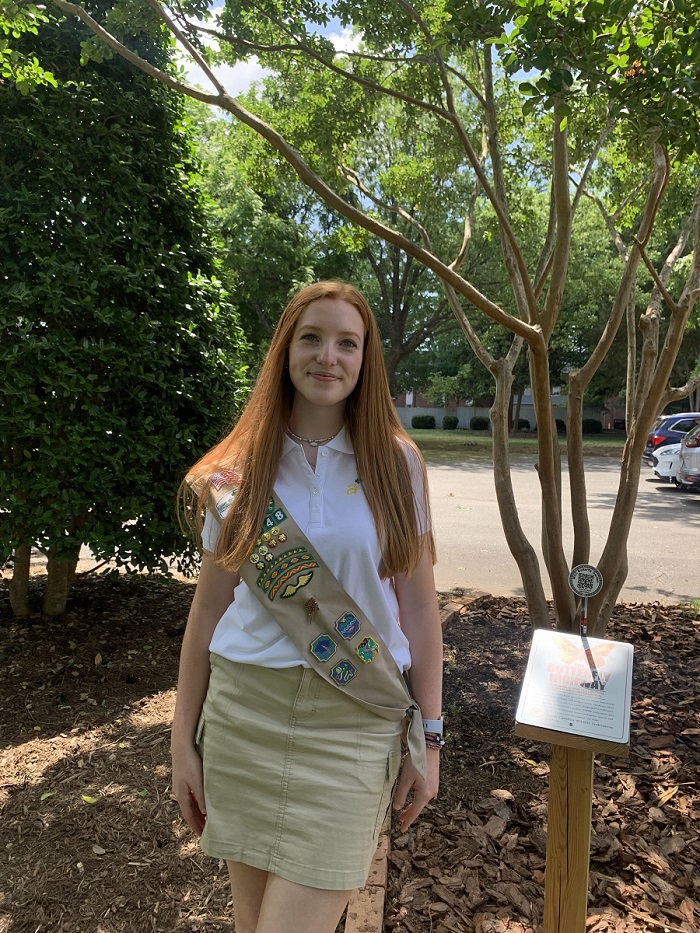 On Sunday afternoon, the South Iredell High School senior dedicated the Mitchell Community College Butterfly Highway Garden, which she hopes will help monarch butterflies survive in an increasingly harmful environment.
The garden, which is located behind the Mitchell Music House, creates a space for butterflies to find the pollinator plant milkweed, which is vital to their survival.
"The monarch butterfly's decline is linked to the reduction in milkweed because of pesticides — and without it monarchs cannot complete their life cycle," Nix explained.
Nix, who plans to attend Appalachian State University in the fall, created the butterfly garden for her Gold Award project. Now an Ambassador Girl Scout for Troop 2348, she has has been involved in scouts since she was a Brownie, which is for girls ages 7 to 10.
Nix, who is dual-enrolled at Mitchell Community College, said she discovered her interest in the environment, conservation, and sustainability through an AP Earth and Environmental Science class in high school.
"When I traveled out west with Teens Camping Tour of the West I saw the most incredible parts of nature, and my passion was ignited," she said.
That sparked her interest in the environment and finding ways to make it better, which inspired her to create the butterfly garden, Nix explained. The project is also a tribute of sorts to a dear friend, Marcia Zuzul, who was a beekeeper. Her friend taught her the importance of pollinators.
"The Black-eyed Susans in the garden are planted in her memory," Nix said. "They were lovingly taken from her garden and placed here. Marcia supported every single one of my Girl Scout efforts for 12 years."
Nix encourages everyone to learn more about how to help monarch butterflies and find ways to protect and preserve the environment.
The Butterfly Highway is a statewide conservation restoration initiative of the N.C. Wildlife Federation aimed to restore and conserve native pollinator habitats.
When deciding where to place the garden, Nix chose the backyard of the Music House because the home was built by her late great great grandfather, Judge John McLaughlin, who was recognized as a leading conservationist during his time in the N.C. General Assembly.
Less than 10 percent of Girl Scouts complete the Gold Award, which has strict criteria. Nix spent more than 80 hours working on her project.
Photos