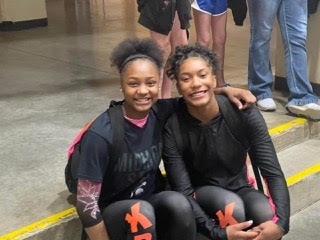 BY DEBBIE PAGE
debbiepage.iredellfreenews@gmail.com
After qualifying in the Region 8 competition, South Iredell High School senior Olivia Zsarmani and junior Ciniah Rosby traveled to Mesa, Arizona, this week to compete at Level 10 at the 2022 USA Gymnastics Men's and Women's Development Program National Championships.
Fifteen hundred athletes ages 12 to 19 are expected to compete in this championship, which marks the culmination of the competitive season for USA Gymnastics Development Program Women's Level 10 athletes, Men's Level 8 and 9 Junior Elite, and Level 10 Junior Elite and Junior National athletes.
The Region 8 competition featured gymnasts from Alabama, Florida, Georgia, Louisiana, Mississippi, North Carolina, South Carolina, and Tennessee.
Many elite American gymnasts are alumni of past men's and women's championships, previously known as the Junior Olympic Nationals.
KPAC Coach Kristie Phillips-Bannister, a retired American elite gymnast, 1987 senior U.S. National Champion, and certified elite-level judge, has trained Zsarmani and Rosby since they entered the sport.
She noted that gymnastics is a unique sport in that it has only one governing body. The Level 10 championships will feature 360 athletes at different age levels, according to Phillips-Bannister.
Level 10 gymnasts are just under Olympic level, earning the majority of the NCAA college scholarships. "Only about 20 athletes in the country earn a spot on the Olympic team," she explained.
In additional to putting in 25-plus hours in the gym each week, both girls are "amazing students" who both earned over a 3.5 GPA, added Phillips-Bannister.
Phillips-Bannister said the Arizona competition will feature some tough competitors. "North Carolina is probably one of the top five in the nation in gymnastics as far as the level of athletes we have in our state," she said.
Each gymnast will get one chance to perform each event during the three-day event.
"It's put up or shut up," she said. "We do carry our own at a national level, but the competition will be stiff."
KPAC head coach Arturo Padilla accompanied the girls to the Arizona competition.
Bannister-Phillips praised both teens for their accomplishments to reach national level competition.
"It's a huge commitment that these girls have made over their lifetimes, from 16 to 25 hours per week as they aged up. Olivia has averaged 20 hours per week in the gym since she was 8 years old."
Bannister-Phillips also praised the sport of gymnastics for its overall conditioning and the focus that it requires. Many of her former students have gone on to excel and earn scholarships in diving, track and field, power-lifting, and sport acro and tumbling, which is the fastest growing women's sport in the NCAA.
"It's amazing the athleticism created in gymnastics. The strength, agility, and flexibility gained creates the foundation for other sports," she said.
OLIVIA ZSARMANI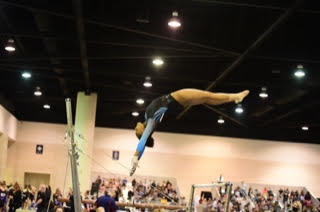 Zsarmani is headed to Michigan State University, which is currently ranked 9th in the nation in women's gymnastics, on a full gymnastics scholarship in the fall. She graduated from South Iredell High School in January and spent this spring honing her skills in the gym, completing college preparation, and getting ready to take an online health and nutrition class this summer.
She competes in the All-Around competition — her favorite event is the uneven bars — and holds the Region 8 title on the balance beam as well as the highest all-around competition score at the state level gymnastic championship earlier this year.
Phillips-Bannister is full of praise for Zsarmani as a person and competitor. "Olivia has a smile that lights up the world. She has the biggest heart and is full of compassion for other people. She is a leader in our gym and has a competitive edge that you just can't teach."
"She's just got in in her heart that she is going to do well, and she's knows what she's going out to do and she does it," she added.
Zsarmani began training at KPAC at age 7 and has spent the past 11 years perfecting her gymnastics skills. She first started out as a cheerleader, but when her parents saw her "flipping around the house, they let me try out at KPAC, and I really loved it," she said.
She loves that gymnastics allowed her to make new friends and gain new life skills as well. "It teaches you to be confident and determined. It keeps you motivated, and it's a lot of fun."
"It makes you a better person because you know you can reach your goals, even through the bad days," she added.
Her biggest cheerleaders and supporters over the years have been her parents, other family members, and coaches. KPAC coaches "helped me become a better person both inside and outside the gym. They're really great supporters."
The best part of gymnastics, Zsarmani said, is competing around the country, meeting new people, and learning things from their backgrounds and experiences. She admires Trinity Thomas, Gabby Douglas, and Simon Biles as gymnastic role models.
She plans to study kinesiology, the scientific study of body movement, at Michigan State.
While at South Iredell High, she enjoyed her ceramics class as well as her math and English classes, citing her great teachers.
CINIAH ROSBY

Rosby, who holds the Region 8 title in the vault event, is looking forward to the national competition. "I'm excited to do floor and vault — my favorite events — and I get to spend time with my family and meet new people from all over the country."
She started gymnastics at KPAC at age 7 after seeing a friend enjoying it. "I love the atmosphere and getting to express myself during my floor routine," which she created in about two weeks and choreographed to the song "Ghost."
Rosby enjoys performing for the spectators, feeding off their applause and cheers as she competes.
In addition to traveling, meeting new people and making friends through the sport, gymnastics helped "bring me out of my shell," she said. "I am really shy outside the gym."
Rosby is hopeful that she will to earn a gymnastics scholarship. She wants to major in pre-med on her journey to become a doctor. She enjoys her science classes and the great teachers she's had in high school.
In addition to her athletic skills, Rosby said her gymnastics experiences have helped her in other ways, including developing her communication, time management, and problem-solving skills and instilling focus and discipline.
"Ciniah started gymnastics relatively late in the sport," said Bannister-Phillips, "but she really excelled through the levels quickly. She doesn't have as much experience in competition as Olivia has and tends to get a little more nervous, but she is the hardest worker with the most sincere heart."
"She faces her fears on a daily basis with good perseverance, and she is completely dedicated and committed to what she does, and she wouldn't be where she is today if she wasn't."
COMPETITION DETAILS
In the women's competition, gymnasts will compete for the all-around title as well as in individual events, including the vault, uneven bars, balance beam and floor exercise, in 12 age divisions determined by birthdate.
The top four all-around athletes from each age division earn a spot on the Development Program National Team and will be invited to participate in a special training camp. The winning regions will also be determined at the conclusion of the event, with the top point-getters taking home the "Super Team" title.
Event participants qualify to compete through regional championships hosted by each of USA Gymnastics' eight women's artistic gymnastics regions. The top seven all-around gymnasts in each of the 12 age divisions from each of the eight regions compete as regional team members.
Level 10 gymnasts competing in the elite division are eligible to qualify to the 2022 U.S. Gymnastics Championships from which the Level 10 National Team will be determined.
Qualification for the USA Gymnastics Development Program Nationals is determined at the state and regional level. To earn a spot, gymnasts compete in state and regional championships and may qualify based on their all-around ranking or individual event placement.
ABOUT KPAC
KPAC has both a recreational and competitive level gymnastics program with about 300 youths involved. About 60 students, ages 5 through 18, are in the competitive program. The facility is located at 2809 Amity Hill Road in Statesville. To learn more about its gymnastics, dance, and cheerleading programs, call (704) 872-2888.