BY DEBBIE PAGE
debbiepage.iredellfreenews@gmail.com
When it comes to community service, Troutman Town Council member George Harris doesn't do anything halfway.
When he was campaigning for council, Harris knocked on doors — often accompanied by his family — and met with residents to learn what citizens wanted in a council member. He was rewarded for his efforts as the top vote recipient in 2019, taking 31 percent of the vote.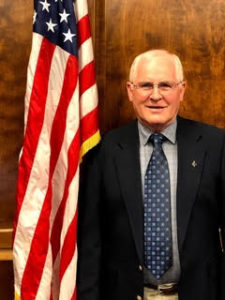 After the election, Harris went back and thanked residents for their votes, grateful for their trust and confidence.
Serving on the Troutman council isn't his first foray into public service. Prior to moving to North Carolina, Harris served on the Chesapeake, W.Va., town council for 16 years and fulfilled the role of time recorder, a kind of a deputy mayor, town finance director and chief election officer rolled into one for a whopping $150 stipend per month.
The tiny river town had a minimal budget of $260,000, so Harris started hosting weekly bingo games and raffles with the help of two workers who earned $50 for their club or organization. They raised an additional $70,000 for the town coffers annually. By the time Harris left office, the town's annual budget was $370,000.
Harris continued running the Wednesday bingo games for five years after he moved for a job transfer, returning each week to help boost the town's finances. He also looked for unusual ways to save money.
The town had to hold a primary election and regular election between the Democrat and defunct Citizen Party, which cost the town $3,000 each. Harris asked the West Virginia Secretary of State how to dissolve the party to eliminate the costly and unnecessary primary. The secretary told him if it was down to one member; that member could dissolve it.
Harris then campaigned in 1989 to have nobody vote for him on the Citizen Party ticket. He cast the one vote needed and held a meeting as the one member to dissolve the party to eliminate future primaries, saving the town $3,000 each election cycle. He then went on to win the general election unopposed.
"When the town is losing money, you do whatever you can to save money. As recorder, I was constantly looking for ways to keep the town afloat," he said.
Harris also realized the town's police chief and three officers were expensive to train, and they kept losing officers to higher-paying jobs after paying for training. After two officers left, Harris suggested saving money and eliminating retention problems by limiting the department to the chief and one officer, both with significantly higher salaries to retain them, who could serve on alternating duty with support from county law enforcement officers.
Despite his busy Dupont career and town official schedule, Harris also coached Little League and was the announcer for the high school's football games.
Environmental Efforts
Harris was working in the environmental group for Dupont in Belle, a town across the river from Chesapeake, so when the company sponsored a river cleanup, Harris led the Chesapeake side's cleanup efforts. He organized cleanup teams and arranged for town dump trucks to haul away collected debris.
Harris received the "Make It Shine" Award in 1992 from the governor in recognition of his efforts. "It was a good opportunity to get the river cleaned up and promote the town," Harris said.
When Dupont started a recycling program during the same period, Harris convinced the town to also join recycling efforts to reduce garbage costs. He also traveled to the nine members of the small river town association, of which Chesapeake was a member, to help start their own recycling programs.
In the late 1980s, the state fined Chesapeake $10,000 per day after an illegal dump was discovered. Harris went to the West Virginia Department of National Resources and EPA for advice and learned about the governor's new "Adopt a Dump" program. After Harris led the volunteer cleanup, the fines were forgiven.
Harris also spearheaded the creation of a town trash transfer to save it $500 per month. He arranged for donated Dupont fence timbers, built the necessary ramp with volunteer help, got a state permit, and save the monthly fees to transport the town's trash to a neighboring community's dump.
Making a Difference
When the Harrises moved to Kanawha County with his job transfer, George served on the Planning and Zoning Board. He also ushered at the Charleston, W.Va., civic center because he loved seeing the concerts and sporting events and meeting people.
When his job transferred to Richmond, Harris was elected as the finance director for his new neighborhood's HOA for five years.
When Harris retired in 2015, the couple moved to Troutman to be near their grandchildren. Harris continued volunteering, helping coach youth baseball while remodeling his house and landscaping. When those projects were complete, Harris quickly became bored
Using his master's degree in business, Harris took on an unusual job through Catawba Valley Community College in 2016, teaching inmates at the Alexander County Correctional Institute the skills needed to earn their GEDs. "I feel like I make a difference for some. I've enjoyed doing it."
"One student who sent his high school certificate cap and gown picture to his mother later called me out in the hall, crying," he added. "He said that he'd never accomplished anything before in his life, and his mom was so excited when she got the picture."
Harris was appointed to the Troutman Planning and Zoning Board after Mayor Pro Tem Paul Henkel encouraged Harris to apply. He served on the board for three years prior to his election to the council in 2019.
Background
Though a native of Wilson, N.C., Harris lived in the Troutman area as a boy after his parents divorced and he and his brothers were sent to Barium Springs Home for Children for almost three years until his mother became financially stable and had a home after her remarriage.
Harris joined the military after high school and married a West Virginia girl, Rebecca. Though he had few positive male role models in his childhood, Harris gained a gem in his new father-in-law, who instilled in him the importance of volunteering and was always there to support Harris.
"He told me when I got on the council to promise that on the day I forgot why I ran — to help my community — that I would resign."
"That's the way I've always tried to be — to focus on why I ran. I'm always transparent on why I vote on things, and I'm glad to talk to people in person about it. I don't like the phone or social media — I like to talk face-to face."
Legacy
Harris recently took his grandson to Chesapeake and visited the fire station building over which he oversaw construction, the Town Hall where Harris's Citizen of the Year plaque still hangs, and the Senior Citizen Center where a plaque acknowledging Harris's efforts in its creation is displayed.
They also saw the place where the town's time capsule is buried, to be opened in 2044. "He said, 'Pawpaw, I've got to be here in 2044. When they open that capsule, I know there's going to be something about you in there, and I'm going to be here.' "
"That made me feel good that he was so impressed with all the stuff I have done. I hope he realizes that being a volunteer is important."