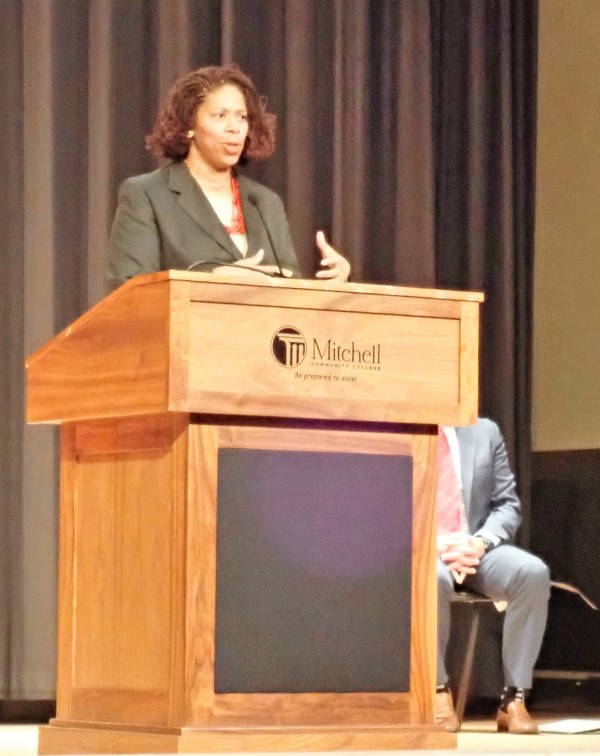 BY KARISSA MILLER
Mitchell Community College presented a virtual celebration honoring Rev. Martin Luther King Jr. on Wednesday evening in advance of the federal holiday on January 17.
The event works to combat inequities and exclusion in the community, by bringing people together. The celebration can still be viewed on YouTube. Watch the MCC celebration HERE.
Pamela Senegal, president of Piedmont Community College in Roxboro, N.C., was the keynote speaker. She is also a friend of Tim Brewer, Mitchell Community College president.
Senegal addressed students, staff and community on the importance of "making dreams a reality" during difficult times.
"As a child, one of the things my parents made sure to share with me were examples of human beings who lived out their dreams and fulfilled them. Early on, we learned about Martin Luther King Jr. and his legacy," she said.
Her parents read to her a picture book about MLK, and she learned facts basic about his life, including that he was a middle child, that he went to college at age 15 and that his father was a minister.
Senegal said she later read the same book to her children, and she hopes one day that her children will read the book to their children.
The book "planted a seed in me that has been watered over time," Senegal said.
She said that MLK's legacy is portrayed simplistically during annual celebrations, but she believes he was "clearly sent to us by God."
MLK brought about change not by fighting, but by believing in the power of love and words to change the world, she explained.
"Even though he's gone, his ideas, his words and deeds live on. How do we build upon these things in the present day?" she asked.
Senegal outlined three steps for living out MLK's legacy:
1. We have to take bold action to bring about change in our community;
2. We need to continue to educate ourselves; and
3. We have to guard our hearts against bitterness.
"When there is racial progress, there is often backlash. We must guide our hearts against bitterness. What comes out of bitterness is hate. Hate has no place in the kind of work to transform the country," she said.
By doing those three things, we will be a living testament to King's legacy.
Collectively, Senegal said, we have the power to make "dreams of our nations a reality, one student at a time, one community at a time, one state, one country … stay encouraged."