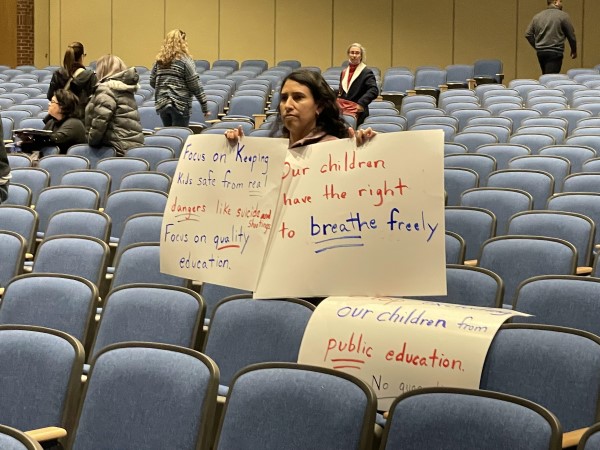 BY MIKE FUHRMAN
In response to surging cases of COVID-19 in Iredell County and in spite of vocal opposition by anti-maskers during an emergency meeting, the Mooresville Graded School District voted Tuesday to require students and staff to wear face coverings while indoors when schools reopen Wednesday after the holiday break.
The mask mandate, which will remain in effect at least until the board next meets on January 10, also extends to extracurricular activities and sports. Participants and spectators at athletic competitions in district facilities will also be required to mask during the next five days.
The board voted 4-1 to require masks after staff reported Iredell County currently has a positivity rate of 16.5 percent, up sharply from November and December. Thirty-eight licensed and classified staff members are expected to be out of school on Wednesday. Twenty-eight staff members have tested positive in recent days and 10 others are subject to quarantine due to close contact.
Board member Debbie Marsh made the motion to require masks and gathered vocal support from board members Greg Whitfield and Rakeem Brawley.
Whitfield said it is incumbent upon the board to protect the health and well-being of staff and students.
"We have a duty to mitigate" against the spread of COVID-19, he explained. "What it has to do with is reasonableness and safety."
The board's decision to require masks early in the school year after COVID-19 cases steadily increased while masks were optional proved to be the right course, he said.
"As Barney Fife said, we nipped it in the bud. We're trying to nip it in the bud before it starts," Whitfield explained.
"We've got to do what's safe for everyone," Brawley added.
Board member Kerry Pennell cast the lone dissenting vote against the masking requirement, stating several times that she opposes masks and "wants to keep healthy children in school."
Pennell told the board that the N.C. Department of Health & Human Services toolkit for managing COVID-19 is not state law and the board is not bound by it. "Actually, we can make our own quarantine guidelines if we want to," she said.
Prior to the holiday break, masks were optional for staff and students in MGSD schools where less than 1 percent of students and staff had tested positive, according to board policy.
Under that policy, masks would have been required at three district schools on Wednesday and two others were close to the 1 percent threshold, district officials said.
The emergency meeting was called on Monday night, hours after the Iredell County Health Department reported six new deaths attributed to COVID-19 and more than 700 new laboratory confirmed cases. A total of 356 deaths in the county have now been attributed to COVID-19.
"Because of rising numbers, we felt it was urgent that we meet today," board Chairman Roger Hyatt said Tuesday.
Several members of the public who attended the meeting in the Performing Arts Center at Mooresville High School voiced their opposition to masks throughout the meeting, at times interrupting staff and board members.
Hyatt cautioned the crowd to refrain from speaking out and had one man who called the board "retarded" escorted out of the meeting by a Mooresville police officer.