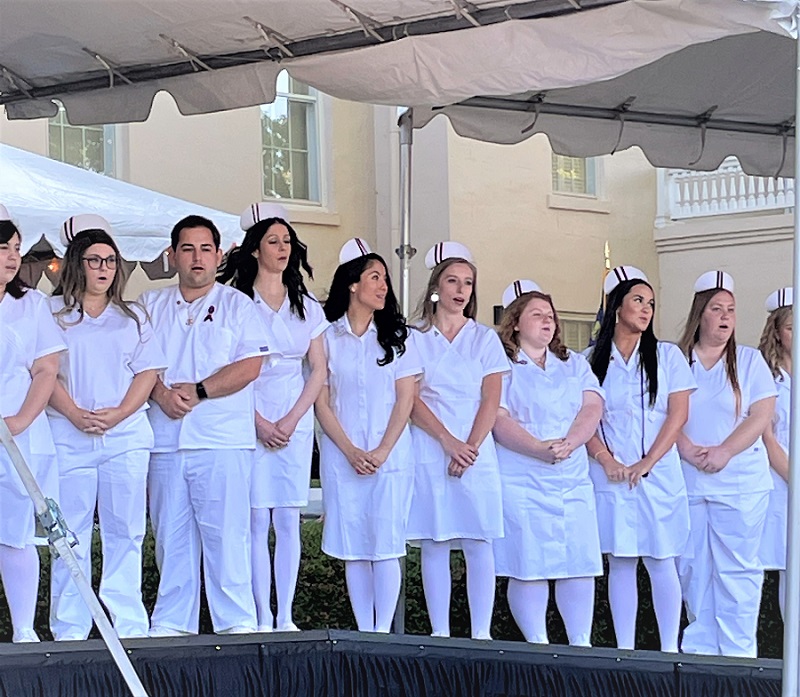 BY KARISSA MILLER
Mitchell Community College's nursing program hosted its annual pinning ceremony for nearly 50 graduating students Wednesday evening on the Statesville campus.
Linda Wiersch, dean of Nursing and Health Sciences, said the tradition of the nursing pin originated with Florence Nightingale, who presented her nurses with a medal for excellence.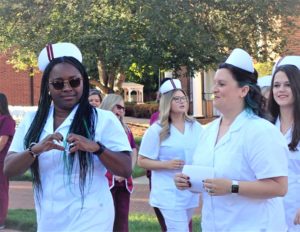 "It's an important tradition and a rite of passage for these nursing graduates as they transition to licensed nurses," Wiersch said. "The college nursing pin was designed by our first nursing class in 1984."
Mitchell President Tim Brewer, who preceded Wiersch at the podium, spoke about the school's long-standing tradition of excellence and how this graduating class continues to make the program special.
"You have persevered through a pandemic. You have struggled personally and professionally. You are stronger and wiser and more capable than you may even realize," Brewer told the graduates.
"Now, you are ready to share your skills, your gifts and your talents with this world. I can tell you this world really needs you," he added.
Guest speaker Louanndra Jenkins, a Registered Nurse, spoke about the dedication required to become a nurse.
"It can't just be that you want to help people. It really truly comes down to a passion," Jenkins explained.
She graduated from Mitchell's program in 2021 after facing a number of challenges during her journey to becoming an RN.
"If you give us two years of your life, we will give you a career," she recalled one of her nursing instructors telling her.
Over the three years she studied at Mitchell, Jenkins said, those words really stuck with her.
"You have no idea how well this program has prepared you to become a nurse to take up to seven patients. The faculty here goes above and beyond. I wouldn't be who I am and where I am without them," she said.
Jenkins currently works at the Family Medical Unit at Atrium Health with Cabarrus. She encouraged graduates to ask as many questions as they can and remember that they are a voice for their patients.
Awards
Following the pinning ceremony, the following awards were presented:
♦ Team Spirit: Dustin Earnhardt
♦ Excel: LaTonya Glaze
♦ Leadership: Jennifer Griggs
♦ Community Spirit: Sarah Crowley
♦ Academic Achievement: Tracy Massey, Lindsay Robertson, Shonda Burch
♦ Professionalism: Alex Flores
♦ Excellence clinic: Bailey Moody
Photo Gallery