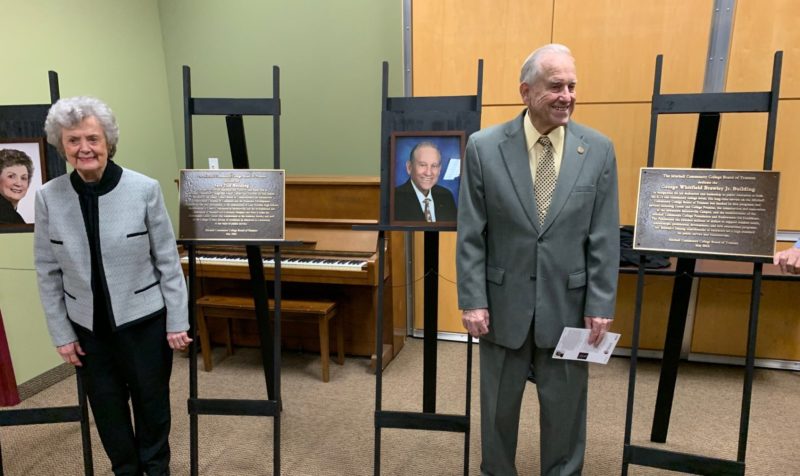 BY BRANDY TEMPLETON
Mitchell Community College recognized the contributions of two dedicated supporters of the college by renaming two buildings on the Mooresville campus in their honor.
Long-time Board of Trustees members Sara Haire Tice and George Whitfield Brawley Jr. both attended a dedication ceremony held in their honor on Tuesday.
Dr. Ralph Bentley described Tice as "a very interesting person" who served on the Board of Trustees for 18 years.
"She never opened her mouth except to tell you what to do," he joked.
Brawley served the college as a trustee for 40 years.
"Mr. Brawley has had many contributions," Bentley said. "We would not be where we are today without them."
College President Dr. Tim Brewer said Monday's ceremony offered a rare opportunity to honor two individuals who made lasting contributions to Mitchell.
"They are each Mooresville natives whose work surrounds us in the brick and mortar," he said. "It's difficult to capture all the accomplishments they have made in this short period of time.
"They not only made Iredell County a better place to live, but were instrumental in its success."
The student services building is now named in Brawley's honor and an academic building now bears Tice's name.
Both recipients were thankful for the acknowledgement of their contributions to the college.
"Words cannot express the surprise .. when the plaque was added," Tice said. "I didn't know my name was on it, but I'll always be grateful."
"Thanks for all the support in my lifetime here," Brawley added. "Education is the greatest thing available to each and every one of us."
Photos