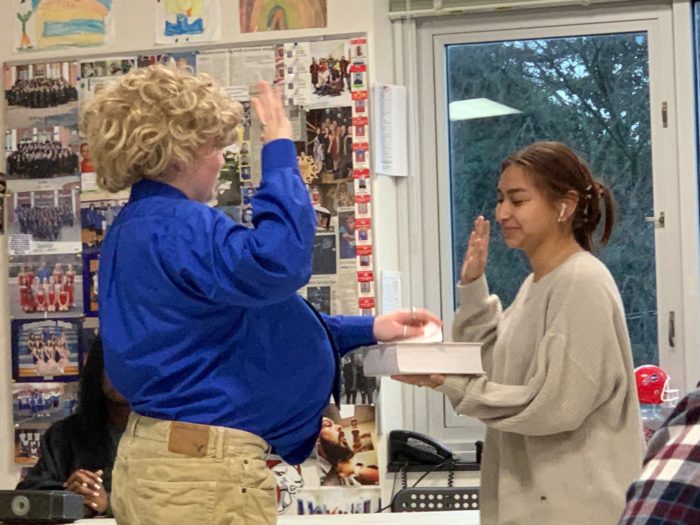 BY BRANDY TEMPLETON
Civics teacher Mike Williams enjoys engaging his students at Crossroads Arts & Sciences Early College with thought-provoking projects and encouraging them to tackle real-life issues.
For the past 16 years, he's introduced his classes to ethical dilemmas and had his students participate in a mock trial. During the past two weeks, his students have been preparing for this year's case by choosing roles, discussing the legal issues, gathering evidence, and rehearsing.
Seniors took the trial seriously, going as far as dressing the part of their characters. Assistant District Attorney Courtney Marlowe gave the class tips and served as a resource for the students.
"It was really cool to have her here," Williams said.
The trial included a defendant, defense attorney, district attorney, a judge, arresting officer, witnesses, and a jury of eight students.
Williams presented a scenario that seemed realistic for today's times, and challenged his students to think differently and ask difficult questions.
The case was centered around a wife who claimed she had been abused for years before she shot her husband. The lesson presented many questions for the students to consider, including: What classifies as battered woman's syndrome? Why didn't the wife leave when she had the chance? Why didn't she accept outside help? And why did she shoot her husband while he was sleeping?
The trial took up the whole class block with opening statements and testimony from witnesses, and jury deliberations.
During the first trial, six female jury members were convinced of the defendant's innocence. The two male jurors joined the "innocent team" after being persuaded by the others.
Photos