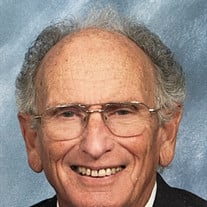 Carl Summeral Basinger, 94, a lifelong resident of Mooresville, N.C., passed away on December 13, 2022. Carl was born on January 31, 1928, to the late William and Ollie Basinger in Mooresville.
In addition to his parents, Carl was preceded in death by his wife Elsie Basinger; son Steve Basinger; brothers; William and Paul Basinger; and sisters; Mary Ruth Sloop and Nettie Thompson.
Carl was a devoted member of the First Baptist Church of Mooresville and was part of the XYZ choir. He was an avid musician and loved playing within the church or with other military veterans at Richards Coffee Shop in downtown Mooresville. He was a veteran of the U.S. Air Force and was stationed in Fort Collins, Colo. He served for many more years in the Reserves.
He is survived by his daughter-in-law, Helena Basinger; grandsons, Adam and Jacob Basinger; and step-grand-daughters, Jennifer Pullen and Rachel Naughton; and nephew, George William Basinger Jr. and his wife Deborah Basinger.
A Memorial Service will be held on Saturday, January 7, 2022, at 2 p.m. at the First Baptist Church of Mooresville with Senior Pastor Dr. Jerry Cloninger officiating. Visitation for family and friends will follow the service.
In lieu of flowers, memorials may be made to First Baptist Church, XZY Choir, 150 S. Church Street, Mooresville, NC 28115.
Cavin-Cook Funeral Home and Crematory is serving the Basinger family. Condolences may be made to the family at www.cavin-cook.com.