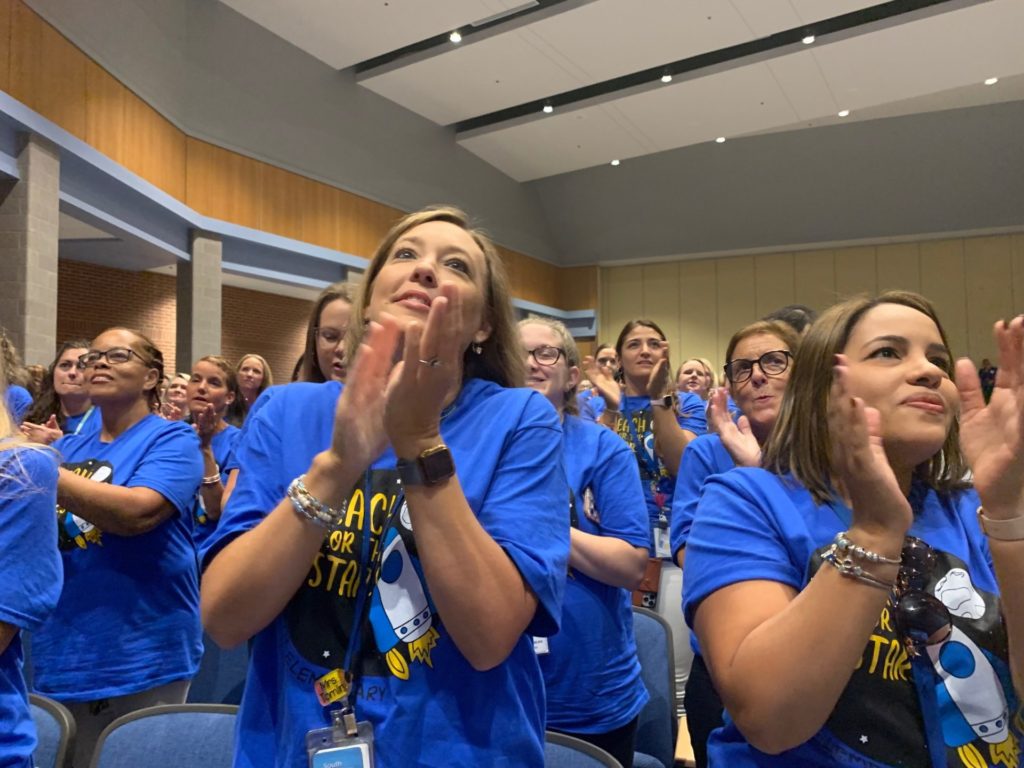 BY BRANDY TEMPLETON
Jason Gardner addressed hundreds of Mooresville Graded School District employees for the first time as superintendent on Wednesday.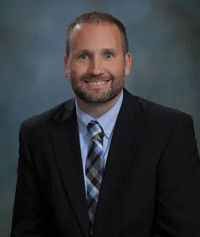 But Gardner, who was selected by the MGSD Board of Education to succeed Stephen Mauney, vowed that administrators, staff, students and community members would see plenty of him in the coming months and years.
"I want you to see me in the schools and out in the community. And I want you to call me out on it if you don't see that happening — but not on social media," Gardner joked.
Gardner and other district leaders welcomed new and returning employees for the start of the upcoming school year during MGSD's annual convocation at the Performing Arts Center at Mooresville High School on Wednesday morning. The theme for the event was " What does the 'M' mean to you?"
The event had the feel of a high school pep rally, with chants, Mooresville High's marching band playing the school's fight song, and cheerleaders shaking their pom poms.
Vice Board Chairman Greg Whitfield also thanked the employees who serve about 6,000 students.
"Thank you all for making us the best district in the land," he said.
Board member Rakeem Brawley led a spirit chant.
"We need to be loud, and be proud, and make sure we serve every student the best we can," he said. "We are Mooresville! We are Mooresville! This is our house!"
The new superintendent thanked the school board for their work and commitment to the district's students and employees.
"Not every school system has a board this dedicated to the schools and community," Gardner said.
He welcomed back more than 650 returning employees and the district's 83 newest employees.
"You fall into one of two categories," Gardner said. "You survived in the toughest two years of education or you signed up after the two toughest two years of public education."
As superintendent, Gardner said he would ensure the district was focused on clearly defined priorities.
"We need to hone in on the future and be laser focused moving forward," he said. "When you try to do everything, you do nothing well."
Gardner thanked Michael Royal for his work as interim superintendent, and all MGSD schools and departments were recognized along with outstanding teachers.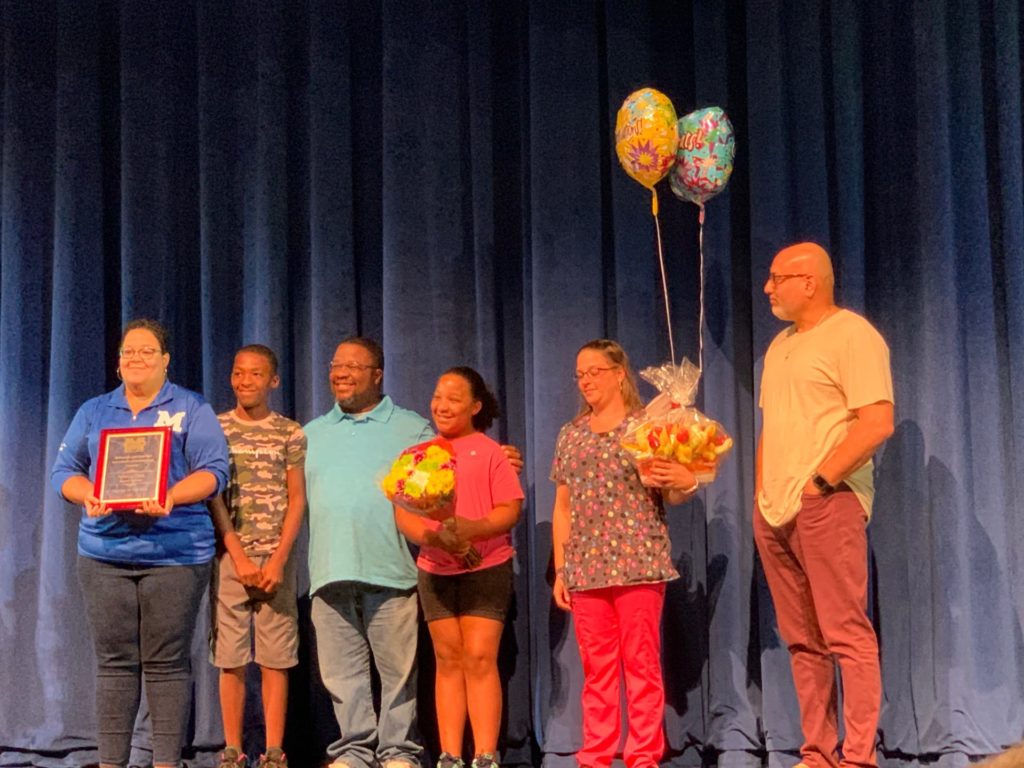 For each school, awards were given for Bus Driver of the Year, Custodian of the Year, and Nutrition Employee of the Year.
During the awards, different employees were chosen to tell what the "M" stands for to them. Employee after employee shared sentiments of pride, loyalty, and legacy.
Between the clips, Patrick Kosal, with Mooresville Middle School, was named Assistant Principal of the Year, Royal was named Administrator of the Year, and South Elementary's Kennedi Cobb was awarded New Teacher of the Year.
Teachers were recognized for their years of service. Among those honorees were South Elementary teacher Brenda Carlton, who is approaching 50 years.
Mooresville High School foods and nutrition teacher Jessica Clark won "Teacher of the Year" and a new 2022 Ford Escape from Mooresville Ford.
She said teaching is not just a job, but her life. She knew she wanted to teach when she was in the third grade.
"I'm thankful to God first for giving me a vision and path at such an early age," Clark said.
She also thanked her childhood teachers for helping her.
"I take what I learned in the classroom into my classroom every day," Clark said.
She concluded by thanking her deceased mom for inspiring her to cook, which placed her in her job today, and gave advice for her co-workers.
"Never underestimate the power of one conversation, one smile, or one kind gesture," she said.
In a final clip, Rachel Bustle said "M" stands for memories.
"We love who we are, we love who we've been, and we love who we're becoming," she says. "It's Mooresville the town, it's family, it's community. It's who we are. You might be a star, an eagle, or a racer, but we're all MGSD."