Special to Iredell Free News
Statesville Mayor Pro Tem William Morgan has been elected to the Board of Directors of the N.C. League of Municipalities as the District 10 representative. In this role, he will serve Iredell, Avery, Watauga, Ashe, Allegheny, Wilkes, Surry, Yadkin, Caldwell and Alexander counties.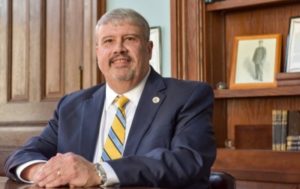 The N.C. League of Municipalities is a member-driven organization representing the interests of cities and towns across the state. Through their collective efforts, member cities and towns better serve their residents and improve quality of life.
For more than 100 years, the League has been one voice for the over 500 cities and towns working for a better North Carolina.
"I am honored to be elected to this role. The League serves a vital role in advocating for cities, towns and municipalities in North Carolina," Morgan said. "We live in the best state in the U.S., and I am proud to be a part of its growth."
Morgan will serve through 2023. He is also the treasurer of Centralina Council of Governments and was also appointed by the N.C. Speaker of the House to the Economic Development Partnership Board of North Carolina.
Morgan has been a member of Statesville City Council since 2013.