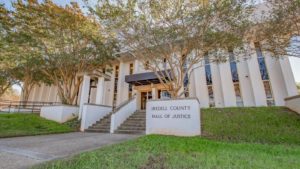 BY MIKE FUHRMAN
Assistant District Attorney Mikko Red Arrow warned jurors on Wednesday that they would hear some "really unpleasant" testimony as the first-degree murder trial of Jhammar Vernon Bowen began in Iredell County Superior Court.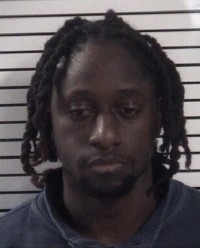 Bowen, 30, of Winston-Salem is charged with murder and conspiracy to commit murder in the January 16, 2020, shooting death of Shana Nichole Harmon.
The prosecution alleges that Bowen killed Harmon, 25, as retribution for stealing crack cocaine from him.
"Three people went into a disgusting, abandoned crack house … and only two came out," Red Arrow told the jury in his opening statement.
Defense attorney Ken Darty disputed the prosecutor's theory of what happened in the house at 1546 8th Street in Statesville on the date Harmon died and claimed that the state's key witness had given different versions of what had happened — and had pinned the shooting on Bowen in an effort to clear herself and get out of jail.
"He is completely and unequivocally void of any responsibility in the killing of Shana Harmon," Darty said in his own opening statement.
Twelve jurors and three alternates were selected to hear evidence and render a verdict on Tuesday. Testimony began Wednesday morning in the trial, which is expected to continue into next week.
A friend of the shooting victim testified that she found Harmon's body on the back steps of what was known as the "Honeycomb House," an abandoned residence frequented by drug users and prostitutes.
The friend, Mandy Stephenson, told the jury that she went to the house to get high and prostitute herself on the afternoon of January 16, 2020. After smoking crack, Stephenson said she felt paranoid and went to the back of the house to make sure no one was there. She was going to the backyard to relieve herself when she found her friend's body.
"I almost stepped on her," Stephenson testified. "I said, 'Shana, get up.' … Then I saw the hole in her back and the blood."
She left the scene almost immediately but soon afterward notified two friends that she thought Shana was dead — and returned to the abandoned house to show them what she had seen. Stephenson then left the scene again before police arrived. "I was terrified," she testified.
Stephenson, who cried as she saw photos of Harmon's body, also testified that the two women had been friends since the summer of 2019 and ran the streets together. A couple of days before her death, Harmon told her she had a quantity of crack cocaine that she needed to sell, Stephenson said. "It was a bunch of dope — more than she normally had," she said.
During cross-examination by Darty, Stephenson conceded that her memory has been impaired by nearly two decades of drug use.
She was one of seven witnesses called by the prosecution on Wednesday.
Leonard McCoy, who lives nearby, told the jury that he heard three gunshots — two that sounded "muzzled" followed by "one loud bang" — on January 16, 2020, while he was out walking his dog. It was not uncommon to hear gunfire in the neighborhood, McCoy said, so he continued his walk. He did not contact authorities until he learned that someone had been killed on 8th Street.
Hope Dodson, an acquaintance of Harmon's, testified that she and another friend, Tommy Waddell, drove to the abandoned house after they encountered Stephenson near the intersection of 5th Street and Raleigh Avenue around 4 p.m. on January 16, 2020. Stephenson then showed them where Harmon's body was before leaving.
"I could tell it was Shana by her sneakers," Dodson told the jury. "She always had the same sneakers on."
Waddell, who owns an auto repair shop off Shelton Avenue, told the jury that he called 911 after seeing Shana's body. He was also a friend of Harmon's and knew she was a prostitute and drug addict. He told the jury that he took her in when she was homeless and had sent her money while she was serving time in prison.
Statesville Fire Department Lt. Gary Ladd told the jury that when firefighters arrived at the scene at 4:25 p.m. they were directed to the rear of the home, where they found Shana Harmon. She was not breathing and had no pulse, Ladd said, and there was no hope of resuscitating her.
Statesville Police Department Investigator Fredrick King was the first law enforcement officer on the scene. He testified that the crime scene photos admitted as evidence on Wednesday accurately depicted what he saw on the back steps that afternoon — Harmon's lifeless body slumped on the right side lying in a pool of blood with her pants partially pulled down.
In addition to questioning the witnesses about what they saw that day, attorneys for the defense and prosecution questioned several of the witnesses about their drug use, their personal relationships with the victim and other witnesses in the case, and whether they knew Jhammar Bowen and another suspect, Qawiesha Khaleelah Toliver, who was known on the streets as "Q."
Denise Wilson, who had dated Shana Harmon, told the jury that she had gotten into a fight with Toliver. When asked by Darty, the defense attorney, if she was afraid of Toliver, Wilson replied, "Yes, sir."
Several other witnesses said they were familiar with Toliver as well. All of the witnesses who have been asked if they knew Bowen have testified that they did not know him or recognize him.
Visiting Judge Lori Hamilton adjourned court before 4:30 p.m. Wednesday. The trial is scheduled to resume at 9:30 a.m. Thursday.