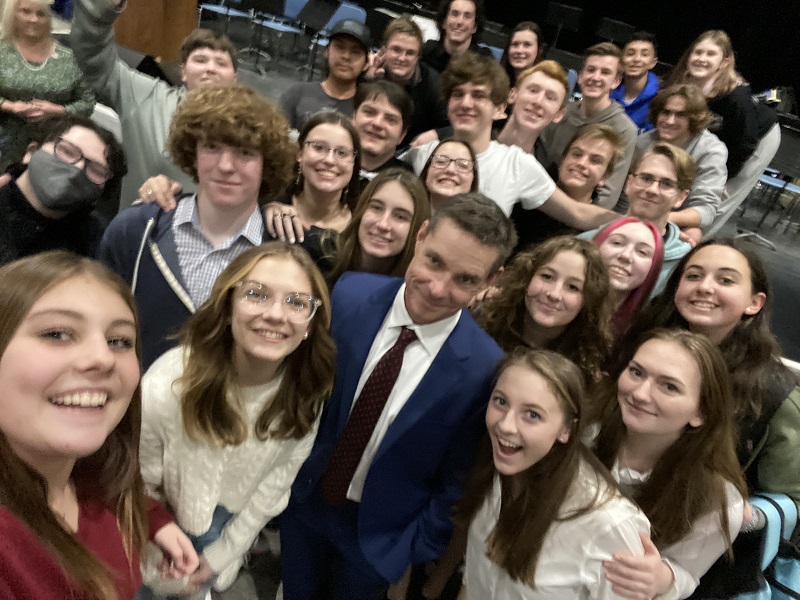 BY KARISSA MILLER
The Lake Norman High School Wildcat Marching Band will march and perform at the world-famous London's New Year's Day Parade in 2024.
The Marching Wildcats and other musicians will have a life-changing week in the historic city while performing and immersing themselves in a full educational program visiting museums, historic sites, and places of architectural and artistic interest.
The band welcomed London's New Year's Day Parade and British dignitaries on Wednesday morning to their school by opening with a sample of their music. They performed "The Rose, Shamrock and Thistle" by John Phillip Sousa, which is a tribute to the British Isles.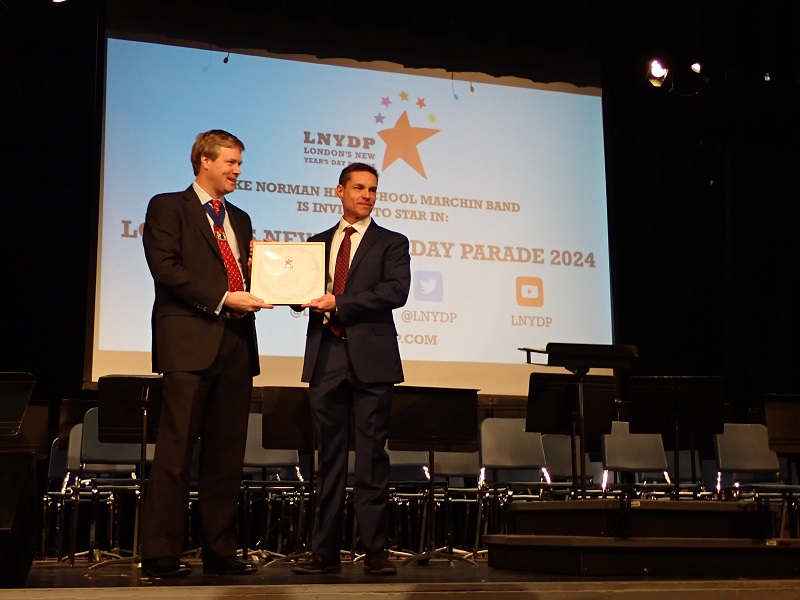 Next, a formal invitation was issued by Bob Bone, co-founder and executive director of the London New Year's Day Parade, and Sir Duncan Sandys, a patron of the event and Sir Winston Churchill's great-grandson.
Bone said that there are 72 acts that make up the parade, with 22 acts traveling from around the world to participate.
The Macy's Thanksgiving Day Parade is similar, Bone said, but in terms of size "New York doesn't have it over London."
The Macy's parade has around 4,000 participants while London's event has more than 8,000.
During a full parade turnout, there are around 750,000 people crowd the streets of London and millions tune in worldwide.
Bone said that the people in London like to see college and high school marching bands from the United States.
In London, there are community bands, brass bands and military bands, but nothing that "is colorful, spectacular, talented and positively joyful as you guys."
Towards the close of Wednesday's ceremony, Bone and Sandys presented the principal, band director and a student with one-of-a-kind gifts from Buckingham Palace.
Band Director Chris Brown said it's an honor to be selected.
"I have the best kids in the school. They are wickedly smart, hard workers and they have a willingness to do anything. They are a lot of fun," Brown said.
Freshman Alyssa Ackerson, 14, a baritone player, said she encourages others to be a part of a high school band because it's such a positive experience.
She's looking forward to new experiences, too.
"This trip is a once-in-a-lifetime opportunity and going to another country is huge," Ackerson said.
Drum major and oboe player Lily Loughnane, 17, moved to Mooresville from California. Being in a new school was challenging during the height of the pandemic.
Loughnane said that the very first day of school she became acquainted with two band members who became her best friends. One moved away, she said, but her other friend is still at the school and still her best friend.
"The only time I've been out of the country is with my family on a cruise. This (experience) is with my friends and people who are essentially my family. We already have an itinerary set in place and being able to see all of these cool things is like wow," she said.
She said she's honored to be able to perform in London.
"To be able to say, 'Yeah, I played in the London New Year's Day Parade' — and with all of my friends, that's going to carry on with me for the rest of my life," she said.
LNHS Band Booster Association
Band Booster President Jennifer Colley said the estimated cost is around $4,000 per person and they are hoping to take 100 students.
"We are fundraising like crazy," she said. "We are a 501(c)3 so we're looking for any partners, donations or anything that can help us getting them there."
She said all of the band's hard work has paid off.
"We're so excited and proud of them," Colley said. "They work so hard and practice so much. They love this band and we do too."
LEARN MORE
Visit https://www.lnhswildcatband.com for more information.