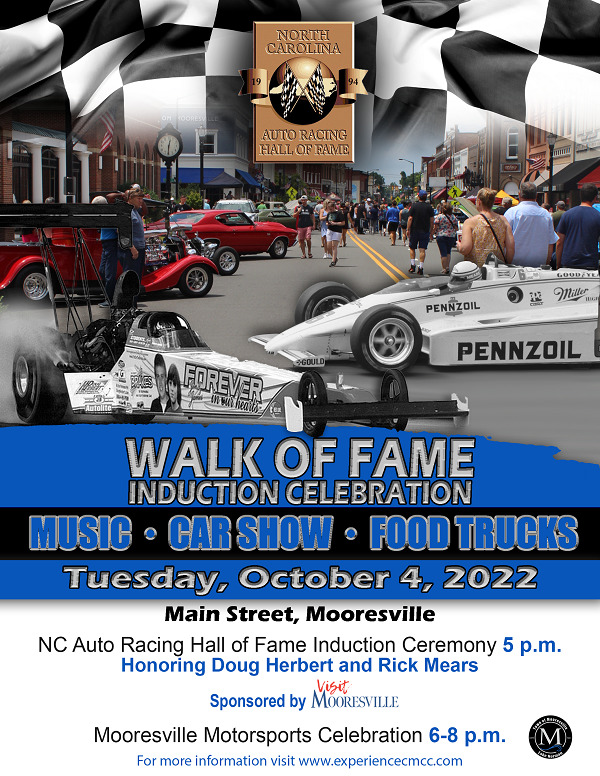 Special to Iredell Free News
Tuesday, October 4, will be a day of celebration in front of the Charles Mack Citizens Center in downtown Mooresville. IndyCar Champion Rick Mears and Top Fuel Drag Car sensation Doug Herbert will be honored with the dedication of North Carolina Auto Racing Hall of Fame, Walk of Fame sidewalk plaques.
"This year's celebration is going to be very special," said Don Miller, chairman of the Board of Directors at the NC Auto Racing Hall of Fame. "We will be celebrating our 28th year of honoring the finest drivers in all of motorsports and the Walk of Fame expands its role for the 13th year. Mooresville is the absolute center of racing and the home of many of its famous personalities. We need to preserve this heritage."
John Dodson, Hall of Fame board member and VP of NASCAR at the NASCAR Technical Institute echoed Miller's sentiments.
"The Walk of Fame has become a destination for race fans visiting our region. It brings people to our historic downtown area and enhances their experience while visiting Race City USA. The Mooresville Visitors Bureau, the Town of Mooresville and the Downtown Commission provide tremendous support to continue this great tradition. If you are a fan of motorsports, it is a must see!"
The ceremony, which is open to the public, will be held outside the Charles Mack Citizen Center on the Walk of Fame located at 215 N Main Street in Mooresville at 5 p.m. This year's event will feature a nostalgic car show, entertainment from a live DJ, food trucks and more! The overall celebration will be held from 4 to 8 p.m.
Rick Mears: IndyCar Champ
Mears was born in Wichita, Kan., and raised in Bakersfield, Calif. He began his career in off-road racing before moving to USAC IndyCars in 1976. His speed attracted the attention of IndyCar owner Roger Penske and in 1978, Mears was offered a part-time ride in 9 of the 18 championship races which included the Indianapolis 500. In 1979, Mears won the first of his four Indy 500s with Team Penske.
In his 14 years with Penske, Mears earned three Series Championships, 26 wins, 68 podiums and 38 pole positions. He retired from driving in 1992 but continues to work as a consultant and spotter for Team Penske, where he has mentored such drivers as Helio Castroneves, Will Power and Scott McLaughlin.
In 1997, he was inducted into the International Motorsports Hall of Fame. In1998, he was inducted into the Indianapolis Motor Speedway Hall of Fame and, the Motorsports Hall of Fame of America and in 2017 he was inducted into the Team Penske Hall of Fame.
Doug Hebert: NHRA Champion
Herbert is a nationally recognized NHRA top fuel drag racing champion, boasting a career that included 10 NHRA National Event Championship wins, 20 IHRA National Event Championship wins and four Top Fuel World Championships. He is an honored member of the NHRA Hall of Fame and the Diecast Hall of Fame. Doug was the second driver to ever exceed 300 mph in the ¼ mile, and he was also the first to ever run over 300 mph during NHRA eliminations, and his career best speed topped over 330 mph.
In 2008, Doug put his racing career aside when he lost his two sons, Jon and James, in a tragic car crash. He created a free driving program that teaches advanced safe driving techniques to teen drivers and founded BRAKES (Be Responsible and Keep Everyone Safe), a non-profit Teen Pro-Active Defense Driving Program.
ABOUT THE NORTH CAROLINA AUTO RACING HALL OF FAME
Founded in 1994, the North Carolina Auto Racing Hall of Fame is a foundation dedicated to the enhancement of the rich heritage of all forms of motorsports. NCARHOF is a non-profit organization with donations made to local charities. Its chairman, Don Miller was the first recipient of the NASCAR Humanitarian award. The North Carolina Auto Racing Hall of Fame is located in the Lakeside Industrial Park on 119 Knob Hill Road at Exit 36 on Interstate Highway 77 in Mooresville. It is open weekdays from 10 a.m. to 5 p.m. and on Saturdays from 10 a.m. to 3 p.m. Visit www.ncarhof.com or call 704-663-5331 for more information.