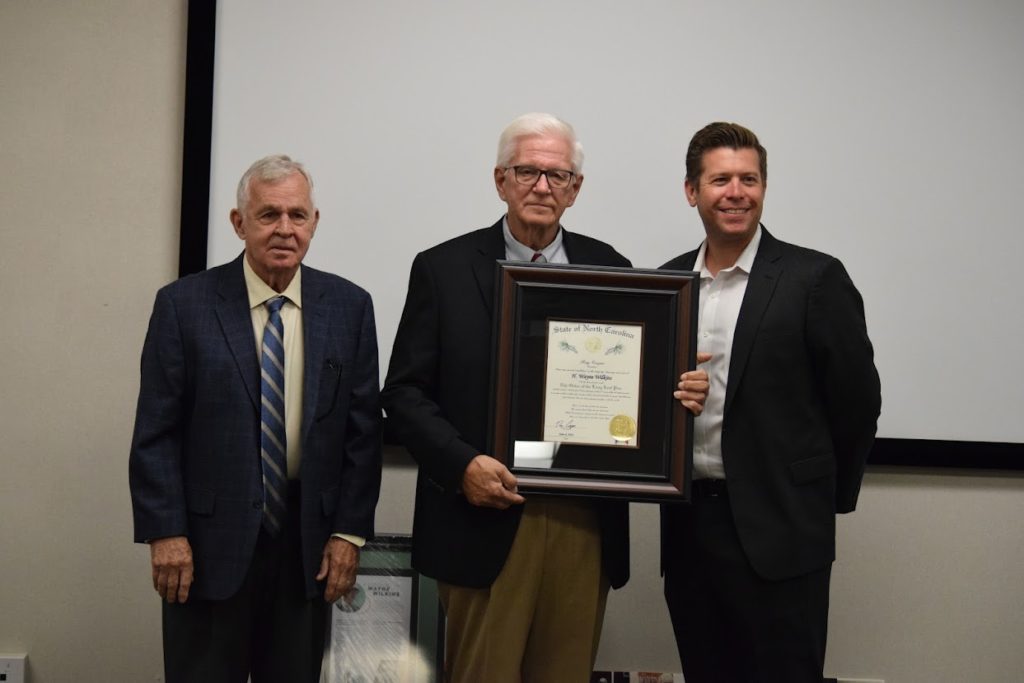 BY DEBBIE PAGE
debbiepage.iredellfreenews@gmail.com
With wife Donna, son Zack, and grandson Thomas proudly watching, Wayne Wilkins, who retired from his EnergyUnited CEO position in May, received the Order of the Long Leaf Pine from his former colleagues on Thursday morning.
This highest award for state service is granted by the state of North Carolina to individuals who have shown exemplary service with exceptional accomplishments that benefit the state and was granted to Wilkins by Gov. Roy Cooper.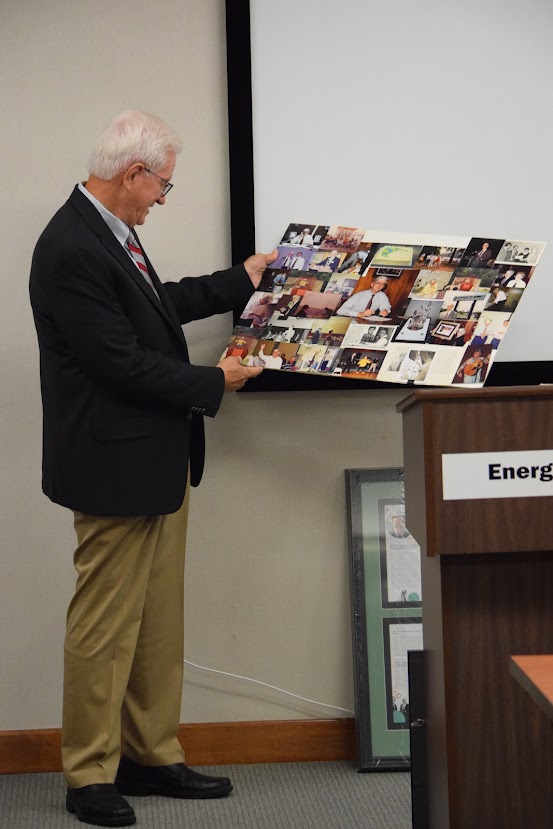 Recipients of the award become North Carolina Ambassadors, with their names and award dates recorded on a Roster maintained by The Order of the Long Leaf Pine Society.
Wilkins served as EnergyUnited's chief operating officer for nine years before serving as CEO for 15 years. Before the merger that created EnergyUnited, Wilkins worked with Davidson EMC, beginning in 1971, and served 16 years there as executive vice president.
He also served on the board of directors of the Davidson County Economic Development Commission, co-chaired Davidson Directions, served on the North Carolina Electric Membership Corporation board, was a board member of the North Carolina Association of Electric Cooperatives, served on the Rural Electric Action Program Executive Committee, and was a two-term president of the Lexington Chamber of Commerce.
Wilkins received his degree, a B.S. in Electrical Engineering, from The University of North Carolina at Charlotte in 1976.
Maureen Moore, EnergyUnited communications manager, welcomed attendees to the company headquarters in Statesville and introduced Dr. Max Walser, chairman of the board, who recognized Wilkins family and noted the absence of Wilkins' son Chris, who is recovering from surgery.
Moore then congratulated Wilkins for his five decades of service in the companies that evolved over the years into EnergyUnited. He was presented with several gifts, including an engraved watch, a framed article from the company's Connect publication, a collage of pictures collected through his professional years, and a book with his life story and accompanying photographs.
Walser next lauded Wilkins for his involvement in numerous clubs, economic commissions, and community organizations, but Walser said the most special thing about Wilkins was that he "never heard him say an unkind word about anybody."
"He does not ever want to diminish who you are or what you are. He will only say nice things about you."
"Wayne is a very decent, kind human being. That's what he is to me, and that's more important than all these accolades that we can share about his work and his life in other ways, so I'm proud to be his friend and colleague and being able to work with so closely for almost all of those 51 years," Walser concluded.
Thomas Golden, who succeeded Wilkins as CEO, explained that The Order of the Long Leaf Pine award, which began in 1963, is to recognize citizens whose service spans over 30 years and who have benefitted North Carolina and the communities they serve.
Other recipients of the honor, Golden noted, include Michael Jordan, Maya Angelou, Colin Powell, and in 2005, Dr. Walser.
The original ceremony, postponed for unforeseen reasons, was scheduled for June 8 and was to have Gov. Cooper to present the honor. Since the governor was unable to be present on Wednesday, Walser followed the tradition of one recipient presenting the award to a new honoree.
"I am proud to present this prestigious award to Wayne in recognition of the incredible impact he has had on the communities that we serve," Walser said. "Over the course of his storied career in the industry, Wayne continually demonstrated a strong commitment to serving EnergyUnited members. His leadership philosophy reflected a sincere belief in the benefits of the cooperative business model."
Walser then formally presented the beautifully framed award, saying it was a great honor that he had treasured.
Wilkins said that he truly appreciated the honor and EnergyUnited for taking the take time to make these presentations. He thanked the co-op for giving him a wonderful though demanding career dedicated to keeping customers' lights on in all weather conditions.
"It's been a great career. If I had to do it over again, I hope I would have the sense to choose the same type of career, the same organization, the type of people you find to work with like at EnergyUnited."
Wilkins said the most exciting part of his career was when the former Davidson EMC and former Crescent Electric organizations merged to form EnergyUnited.
Though he misses aspects of the job, Wilkins is enjoying more time with his family, "the most important thing in my life." He ended by thanking everyone for coming and for the honors and gifts bestowed.
A luncheon honoring Wilkins and his family followed the ceremony.
Photos