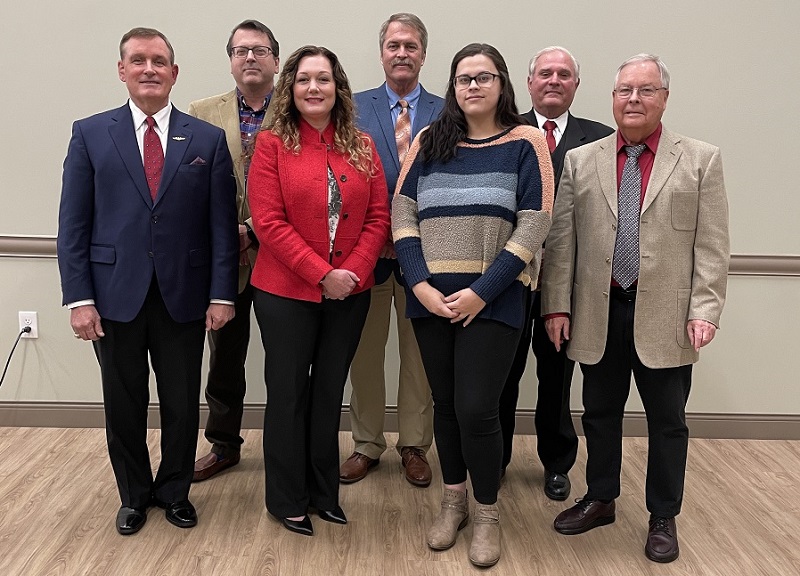 BY KARISSA MILLER
Four newly elected members officially joined the Iredell-Statesville Schools Board of Education on Monday during a swearing-in ceremony on Monday afternoon.
Iredell County Chief Magistrate Daniel Chambers administered the oath of office to Republicans Abby Trent, Anita Kurn, Michael Kubiniec and Brian Sloan. Attendees included community members, elected officials, school administrators and I-SS district leadership team members.
In the November 8 election, Sloan defeated write-in candidate Max James Jr. to win the District 1 seat, Trent garnered more votes than Democrat Sarah Pittman in the District 3 race, and Kubiniec outpolled unaffiliated candidate Billie Spevak to win the District 5 seat. Kurn, who won a Republican primary for the District 7 seat, was unopposed in the general election.
After the swearing-in ceremony, the board voted unanimously to elect Bill Howell chairman.
"Thank you for making me your chairman. It's a great privilege and honor. It's a big responsibility, and I don't take it lightly," Howell said.
Kubiniec was elected vice chair, defeating Doug Knight by a vote of 5-2.
Board Comments
Trent promised to work hard for the students and parents she represents in District 3.
"I'm looking forward to working with other members of this board. Putting children of Iredell County first. Also working with principals and teachers and listening to their ideas and needs," Trent said.
Sloan, the new District 1 representative, said running for office was a big process. "Throughout this process I never asked for your vote, but what I have always asked for us prayers," he said. "Myself mostly needs your prayers."
Kurn thanked the voters in District 7 for the opportunity to serve on the board.
"I hope that I make the decisions that you would make up here. Be in prayer. We definitely need it. Pray for our children and our teachers and the administrative staff — they need your prayers as well," Kurn said.
Kubiniec, who represents District 5, thanked the voters of South Iredell for allowing him the opportunity to serve. He said that he heard talk in the public that the board was not very diverse. However, Kubinec disagrees.
He said that there is female representation and that there is a variety of ages among board members. Kubiniec also mentioned that the board is made up of individuals from similar and different backgrounds, including financial analyst, three military veterans, former and existing educators and a small business owner.
"I'm privileged and honored to serve as your school board member," Kubiniec said.
Knight said that he looks forward to serving with the new board members and doing what's best for the students. He also mentioned that he's praying for viruses of no sort.
Board member Charles Kelly expressed his optimism.
"We aren't a cup that's half full and leaking, but we are a cup that's half full and rising," he said. "This is a great school board. This is a great school district. You have become a member of one of the best school districts in North Carolina. We probably have one of the best superintendents in North Carolina."
Superintendent Remarks
Superintendent Jeff James said he's confident that the new board members want to make sure I-SS is the best school system.
"I look forward to working with the new board and carrying out your vision," James said. "Strap in — it's going to be a wild ride. If you've ever rode Mr. Toad's Wild Ride at Disney, that's what I equate it to. You better hold on."
The superintendent said the job can be very rewarding some days and challenging on others. There will also be days where the outcomes are mixed. He warned the board that half of the public will support their decision to cancel school on an inclement weather day, and the other half will criticize them for it.
He also detailed some challenges the district is facing, including salary compression, teacher pay and the shortage of teachers nationwide.
Photos