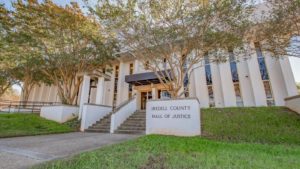 BY MIKE FUHRMAN
Opening statements in the murder trial of a Union Grove man are scheduled for Tuesday morning in Iredell County Superior Court.
Blaine "Dale" Hague is charged with first-degree murder in the September 2020 shooting death of Tommy Cass.
A jury of 10 men and two women — and two alternates — was seated to hear evidence in the case on Monday afternoon.
During the selection process, prosecutor Lisa Coltrain and defense attorney Mark Davis questioned potential jurors about their familiarity with firearms and their interest in hunting, among other topics.
District Attorney Sarah Kirkman requested a special prosecutor from the N.C. Conference of District Attorneys handle the case because the defendant is a former employee of the Iredell County Sheriff's Office.
Hague, who is free on bond, is expected to testify that he shot and killed Cass in self-defense.
Witnesses told law enforcement officers that Cass, 46, was shot during a confrontation on September 7, 2020. His body was found in a field in Union Grove.
At the request of Sheriff Darren Campbell, the N.C. State Bureau of Investigation investigated the shooting. An Iredell County grand returned an indictment charging Hague with murder about three weeks later.
Visiting Superior Court Judge David Hall is presiding over the trial.