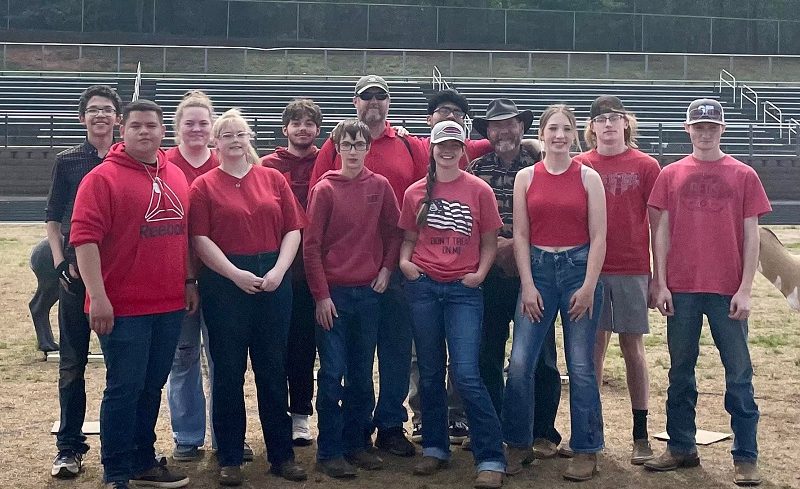 BY KARISSA MILLER
Twelve North Iredell High School students have qualified to compete in the National Archery in the Schools Program (NASP) National Championship in 3D archery and four have earned a spot in the Bullseye National Tournament in May.
"The exciting part is this is their very first year and as a team they are going to nationals. We had six individuals who qualified individually without the team. That's unheard of as well," said NIHS Principal Diana Jones.
All of the students have worked hard, and their efforts paid off, she said.
"They are amazing. They come from all walks of life. They have varying ambitions after school. They are talented, hardworking and humble," she said.
State Recap
On April 2, North Iredell's archery team competed in the NASP state championship at Maiden High School and placed first in 3D archery, which involves shooting at animal decoys at different distances.
The team had three ladies place in the top-ten female division in the state with Morgan Campbell placing first, Olivia Parker taking second and Olivia Krause finishing ninth.
In the male division, Christopher Alejandro placed seventh, Jeb White took ninth and Isaiah Jones finished 10th.
The 3D archery team has 12 members. Four qualified for the Bullseye National Tournament as well. Those members are Parker, Elmore, White and Riley Goforth.
Each member of the 3D team will compete at the NASP national championship in Louisville, Ky., in 3D and the Bullseye on May 12-14.
The team members are:
• Morgan Campbell,
• Olivia Parker,
• Olivia Krause,
• Chris Benitez,
• Isaiah Jones,
• Jeb White,
• Tommy Threadgill,
• Elijah Elliott,
• Erica Elmore,
• Carlos Bautista,
• Riley Goforth, and
• Nathan Suzuki
West Iredell High School also has two students who qualified for Nationals who may be traveling with the North Iredell team: Jacob Stewart and Tiffany Bravo.
"A lot of kids before they got into archery, it was like their concentration was lacking. It helps to really build focus. I do a lot of noise things to break their concentration and they learn to tune me out. It also builds networking and support — it's like a family," said teacher and coach Adrian Bustle.
The team practices 20 hours a week. Any student in grades 9-12 can join the team.
"By qualifying for nationals, you become eligible for some randomly selected scholarships. But also based on how you placed you could win a scholarship," Bustle said.
Due to the COVID-19 pandemic, teachers and faculty alike worried about students being stressed out and isolated from one another. The archery club was created as a way to bring students together, give students a positive outlet and a chance to be a part of a team.
"I chose archery over other sports because I'm not much of an athletic person. I don't like running. It's terrible when I run. I chose archery because all you have to do is stand there, aim and let go. There's no running involved," Elmore said.