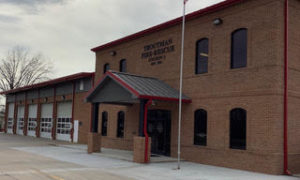 BY DEBBIE PAGE
debbiepage.iredellfreenews@gmail.com
Troutman Fire and Rescue calls continue to increase, with the department responding to 2,512 incidents in 2021, according to Fire Chief Wesley Morris, up more than 500 calls from the previous two years.
Judging by the first quarter of this year, Morris expects the call volume to continue to rise this year as well. The Troutman department is third busiest in the county, trailing only the Mooresville and Statesville departments.
To meet these needs, the department is continuing to upgrade and expand equipment and facilities. After receiving a new Engine 1 recently, the department is now upgrading Engine 3, a 2009 model with 120,000 miles. The new engine will not arrive for 15 to 18 months.
The new engine will operate out of Station 3 at 472 Pineville Road, along with a tanker truck. The department is trading in an older engine toward this new purchase but will keep a couple of older trucks in reserve in case one goes in for repairs.
Morris said the Station 3 upgrade and expansion is currently in the permitting phase. Plans include the addition of two bedrooms to house up to four firefighters, two new vehicle bays, and upfitting the dayroom and kitchen area.
"We want to be prepared in the future to hire more full-time personnel at that station," Morris said during Thursday's town council meeting.
Currently the station has one full-time firefighter on duty 24/7, supplemented with part-time and volunteer staff.
Station 1 has four full-time personnel, with two full-time firefighters at Station 2 on 1506 Perth Road that operate a rescue engine and tanker. Morris said the goal was to increase staffing to three full-time firefighters at both Station 2 and Station 3 so that they can fully function upon arrival at a fire scene without waiting for additional fire companies.
"That's our goal, but we have to take baby steps to reach that," added Morris.
The chief also said that he and staff are very pleased with the new Station 1 firehouse, which was expanded and upgraded in 2020.
Morris said the recently implemented county fire tax and oversight has been a successful partnership, noting that this new truck is the third purchased in the past three years with county assistance.
"The county has done very well by us," he said. "They have done what they said they would do."
The department is currently conducting annual testing of the town's hydrant system, flushing the hydrant and lubricating the cap.
To learn more about the department, citizens are invited to the department's annual meeting on Monday, June 6, at 7 p.m. at Fire Station 1 at 125 North Main Street.
Established in 1926, the Troutman Fire Department is a full-spectrum fire and rescue agency served by full-time, part-time, and volunteer personnel. Most staff are qualified first responders with many achieving EMT and NC Firefighter II certification.
In addition, the fire department has well-trained specialists in vehicle extrication, swift water and surface water rescue, trench rescue, high angle rescue, and Basic Life Support (BLS). Many of the staff members are also technical rescuer (TR) certified.
The department's three fire stations serve approximately 17,000 residents along with 50 miles of shoreline on Lake Norman.
Iredell County Emergency Medical Services ICEMS also operates two-county EMS bases in the Troutman Fire District to provide advanced life support 24 hours a day. One base is located on Murdock Road near the fairgrounds and the other is in Fire Station 2.