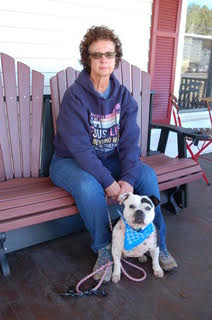 BY DEBBIE PAGE
debbiepage.iredellfreenews@gmail.com
Three years ago, Cathy Emory was going through a dark time and considered taking her life.
By the grace of God, the help and support of her son and daughter, and the comfort of her dog, she was able to emerge from this crisis and is now determined to help others going through mental health emergencies.
To raise awareness and funds for suicide prevention, Emory and Willow, her American Bulldog, are participating in the American Foundation for Suicide Prevention February Dog Walking Challenge activity with thousands of others across the country.
Participants are walking 50 miles with their four-legged friends with the support and encouragement of a Facebook group (https://www.facebook.com/groups/612425583399987/user/100000621560637) to help them stay motivated. Those who register for the challenge receive a bandana for their pup to wear on walks and to set up the fundraiser.
Willow is wearing her AFSP bandana as they walk to spark conversations with those they meet.
Emory believes too many people in the past swept mental illness under the rug, but "thank God it no longer is."
Her prayer is "to use my experience to make a difference even for just one person."
Emory and Willow — or sometimes new foster pup Stormy — walk two miles each day on Troutman's Richardson Greenway, and she's willing to talk to anyone about her experiences with suicidal ideation.
"I've never met a stranger. I want to change the world," Emory said.
She believes it is important to share her story. "Until you've been there, you can only sympathize. You cannot really connect in the same way as a person who has that experience with suicide."
Her son and daughter support her community efforts. "They really stepped in for me during my dark time. They had to make hard decisions on my behalf," she said.
Three years ago, Emory moved to Troutman, which she calls "the best little town there is." In addition to suicide prevention, Emory also volunteers at Iredell County Animal Services, an experience she highly recommends for other animal lovers.
The AFSP event blended two of her major life interests.
"Animals are such a love for me — my happy place," she said. Her understanding parents allowed her to bring home strays she encountered during her childhood. Before her current job at Food Lion, Emory previously worked in veterinary care.
Emory looks forward to engaging in future AFSP activities in the community as well. She's excited to meet with Susan Tolle of the local AFSP next week to get more deeply involved in this cause.
She's also excited to bring attention to suicide prevention as a speaker at next month's Troutman Town Council meeting.
To donate to AFSP, please visit https://supporting.afsp.org/.