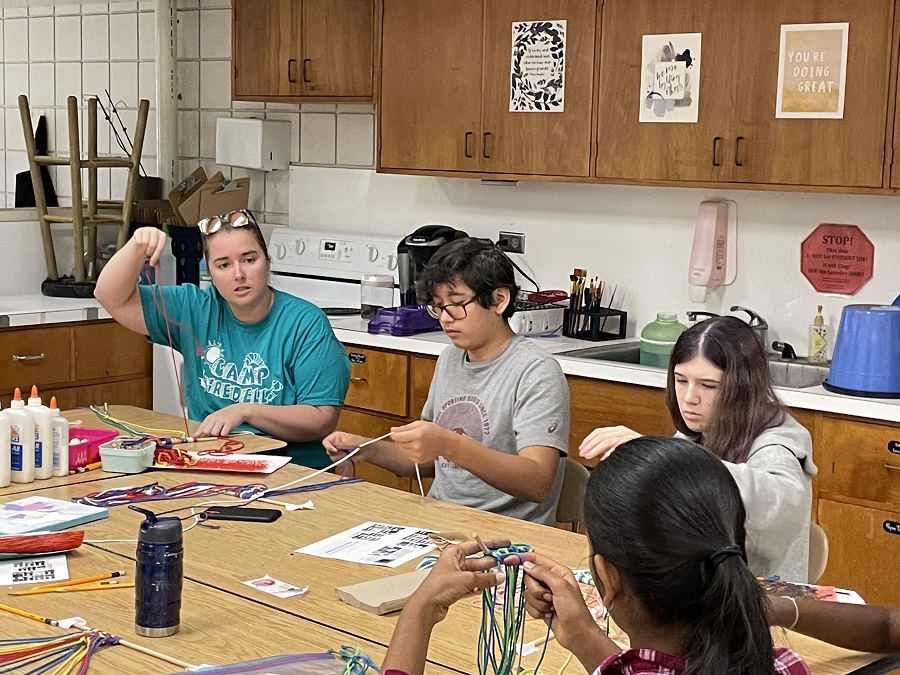 BY KARISSA MILLER
For some Iredell-Statesville Schools' students, learning continues into the summer months through the school system's variety of enrichment camps.
The weeklong camps, ranging from sewing to forensic science, are supported by I-SS Gifted Learning Department. This year's theme is "A Light to the Future."
Middle school teacher Jennifer Harris oversees the visual arts camp entitled "Outside the Lines."
"Some have taken art in middle school, but others it's a new experience. For those who haven't I hope that they continue to do it afterwards," Harris said. "I hope that they all leave here with a love for art."
The program is offered to rising sixth-graders through ninth-graders. The camp introduced students to Impasto painting, pour painting, foam relief printmaking, acrylic skins, wire sculpture, tie-dye and relief print making.
On Wednesday morning Harris led the students in a tie-dye activity and later macrame.
"They each brought in a 100 percent cotton item. Some brought a T-shirt, bandana and bag," Harris said.
The kids were excited to tie-dye their own item. Some were very thoughtful on their color combinations while others were a little more carefree in their color selections.
Eliza Jenkins, a rising eighth-grader, tie-dyed a bandana and said that was one of her favorite activities. She also liked the paint pour acrylic project, which is already hanging up in her bedroom.
"I like Mrs. Harris and I've always loved art class. It was crazy this year and here at art camp we get to do more fun things we didn't get to do during the school year," she said.
Eliza said she's also enjoyed the extra time she gets to spend with new friends in the program.
"Everyone was really quiet at first, but now everyone talks to everyone and it's fun to hang out," she said.
Aliyah Dean, an eighth-grader, said her favorite activity was Impasto Painting, a technique in which the artist thickly applies paint. It is intended to be textured and exists to show off brush and palette knife marks.
Aliyah said that she comes from a creative family and art is something that she will continue once the camp ends. She said she is looking forward to taking pre-Advanced Placement Art with Harris next year.
Harris has been an art teacher at West Iredell Middle School for three and a half years. She also coaches volleyball and softball. Harris said she has a passion for teaching middle schoolers.
"Camps like these make a difference in my attitude. It's so nice to have students who want to be here, and they listen to what I say and like what we're doing," she said.
Photo Gallery