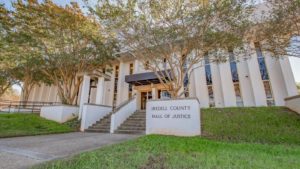 BY MIKE FUHRMAN
The prosecution contends that more than a dozen individuals were involved in a pair of drive-by shootings — including the one that claimed the life of Freeman Jacobi Wells — in Statesville in January of 2018.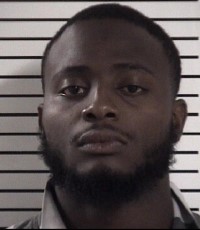 During the third day of Kevin Turner's murder trial in Iredell County Superior Court, Assistant District Attorney Mikko Red Arrow began introducing evidence to tie members of that group — whom he earlier called the "Caldwell crew" — to Wells' death.
Turner, 29, is on trial for first-degree murder. Through the trial's first three days, no witness has placed him at the scene of the January 6, 2018, shooting at 524 Hickory Avenue.
Wells, who was known as "Cobi" and "YG" to his family and friends, was hit by two bullets after at least two people fired dozens of rounds into the home, which was occupied by seven people, including two children, at the time of the early morning shooting. A witness described seeing two shooters, one of whom was large and a second with a more normal frame.
The 30-year-old man was hit in the upper right arm and in the head. He died later that day after being transported to Wake Forest Baptist Medical Center in Winston-Salem.
State forensic pathologist Dr. Patrick Lance, who conducted the autopsy two days after the shooting, testified Friday morning that a .762-caliber projectile struck Wells near the temple area above his right ear and cut "a once-inch path of destruction" through his brain before lodging in the left side of his head.
"The severity of the gunshot wound would make it non-survivable," Lance told the jury.
After Lance completed his testimony, the prosecutor shifted his focus to proving that Wells' death was the result of numerous individuals "acting in concert."
The man at the center of the group charged in the Hickory Avenue shooting and a second shooting two days later is Enrico Dewaine Heggins, 35. Heggins will be tried separately — and faces a possible death sentence if convicted — for his alleged role in Wells' death and in a January 8 drive-by shooting that injured two children.
Laura Moxley, a recovering heroin addict who said she ran errands for Heggins and drove him around in exchange for drugs, testified Friday that she twice drove Heggins — whom she knew as "Big Shitty" and "400" — to Statesville from Mocksville in January of 2018. On both occasions, she told the jury, Heggins met with a group of seven to 10 individuals in a home near Park Drive.
On both occasions, the group left for a short period of time, returned to the Park Drive house and then split up, Moxley said. She told the jury she did not leave with the group, but on the second occasion Heggins told her to "leave the keys" in her Jeep Cherokee.
During questioning from Red Arrow, Moxley said she could not identify any of the individuals who Heggins met and left with — and she testified that she did not know Kevin Turner or recognize him. She did identify Heggins as the rotund man pictured in a jailhouse photo.
A few days after the second gathering on Park Drive, Davie County Sheriff's Office deputies pulled Moxley over as she was leaving the Scottish Inn motel where "Big Shitty" lived to do his laundry. During a search of her Jeep, deputies found a mask and bullets. She told the jury that those items did not belong to her and that she did not own a firearm.
Moxley also testified that she had seen an AK-style firearm, a second weapon described as mini-Draco and a drum magazine in Heggins' hotel room. Davie County deputies later seized heroin, high-powered weapons and cash from the hotel room and arrested Heggins.
Superior Court Judge Greg Horne dismissed the jury of 10 women and two men late Friday morning so he could consider evidentiary matters. The trial will resume at 9:30 a.m. Monday.
Related Articles
DAY 1: Murder trial begins in shooting death of Statesville man; prosecutor describes crime scene as 'war zone' | Iredell Free News
DAY 2: Shooting victim's mother testifies during second day of murder trial in Iredell County Superior Court | Iredell Free News