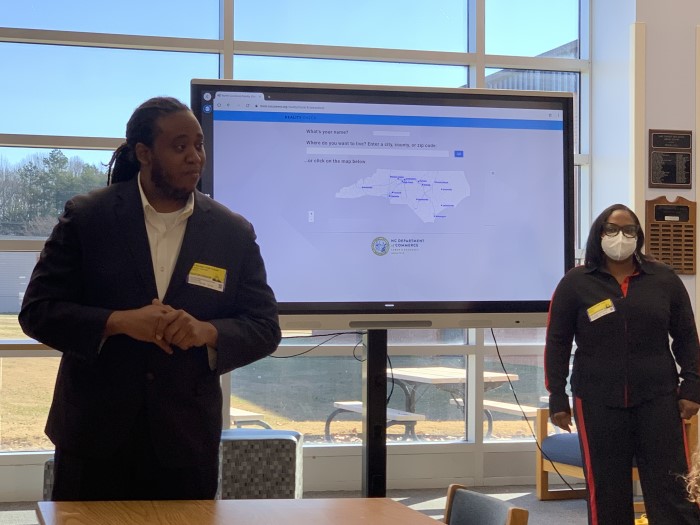 BY BRANDY TEMPLETON
About 60 Lake Norman High School students received plenty of advice this week about how to prepare for life after high school.
NC Reality Check, NC Works, Iredell Economic Development Group, and Crosby Scholars representatives shared real-life concepts with students through a series of workshops hosted by the school's FBLA Club.
Among topics discussed during Tuesday's event were college choices, resume writing, interview pointers, and personal budgeting.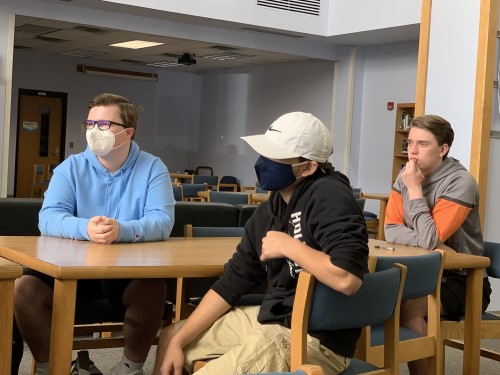 Solomon McAuley (NC Reality Check) and Monica Gramling (NexGen service leader) gave students a visual lesson budgeting with the help of an interactive whiteboard.
McAuley, a first-generation college graduate, asked students serious questions about their college plans, the lifestyle they expect to enjoy as adults, and how they will make their dreams come true based on realistic income expectations.
"In reality, the biggest thing we want to leave you with today is there will be a time out of your parents' house," he said. "How do you want to live based on your tastes?"
McAuley said that adulthood will be upon them quickly, and the students need to be prepared.
"You'll blink four times and you'll be a senior," he said.
McAuley and Gramling went through all the expenses that come with adulthood, suggesting the students will have to make lifestyle changes based on their incomes and priorities.
"Where can you cut monthly spending?" Solomon asked.
The facilitators closed by suggesting students start considering the college they want to attend and what they want to do the rest of their life.
"It's important you find a school with your major," McAuley said. "What do you love? What is the thing you can do every day in your sleep?"
Gramling connected the students with a website to show them profiles of potential jobs and colleges matching their personalities.
Meanwhile, Suzanne Wegmiller, executive director of Crosby Scholars of Iredell, and Junior/Senior Program Manager Jennifer Jamison hosted a workshop exploring communication techniques.
Categories explored were Enthusiasm and Attitude, Teamwork, Problem Solving & Critical Thinking, and Professionalism.
"They're good for you no matter what you do," Wegmiller said.
Students were shown a video on two interviews and asked to identify problems with the candidates' performance.
During the workshop, the students interacted by using their MacBooks to answer questions that appeared on the whiteboard.
At the end of the workshops, students with the most points were rewarded with Crosby Scholars lanyards.
The Crosby team and NC Works representatives also presented a workshop on interview skills and resume writing tips.
"Your resume is kind of like your logo," Neruda Morrison (NC Works) said. "It's all about getting your message across."
Melissa Harp (NC Works Statesville) encouraged the students to play up their attributes and be their best self.
"It's about standing out and being your best self," she said.