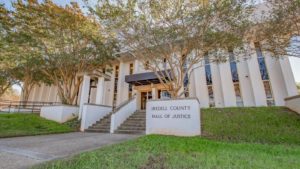 BY MIKE FUHRMAN
During the first two days of Jhammar Vernon Bowen's trial in Iredell County Superior Court, the prosecutor presented evidence detailing Shana Nichole Harmon's troubled life on the streets and her violent death at a Statesville crack house.
On Friday, Assistant District Attorney Mikko Red Arrow called the first of several witnesses he contends will prove that Bowen, 30, is criminally responsible for the Statesville woman's death. The Winston-Salem man has pleaded not guilty to murder and conspiracy to commit murder charges.
Harmon, 25, suffered lethal gunshot wounds to the head and torso in a crack house off 8th Street in Statesville on January 16, 2020, according to earlier testimony by forensic pathologist Dr. Jerri McLemore.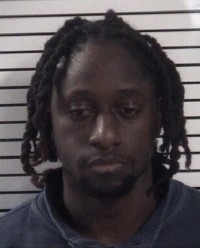 The prosecution alleges Bowen killed Harmon in retribution for stealing crack cocaine from co-defendant Qaweisha Khaleelah Toliver.
Jennifer Benfield, who was Toliver's girlfriend at the time of Harmon's slaying, testified for about four hours on Friday. Under questioning from Red Arrow, she provided unsavory details about the personal lives of Toliver, Harmon and herself. Benfield told the jury that all three women prostituted themselves in South Statesville to support their drug addictions.
During the two months leading up to Harmon's death, Benfield told the jury, she witnessed Bowen "cooking dope" in a home off Rickert Street and the defendant regularly delivered crack cocaine to Toliver for sale in the community.
Prior to moving into an apartment off Broad Street, Toliver and Benfield had stayed in a Microtel hotel, where Toliver — who was known on the streets as "Q" — sold drugs, Benfield told the jury. Before the hotel staff "caught on" to what they were doing because of the foot traffic, Bowen — who was known as "Jabari" — handed Benfield a package of crack about the size of a half of brick to deliver to Toliver, Benfield testified.
Two days before Harmon's body was found on the back steps of the abandoned house used for drugs and prostitution, someone stole a large quantity of crack from the Broad Street apartment that Toliver and Benfield shared, Benfield told the jury.
Toliver "started panicking so we tore the apartment apart trying to find them," Benfield said.
An earlier witness, Mandy Stephenson, testified that Harmon had told her that she had some drugs she needed to sell on the day before she was killed.
And, according to Benfield's testimony, about 1:30 a.m. on the day Harmon was killed she showed up at the Broad Street apartment.
"She said she had robbed some Mexicans and was scared," Benfield testified.
Toliver, she said, had reason to suspect that Harmon had stolen the missing crack cocaine after another acquaintance, Denise Wilson, had called earlier in the evening. Benfield testified that she heard that conversation, which she said was on speaker phone.
"She said, 'I know who took your dope. It was Shana," Benfield told the jury.
Although Toliver had told Benfield she was going to "whoop Shana's ass," she did not confront Harmon when she arrived that night. Harmon took a shower, and they gave her something to eat and clean clothes, Benfield told the jury.
Later, according to Benfield's testimony, Toliver took her phone and texted someone: "She's here. She's here," the text said.
Benfield said she slept on the couch and Harmon slept next to her on the floor.
Several hours later, around 7 a.m., Toliver woke Harmon by tapping her on the shoulder and saying, "Your lick is here," Benfield said. (Lick is the term several women in the trial have said refers to the men who pay them for sex.)
The man who walked in, Benfield told the jury, was Bowen.
Bowen, Toliver and Harmon then left the Broad Street apartment, Benfield said, and she got in Toliver's bed and went to sleep.
She woke up when Toliver returned by herself later in the morning with food from McDonald's, Benfield said. Her girlfriend was wearing different clothes and took a shower soon after arriving, she told the jury.
Before they went back to bed and slept until around 5 p.m., Bowen called Toliver, whom Benfield said took the call on speaker phone. "He said, 'Take a shower,' " she testified.
Wilson, the woman who had told Toliver that Harmon had stolen the missing crack cocaine, called around 5 p.m. and notified them that "they had found Shana's body," Benfield told the jury.
Outside the presence of the jury, Red Arrow asked Benfield what Toliver said after they learned Harmon was dead.
"That she shouldn't have robbed us," Benfield said.
Benfield's testimony was mostly consistent with the statement she gave Statesville Police Department investigators during an interview on January 23, 2020.
Red Arrow asked Benfield why she did not tell SPD investigators what she knew during the two times she met with them before that interview.
"I feared for my own life," she testified.
During a lengthy cross-examination, defense attorney Ken Darty questioned Benfield about her history of drug use, its impact on her memory, her extensive criminal record, and her preparation for the trial.
Benfield, who is free on bond while awaiting trial on a drug possession charge, told the jury she has been clean since she was arrested on January 8, 2022. But she conceded that she is an addict and has been regularly using heroin for eight years, crack cocaine for six years and taking prescription Xanax for more than 20 years.
The years of drug use, Benfield admitted during questioning, have hindered her memory and ability to recall facts.
She prepared for her testimony by watching digital recordings of her interview with SPD investigators a week after Harmon's body was found. Although she said she had been injecting heroin, smoking crack and taking Xanax during that week, she said she was not under the influence of any drugs during that interview.
Benfield told the jury she never saw Bowen pull a gun on anyone and never saw him threaten Toliver with a firearm.
Toliver, she said, had a black pistol, which she kept in a Nautica bookbag with the crack cocaine she was selling.
Earlier in her testimony, Benfield told the jury that Toliver had previously assaulted her because she had not paid her the $10 or $20 she owed Toliver for crack cocaine she had been fronted.
"She dragged me out of the car by my hair and beat me up real bad … My face was not recognizable," Benfield testified.
Bowen, she said, was present for the assault and told Toliver when she had done "enough."
Benfield's criminal convictions include the following charges: armed robbery, simple assault, assault with a deadly weapon, communicating threats, misdemeanor larceny, assault and battery, violating a domestic violence protection order, resisting an officer and interfering with an electronic monitoring device.
Visiting Judge Lisa Hamilton sent the eight-woman, four-man jury — and three alternates — home about 2:30 p.m. Friday. The trial is scheduled to resume at 9:30 a.m. Monday.
Related Stories
DAY 1: Murder trial begins in January 2020 shooting death of Statesville woman
DAY 2: Forensic pathologist testifies about 'devastating' gunshot wounds that killed Shana Harmon
SIGN UP FOR OUR FREE E-MAIL EDITION HERE.