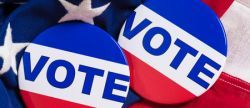 FROM STAFF REPORTS
Incumbent Steve Johnson has held onto his seat following a recount of ballots cast in the July 26 run-off election for two at-large seats on the Statesville City Council.
Johnson, who finished second, claimed a five-vote victory over challenger James Pressly. The margin of victory did not change as a result of Tuesday morning's recount, Iredell County Elections officials said.
Challenger Kimberly Wasson's status as the top-vote getter in the race did not change.
Wasson and Johnson will be sworn in during the August 15 meeting of the council, along with incumbent Doris Allison and newly elected councilman Joe Hudson.
Pressly, who complained of corruption in City Hall and favoritism for millionaire special interests during the campaign, called for the recount, which he was entitled to do because he finished within 1 percent of Johnson.
While he said he was not alleging any wrong-doing, Pressly implied that there were some irregularities in a news release explaining his decision to call for the recount.
"I've heard from supporters who were surprised that they were asked to simply hand their ballot to an elections worker rather than put it into a machine to be counted, as I did when I cast my ballot. And we know ballots have been misplaced or miscounted before in other counties across North Carolina, even as recently as 2020," Pressly said.
Elections officials took issue with those comments Tuesday, saying that all elections policies and procedures had been followed in the July 26 run-off.
Elections Director Susie Jordan said she was confused by Pressly's public comments.
All of the ballots were handled carefully, she said.
The only ballots that were not fed into the ballot-counting machines by voters were those that were filled out by voters during curbside voting and vote-by-mail absentee ballots, elections officials said.
Final Results