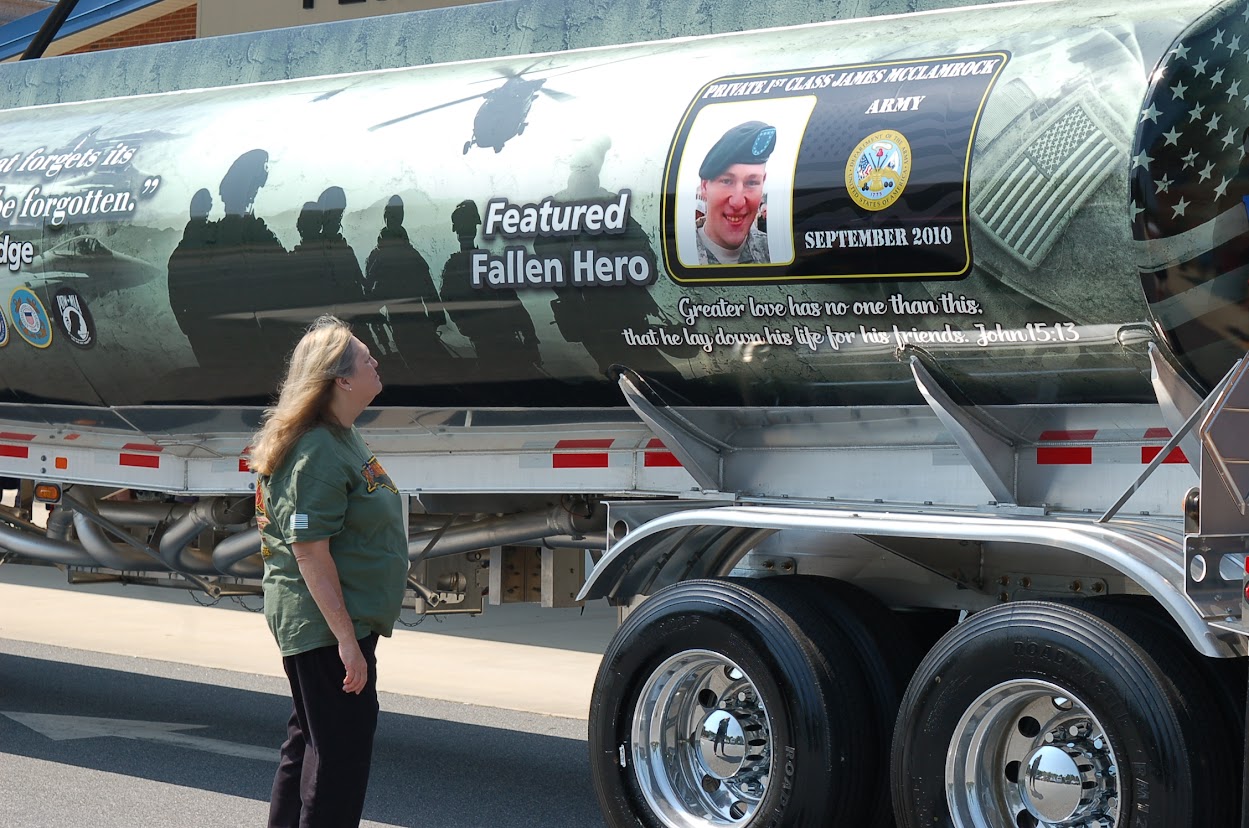 BY DEBBIE PAGE
debbiepage.iredellfreenews@gmail.com
The Fallen Heroes Ministry of Hickory's Sandy Ridge Baptist Church, in partnership with Bumgarner Oil Company, unveiled tanker wrap art honoring fallen Army infantry Private First Class James McClamrock, a South Iredell graduate who was killed in action on September 7, 2010.
James's parents, Mark and Susan McClamrock, and his brother Harrison were awed by the beautiful tribute to James. Mark, a pastor at Concord ARP Church, said in an interview that people still remembering James 12 years later is touching.
After graduating from high school and marrying Mitchell Community College sweetheart Shana, James met veterans at his TSA job who inspired him to join the military in 2010. He was determined to serve in the infantry, despite the inherent dangers.
Both of his grandfathers and several cousins also served over the years, also sparking James's interest in serving the country in the aftermath of the September 11, 2001, terror attacks.
James and his dad talked before he left about the possibility of death, but "fortunately he was a person of faith and the guys in his unit knew that."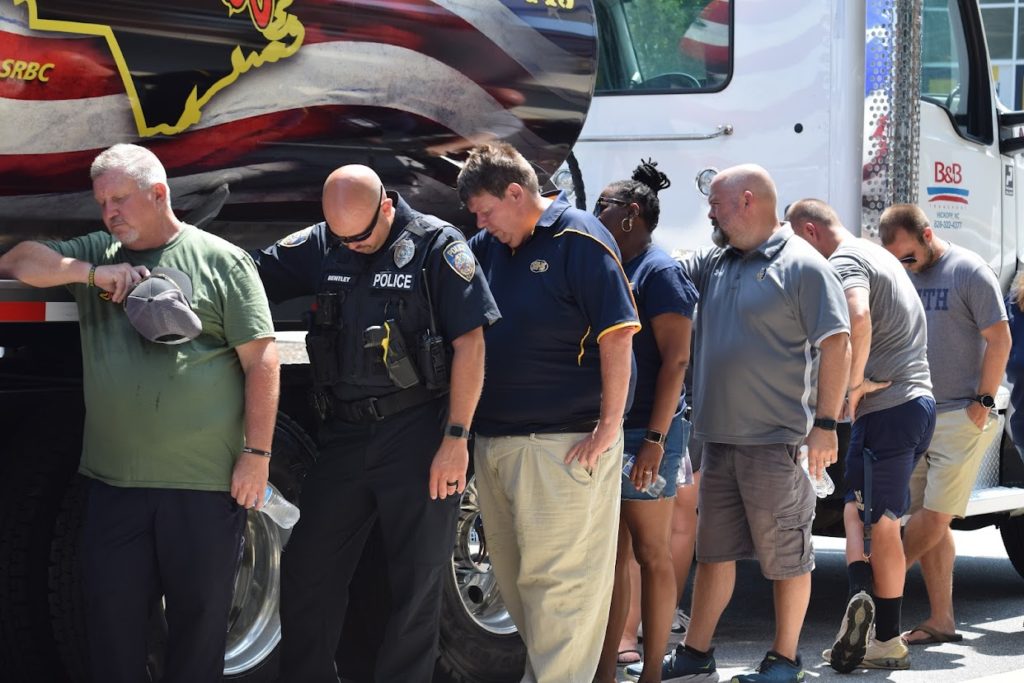 James and his unit, which was training Iraqi soldiers, were attacked by an infiltrator during a rest break when they were away from their weapons. They were able to take out the shooter, but not before he shot nine and killed two soldiers, one of whom was James.
Mark said James was much like Abel, who "although . . . is long dead, he still speaks to us by his example of faith" (Hebrews 11:4). The verse on the tanker under James's photo, selected by James for his funeral should he be killed, is "Greater love has no one than this: that he lay down his life for his friends" (John 15:13).
At the ceremony, Susan thanked the crowd and the people with whom they have "the best memories, with the people our kids grew up with." She said James' senior year at SIHS, during which he was a kicker on the Vikings football team, was "the best year of our lives."
Susan was overwhelmed that Bumgarner Oil — 12 years after their son's death — would honor his life like this. "This is the cost of freedom, right here," she said, pointing at her son's photo, "and the wear and tear on our men and women who actually get to come back home."
She said she is proud to live in America, "to be born in such a great land where we can find salvation, where we can do this, which would not be allowed in so many places."
Susan presented a Challenge Coin bearing her son's image to Bumgarner Oil President David Bumgarner as a thank to the company for its dedication of resources to this ministry.
"We're proud of (the tanker), and we hope you are," said Bumgarner.
James' brother Harrison said he was "thankful you guys took the opportunity to remember him in this way so other people can be aware of the sacrifices that go on in our country for the freedom we have."
Mark shared with the crowd that James was known as "the Christian" in his unit because he was outspoken with his faith, but he still enjoyed the pranks and camaraderie with his unit.
He said he was thankful that James could still spread his faith throughout the community with this honor.
After the ceremony, the crowd gathered around the tanker, placing their hands upon it for a prayer of blessing and safety for the McGlamrocks, the community, Bumgarner Oil and the tanker driver, and the South Iredell High School students and staff.
FALLEN HEROES MINISTRY
Mike and Cindy Beasley helped found the Fallen Heroes Ministry, which seeks to comfort families and continue honoring North Carolina's 232 military members who died defending and protecting their country.
The ministry was born after one of the church members lost a loved one, Chris Eckard, in Afghanistan in 2010. The group is in open communication with the families of 189 fallen heroes, sending cards, texts, and emails on holidays and the anniversary of their loved one's loss.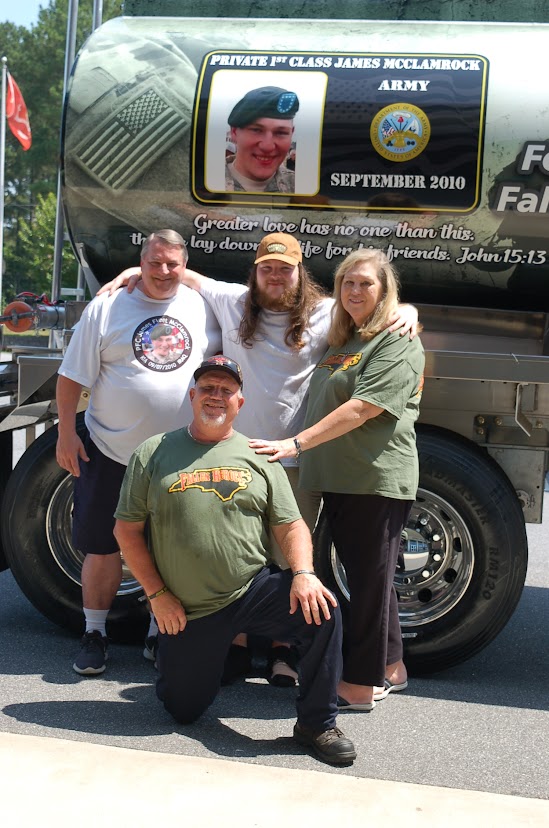 Cindy explained that not all families are open to share their grief with others, so the group reaches those with cards, texts and emails only, but others come to every event, such as the recent recognition night at the Hickory Motor Speedway with the posters and the wrapped tankers.
The group also recently linked up with the Tribute to the Troops motorcycle riders to honor fallen soldier Mark McDowell.
"We want these families to know that their sacrifice is not forgotten," said Cindy, who noted the McGlamrocks were one of the first families with whom the group developed a relationship when the ministry started in 2011.
The group has created posters honoring each fallen N.C. hero, which they take to community events, parades, and other activities to honor and remember their sacrifice. "It's a big deal for families to know that people do not forget," said Cindy.
Every two years the church hosts an all-expense-paid weekend gathering to honor and comfort families, including a church-wide meal and recognition during church services.
Bumgarner Oil got involved with the ministry through Zach, the third generation vice president working for the company, who attends Sandy Ridge. The family also has service members, which inspired its interest.
Zach came up with the idea of wrapping a tanker with a fallen soldier's image to promote community remembrance. The company now plans to wrap all nine of its tanker trucks.
David Bumgarner wanted to get involved to honor those who sacrificed "for our freedom and what we get to do every day." This is the fifth tanker art the company has sponsored, with graphic design and installation by Chris Phillips of High Performance Graphics in Conover.
The wraps impact a lot of people as the tankers travel through the region. The tanker drivers have people frequently stop them to ask questions, cry, admire the art, make donations to the ministry, tell their service stories, or salute the fallen soldiers, he said.
Photo Gallery