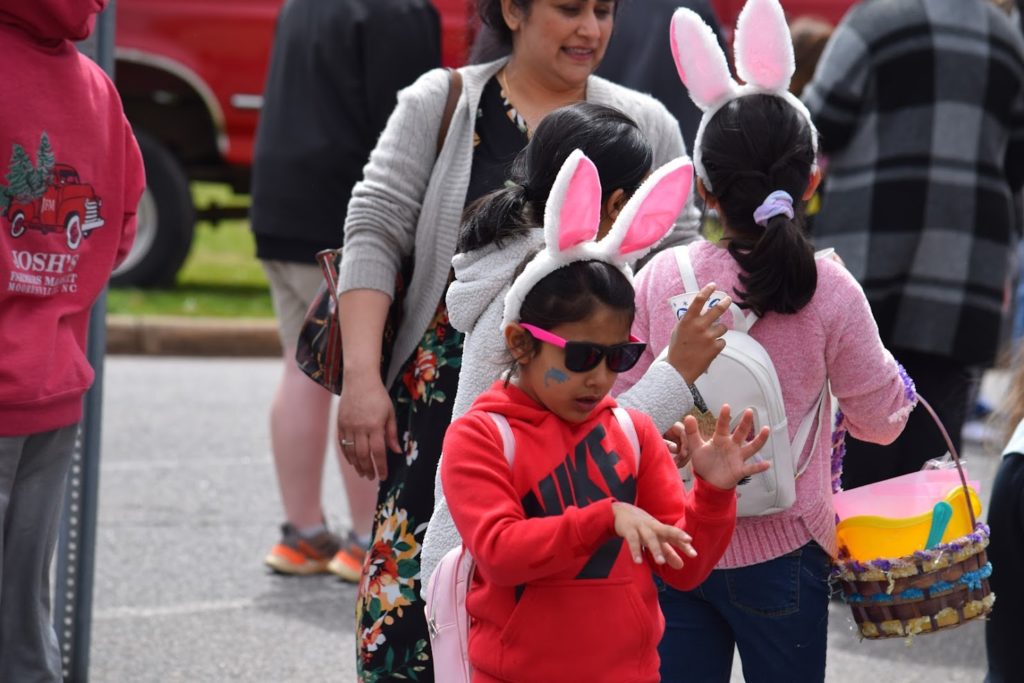 BY DEBBIE PAGE
debbiepage.iredellfreenews@gmail.com
Rocky Mount Church continued its commemoration of the Easter season with a family friendly "RIse Up" festival on Saturday afternoon featuring games, inflatables, art, music, and fun.
Pastor Jamie Hamrick said the event was a "community outreach event."
"The church has hosted huge Easter events the last five or so years (pre-COVID-19), with many of the people who come not from Rocky Mount," Hamrick said. "Even if we just get one or two families to join us, it's worth every dime we spend on it.
"One of the best things about this church is that we don't charge anybody anything when they come. It's totally free, and it shows the generous nature of the people who go here," added Hamrick.
Director of Children's Ministry Hayley Bumgarner was excited about the new activities available for the kids to enjoy, including several sizes of inflatables geared to toddlers through teens.
After two years of canceled Easter events because of COVID-19 restrictions, the ministry team
decided to refresh its traditional Easter "Eggstravaganza" with a new festival feel.
Pictures with the Easter bunny, face-painting, games on the playground, and a hot air balloon were other fun activities. Food included hot dogs, cotton candy, popcorn, snow cones, chips, sodas, and, to combat cool temperatures, a coffee and hot chocolate bar in the sanctuary lobby.
"We want people to come to Rocky Mount and see that we are a loving church," said Bumgarner. "We welcome everybody and invite them back. We hope that they will visit us on Sundays — come to the kids ministry, come to church."
Other Easter events this week include a Holy Thursday service at 7 p.m.
On Easter Sunday, kids will have an Easter egg glow hunt at the 9:30 a.m. and 11:00 a.m. children's ministry services in the church's youth "Boat House" area, which Bumgarner invited the community's children to attend.
The church is also holding a Easter Sunday "Sonrise Service" at 7 a.m., followed by a free Sonrise Cafe breakfast from 9 to 11 a.m., and additional services at 8:15, 9:30, and 11 a.m.
The community is also invited to attend Vacation Bible School from June 20-23.
LEARN MORE
Visit https://rockymountchurch.com for more information.
Photos