FROM STAFF REPORTS
A Charlotte man faces felony gun and drug charges after he was stopped by Iredell County Sheriff's Office deputies as he was driving to pick up his child from Lake Shore Elementary School earlier this week.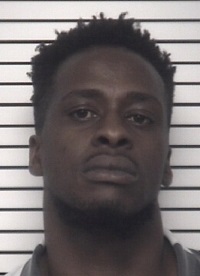 Sheriff Darren Campbell announced the arrest of Ibrahim Nabay Jalloh, 30, of Stelle Meadow Road, Charlotte, and another man in a news release Friday.
When Jalloh was stopped by deputies on Wednesday, they found an AR-style pistol fully loaded with a 10-round magazine and an assortment of illegal drugs, Campbell said.
"Due to the nature of the charges and the wanted status of this person, patrol deputies working with the school resource officer assigned at that elementary school did a great job in a short amount of time to minimize any threat to staff or students and arrest the suspect before getting onto the school grounds," the sheriff said.
ICSO deputies were attempting to locate Jalloh, who was suspected of robbing a convenience store in Troutman a day earlier, when they learned that Jalloh possibly had a child that attended Lake Shore Elementary. The school's resource officer, Deputy J. Whitlow, confirmed that the suspect planned to pick the child up at dismissal that afternoon, according to the news release.
Due to Jalloh's criminal history and the fact that he was wanted for 10 felony charges, including armed robbery, patrol deputies staged near the entrance to the school, Campbell said.
Deputies subsequently located a gray Lexus that was known to be Jalloh's vehicle on Perth Road and stopped the vehicle near Wilson Lake Road, according to the news release.
Jalloh initially provided false information to the deputies, who subsequently confirmed his identity, Campbell said.
In addition to the AR-style pistol, deputies found more than 18 grams of cocaine, Percocet, marijuana and drug paraphernalia in the vehicle, according to the news release.
Jalloh was arrested and taken before a magistrate, who issued a $428,500 bond. He remained in custody at the Iredell County Detention Center on Friday evening.
ICSO deputies charged him with felony possession of a firearm by a convicted felon, felony possession of cocaine, felony possession of a controlled substance with intent to sell or deliver, and misdemeanor drug charges. In addition to the felony armed robbery warrant from the Troutman Police Department, Jalloh also had numerous outstanding felony arrest warrants from Wake and Mecklenburg counties.
A passenger in Jalloh's vehicle, identified as Michael Terrance Calvin, 30, of Bricker Drive, Charlotte, was also arrested and charged with felony possession of cocaine, felony possession of a controlled substance with intent to sell or deliver and several other misdemeanor charges. He was released on a $10,000 secured bond.