FROM STAFF REPORTS
A Third Creek Middle School faces misdemeanor charges and has been suspended from school for bringing an Air Soft gun to school on Friday, according to the Iredell County Sheriff's Office.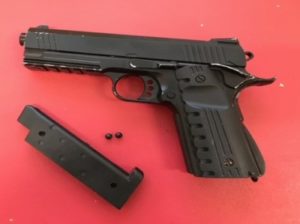 The ICSO resource officer assigned to Third Creek Middle began investigating after learning that there was possibly a weapon on campus, Sheriff Darren Campbell said.
School personnel and SROs went to a location and located the suspect, a 13-year-old male, Campbell said.
A search of the suspect's book bag led to the discovery of a black metal pistol with the barrel painted black, according to the news release. Upon closer inspection, the SROs determined the weapon was an Air Soft pistol.
The student was escorted to the school office. He will be charged with possession of a weapon other than firearms and explosives on school grounds by the ICSO, Campbell said.
The school suspended the student for 10 days and possibly longer. He was released to a parent and told not to return to any Iredell-Statesville School property.
I-SS Superintendent Jeff James said the district takes all threats to student and staff safety seriously.
"It is imperative that we create a safe environment for our students and staff. Anyone who poses a threat to any Iredell-Statesville Schools campus will be disciplined and receive consequences to the fullest extent of the law," James said. "We are thankful for the quick action of the school administration and the Iredell County Sheriff's Office."