FROM STAFF REPORTS
A New York man wanted in connection with a shooting at Hanes Mall in Winston-Salem was apprehended by Iredell County Sheriff's Office deputies following a pursuit that involved multiple crashes.
About 6:45 p.m. Sunday, Deputy Shawn Rowe observed a white Toyota Corolla driving carelessly and recklessly at a high rate of speed on Turnersburg Highway near East Edison Road, according to an ICSO news release.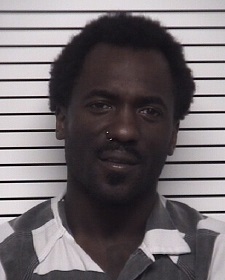 Deputy Rowe attempted to conduct a traffic stop by activating his blue lights and siren, but the suspect, who was later identified as Carolton Vernell McCrimmon, accelerated, crossed the double yellow line, and began driving the wrong way into oncoming traffic, Sheriff Darren Campbell said in the news release.
Moments later, McCrimmon, 33, of Port Washington, N.Y., crashed the Toyota into another vehicle, left the accident scene, and continued driving south, according to the news release.
Later, a McCrimmon neared the intersection of Turnersburg Highway and Glenway Drive, he crashed into the rear of another vehicle, causing it to spin around, go over the median, and come to rest on the opposite side of the road, Campbell said.
Deputies then took McCrimmon into custody as he attempted to flee on foot, according to the news release. There were no reported injuries in these accidents.
During the ensuing investigation, deputies located a handgun and numerous items in the vehicle with stickers and markings that led them to believe they were stolen from the Winston-Salem area, Campbell said.
Deputies contacted other agencies to see if any agency had recently interacted with McCrimmon or the vehicle he was driving. A short time later, Winston-Salem Police reported that the suspect and vehicle were involved in a shooting at Hanes Mall, according to the news release.
McCrimmon was charged with numerous offenses by ICSO deputies and served warrants for his arrest for the shooting in Winston-Salem. Charges include:
♦ Felony Fleeing to Elude;
♦ Careless and Reckless Driving;
♦ Carrying a Concealed Weapon;
♦ Resist Delay and Obstruct Public Officer;
♦ Maintain a Vehicle/Dwelling for Controlled Substance;
♦ Misdemeanor Possession of Marijuana less than ½ ounce;
♦ Misdemeanor Possession of Drug Paraphernalia;
♦ Assault with a Deadly Weapon with Intent to Kill;
♦ Discharge of Firearm Inside of an Enclosure to Incite Fear; and
♦ Discharge of a Firearm Inside City Limits
Magistrate Thomas Thompson issued a $1,050,000 bond on those charges.
Additional charges are pending, according to the sheriff.