FROM STAFF REPORTS
An eastern Iredell County resident faces numerous felony charges in connection with an assault and robbery that occurred on Friday, October 29.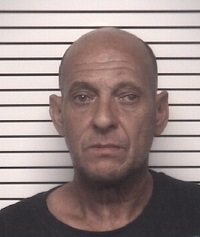 Iredell County Sheriff Darren Campbell announced the arrest of Antonio Noda Delgado, 51, of Elmwood Road, Statesville, in a news release Tuesday afternoon.
ICSO patrol deputies were dispatched to the 100 block of Big Forest Drive on Friday in reference to an 9-1-1 open call in which a fight could be heard with a disturbance in the background, Campbell said.
Responding deputies identified the address of the disturbance as 138 Big Forest Drive, according to the news release.
During the ensuing investigation, deputies interviewed multiple victims located inside the residence and determined that Delgado had entered the residence's front door and then assaulted a male victim with a machete before pulling a knife and demanding the other victims to sit on the floor, according to the news release.
Delgado then stole items from the residence before fleeing in a vehicle while deputies were attempting to locate the residence, Campbell said.
The victims were familiar with the suspect, according to the news release.
Based on victim statements and physical evidence gathered during the investigation, Sgt. C. Little obtained felony arrest warrants for Delgado.
Deputies located Delgado and arrested Delgado without further incident. He was transported to the Iredell County Detention Center, where he was served with the following warrants: Felony Robbery with a Dangerous Weapon, four counts of Felony Second-Degree Kidnapping and Misdemeanor Assault with a Deadly Weapon.
Delgado appeared before Magistrate T. Thompson, who issued a $400,000 secured bond on those charges.