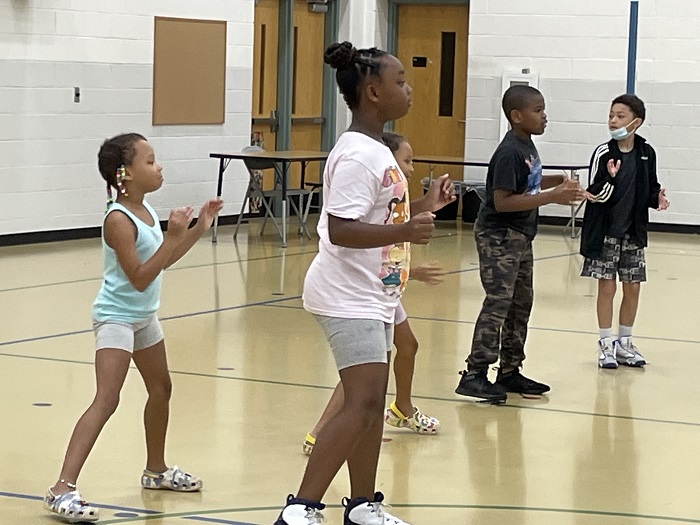 BY KARISSA MILLER
It was one the best days of summer for many Third Creek Elementary students attending the summer COMPASS enrichment program.
All students, many of whom have never taken professional dance lessons, received a free hip-hop dance lesson in partnership with Betty's School of Dance Thursday morning.
Assistant Principal Carla Moorefield was smiling and taking pictures as she watched her students perform various dance moves and poses.
"Art and dance allow students to express themselves," Moorefield explained.
The experience helps students build confidence that they might not find in the classroom, she added.
Betty's School of Dance teacher Ingrid Eller began by guiding a group of rising fourth-, fifth- and sixth-graders in stretching exercises as music played in the background.
"Why do we stretch first?" she asked the students. "We stretch because we don't want to get injured, and it helps warm up the body."
Students stood on a dot in rows as they moved their feet into three different poses — low, medium and high — following her every move until they learned it.
They got a lesson in how to do the floss, moonwalk, slide double hop, The Running Man and other hip-hop and contemporary dance moves.
Eller also helped students figure out moves and what to do with their arms during the freestyle part of their dance routine.
Identical twins Lailah and Jailah Lane, instantly found a passion in dancing, and judging by how quickly the fourth-graders caught on during their hip-hop dance lesson they both have natural talent.
Once the girls got the basic moves down, they were doing a roundoff or one-handed cartwheel during the freestyle. They both like dance and also dream of participating in competitive cheer.
Knowing some cheer moves already, Eller had the twins demonstrate the toe touch. They were able to swing their feet out slightly higher than their hips and received a round of applause from the group.
Da'vaija Thomas, a fifth grader, said her favorite moves were the push and slide. While she is a little shy, she found her happy feet and said it was one of her favorite days at camp.
Betty's School of Dance scholarship
The local dance school has partnered with the school and is offering a free scholarship for one Third Creek student to attend their summer Trolls! Dance camp. Teachers will help decide who they will send and it's a value of nearly $100.
LEARN MORE
Visit https://dancenc.com/courses to learn more about Betty's School of Dance classes and offerings.
About COMPASS
COMPASS stands for Collaborating to Offer Mentoring, Physical fitness, Academic enrichment, and Social and emotional programs for Students. It started out as an after-school enrichment tutoring program at the school. It was made possible through a federal grant.
Third Creek Elementary was able to continue this program through July 28. Students attend for free and are provided with bus transportation and a free breakfast and lunch.
Each day the students have a set schedule and go-to class. They have math, reading and a STEM activity. Part of the grant has allowed the school to use STEM kits, which allow students to do hands-on activities and problem solve. They also have PE every day of camp.
Teachers needed at Third Creek
The school is still looking to fill some teaching vacancies. Moorefield said they are looking for teachers who share their passion for students and education. She said Third Creek Elementary has teachers who work with heart and would like for any interested teacher looking to be a part of a wonderful school community to please apply at their school.
Photos