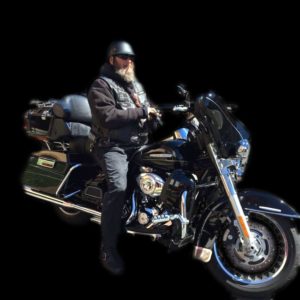 Eric "Popz" Overcash of Statesville, N.C., entered the gates of Heaven on two wheels on Friday, June 24, 2022. He was born April 7, 1964, in Davie County, N.C., to Paul and Ruby (Potts) Overcash.
He is survived by his mother, Ruby Overcash; children Danielle (Brandon), Chris (Katie), and Travis (Debra); grandchildren Easton, Adison, Timmy, and Alana; several cousins, aunts, and uncles; and special friends of Twisted Covenant MSC and many other fellow brothers and sisters of the road.
He was preceded in death by his beautiful wife, Michelle Overcash; father, Paul Overcash; and several cousins, aunts, and uncles.
Popz lived life to the fullest through simple pleasures, especialy spending time with friends and family and riding his motorcycle. Eric was known for being outgoing, loyal, and just an all-around good man. The laughs and smiles he created will continue to live on by sharing the many stories and memories for years to come.
The family sends their gratitude for the outpouring love and support of the entire community.
We will be receiving friends and family on July 9, 2022, at Bunch-Johnson Funeral Home from 1 to 4 p.m.
We ask all individuals to "come as you are" and the bike community to represent your clubs by wearing your cuts in memory of Popz.
As Popz would say "Keep your circle tight" and cherish the ones you love.
Bunch-Johnson Funeral Home is honored to be entrusted with the care of "Popz" and his family.