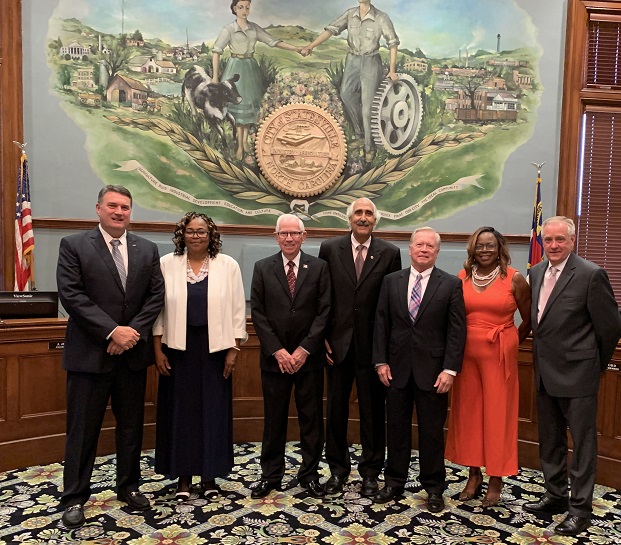 BY STACIE LETT CAIN
Outgoing Statesville City Councilman William Morgan offered some words of advice for new councilmembers on Monday, along with a heartfelt thanks to voters.
"To the new members of council, congratulations on your successful election," Morgan said. "There is going to be a steep learning curve, but I am pretty confident you can tackle that mountain."
"One day that mountain that's in front of you will be so far behind you it's going to disappear from sight. And the person you are going to become by learning to climb it, is going to stay with you forever."
Morgan warned of the pitfalls of community service, citing phone calls at all hours, rescheduling family events to accommodate last minute meetings and an endless number of expectations.
Morgan, who served on council for eight and a half years, was finished fourth in the May election and opted not to run in the July run-off for two at-large seats.
"Thank you to the citizens of Statesville for allowing me the great honor of allowing me to represent you for the last eight and half years," he said. "The confidence you placed in me did not go unnoticed. To my fellow council members, it has been an honor and a privilege to work alongside of you. I consider you all my friends and I thank you for your service and dedication to the city."
John Staford, who was defeated by Joseph Hudson in the Ward 5 race in May, also had a few words to say after his four and half year service on the council
"It has been an honor and a privilege to serve, and I think we have moved the ball forward," he said. "I think we have the best years coming ahead for the City of Statesville. God Bless you all."
Mayor Costi Kutteh presented both men with plaques for their service and described both men as friends whose service to the city was appreciated.
Staford, according to the mayor, brought a credibility to the council that it had been missing. Morgan, on the other hand, had an ability to see Statesville as part of the bigger region through his service to the Centralina Council of Governments, the League of Municipalities and the Charlotte Regional Transportation Planning Organization.
"Most don't understand or appreciate the broad depth of knowledge and broad knowledge of folks in places of significance outside of our city that William Morgan possesses," he explained. "Many don't appreciate his efforts and the prestige and credibility that effort brought to our city."
Swearing-In Ceremony
Senior Superior Court Judge Joseph Crosswhite administered the oath to new Councilmembers Kimberly Wasson and Joseph Hudson. Councilmembers Doris Allison, C.O. Johnson and Steve Johnson were also re-elected. Kutteh was elected to a fifth term as mayor.